By Mark Ames
Her name was Wana. My first and only slope.
I boned her last night. I done-did her right here in Kentucky, in the heart of the Bible Belt.
Wana didn't say, "Me so hoh-nee, me love you long time!"
Instead, it went like this:
"You so hai-wee."
"What?"
"You hai-wee. You hai-wee man."
"Oh yeah, I'm hairy. Like a bear."
"No-no-no.
Beah need to be biggah, roundah. You hai-wee."
"So… how much?"
"Sixty dollah hand, hundred dollah kiss-kiss, hundred twenty dollah do it."
"'It'? Uh-huh-huh. Cool. How long do I get to do 'it' for a hundred twenty dollars?" hoping to hear her answer: "Me love you long time, long-nose!"
Instead, she rolled her eyes. "I hate when men ask that keshtun. Hate that keshtun 'how long.' Just say me which you want."
Sheepishly: "Hundred twenty."
"I be right back, hah-nee."
She called me "honey." Not "horny." It was the closest she came to saying "horny." Later, lying naked, she asked me, "Why you no har'? You need spanking?"
"No, no spanking, heh-heh."
"Maybe you need spanking. You no har'."
"It's just, it's been awhile. You've gotta work a little harder, Wana."
"No, you no har'! You drink, ah? Cuz you no har'."
It had been two mega-long months since I last fucked (time moves much more slowly in America than in Russia). The last was in Indianapolis, after the Cracker concert in late June. I wouldn't quite say I "got lucky" there. I got something, but it definitely wasn't lucky. Lucky is winning the lottery or finding a lost gram of tar in the fold of your couch. This was more like… a day in the office, a very long day, with overtime, an all-nighter, the only pleasure being that box of Krispy Kreme donuts for the overtime staff. After my experience in Indianapolis, I started thinking, "You know, maybe American men have a point, not being hung up on sex and all. Maybe there's a reason why they're so obsessive about their office jobs and their SUVs and collecting overpriced wine. Sex just isn't worth the effort, not in this country anyway."
It took me two long painful months and one really horrible sexual experience to reach that callous frame of mind.
When I first moved back here from Moscow, I went through three pained stages before reaching that final callous conclusion—they always come in threes, these life-stages. The first was like smack withdrawals. Dyev withdrawals. I like dyevs. Need dyevs. Crave dyevs. But here, no dyevs. Just Americans. Blech. Even that word, "Americans," with the flat "r" and the even-flatter "-cans" separated by a barely-audible "i," is like some kind of evil impotence-producing incantation, imported from the jungles of Gabon… witch doctors sneaking around the village chanting "Americans! Americans!" into the huts of any male horn-dog who tried seducing the Chief's wives. Next day, horn-dog's unit shrivels to a walnut, never functions again. That's where our country's name came from—an African impotence spell. Say the word "Americans" to me and my dick turns off; live among these "Americans" and it drops to the floor, petrified wood, heavy on the "petrified," light on the wood.
It had been seven years since I'd been exposed to the sexless tundra of American womanhood. It had been so long since I FELT this uniquely American sexual poverty that I didn't really KNOW what awaited me. In theory, sure, I knew, but I didn't, like, KNOW, you know?
I made sure I stocked up on cheap dyev sex before leaving Moscow last April, packing in as many corporeal memories as my aging, drug-pocked body would allow. One slut I met at Hippopotam last April literally peed all over my stomach. "Please don't think I urinated on you, Mark," she said. "That's all from coming."
"Yeah, and I'm a Chinese jet pilot."
Who cared. I was just packing a suitcase full o' memories, storing food for the long American winter.
But I tore through my food-pack of memories very quickly upon arrival. A week after moving here, I found myself holding an empty sack and an angry penis. Then I started going insane. In May, I hit up one girl in San Francisco—and got tagged after reaching second base. What the fuck was that all about?! Depressed, I reverted to frantically cruising the Net. My fantasies became unhealthy all over again, very unhealthy. So unhealthy that I'd rather not talk about them. I just read in the papers that some guy in Ohio was jailed this week after his mother turned his private journal over to the police—a journal filled with fantasies about sexually torturing children. 'Twas a time when I would have considered that a wee bit on the unwell side, too. But now that I've been in the United States for four long months, folks, I gotta tell ya, torturing children… it sounds perty doggone excitin' to me. He was onto something! Er, uh, I mean, thems is jokes, officer. Harmless jokes. Heh-heh.
Stage two in dyev withdrawals involved taking the whole "getting laid" thing seriously, like a business. My motto became: "I'll fuck anything that moves." That's how I wound up with Anne after the Cracker concert. She moved. "Jiggled" I guess is more like it. Out here, that's par for the course. If thin is your criterion in the United States, you may as well go out and buy yourself a Borzoi and fuck it in the ass, because it's the only thin animal you'll fuck here.
Anne was sweet and pathetic. She told me she'd given up on dating almost a year earlier. Her last date took place in August of 2000, a millennium date I suppose. "Date 2000!" She told me that the guy was a "fish" or a "toad," can't remember which aquatic creature. "He brought me a dozen roses when we first met for the date," she said. "Can you believe that? Gawd, how pathetic. After that, I decided to just focus on work and forget about men. I'd had enough. But you were alone at the Cracker show, so I figured I'd have a chance 'n all."
My world blackened to a very dark shade of black after hearing that. Imagining a lumpy, aging hick, sneering at an even lonelier supermarket clerk because he was kind and desperate and nervous enough to bring her a dozen roses on their first date… if she… then, he… No, better not think about the math there.
I fucked her in a hotel room that I booked off the net for forty dollars. Smelled of stale cigarettes and cheap air-freshener. Before we undressed, I guzzled a 4-pack of wine coolers. For some reason gas stations in Indiana aren't allowed to sell refrigerated beer, only refrigerated wine coolers. Some weird Baptist law. Cooled 'n sweetened Jesus blood, m'm-m'm good! I sucked down the 4-pack like a Conehead, and the next thing I knew, this naked creature who looked sort of like that basement zombie in Evil Dead 2 was blowing me. Ugh, details. The horror. She cried when I was on top of her. Now folks, I've witnessed all sorts of reactions during sex in my day—usually I don't bother looking, cuz after you've seen that LOOK—you know that LOOK, where the girl's lips are all stretched uncomfortably, her eyes get that penguin-fear, and you can almost hear the horrified interior monologue echoing in her head: "I'm dreaming of a happy place! I'm dreaming of a happy place!" … while on top of her this sweaty, hairy freak is gritting his teeth…
Anne cried during sex. I didn't ask her why. After I fired into her bag, I was ready to hang myself. She tried holding onto me. Then she passed out, and the next thing I knew, something sounding like a giant piano screeching along an old hardwood floor woke me. And kept me awake. Sleep apnea. She had it bad. Howling from the bowels of hell. Mockery in snot. I didn't get a wink of sleep in. The next morning I drove her to her house. She was proud of that house. She owned it, an A-frame in a tree-lined residential neighborhood in Indianapolis, with a half-brown crabgrass lawn out front. She stood on her porch and watched me peel away. The last image I have of Anne—she had her hand to her mouth. Crying? Screaming? Gasping? It was very Munchian, mucho Munchian. Too much Munch for me. I did a donut at the bottom of her driveway and fled. Gasping, like the Jews after the Holocaust, "Never again! Never again!"
That is, until last night. And I gotta say, it wasn't bad. I've learned my lesson here. No more white people. Asian blood is the noblest of all, I've decided. It's what makes Russian girls so attractive, that Asian gene. Thanks to Wana, I can once again say, "Me so hoh-nee." If only I wasn't so damn poor, I'd be gittin myself some of that Asian shit every day.
Read more:, Mark Ames, eXile Classic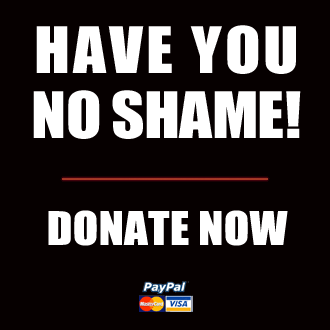 Got something to say to us? Then send us a letter.
Want us to stick around? Donate to The eXiled.
Twitter twerps can follow us at twitter.com/exiledonline