By Mark Ames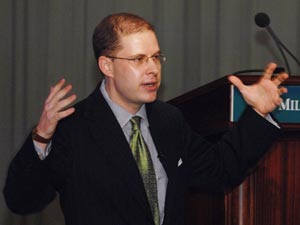 The real mystery of our age is this: why do all the media warmongers still have jobs, after the way they goaded us into the epic disaster we've found ourselves in? Back in 2001, when a panicked America foolishly handed the steering wheel to pundits like Max Boot, America was at the height of its economic and geopolitical power. What happened next was a lot like that rent-a-car prank in the first Jackass film: decades of America's accumulated wealth and geopolitical power trashed overnight in a reckless neocon joyride. The warmongers pulled out of the lot in a mint-condition, gas-guzzling boat, cheerfully assuring America that everything would turn out fine. Cut to the slapstick punch line: Boot pushing the remains of the totaled car back onto the lot. Only instead of apologizing like the Jackass pranksters, Boot cheerfully tells America, "You see, I told you it would turn out great! Now give me your next-best car; I'd like to take it out for a spin…"
That's the most incredible thing: how warmongers like Boot are still gainfully employed, even as news media are shedding jobs and space. And he's using his platforms to try to goad the new administration down the same catastrophic path as the previous one. The disastrous war in Afghanistan is what Obama has claimed as his showcase, and Boot is ready to provide the solution. Never mind that the current Afghanistan debacle was caused in no small part by the bizarre armchair-conquistador ideas that Boot and his comrades successfully advocated into policy during the first few years of the Bush administration. For Boot, the solution to all of America's geopolitical problems is simple: behave like imperial Britain. He doesn't mean that metaphorically, but literally, right down to the tropical colonial headgear, as you'll see.
But first it's important to recall his serious A-list establishment credentials: senior fellow at the Council on Foreign Relations, columnist at the Los Angeles Times, contributing editor at Weekly Standard, regular contributor to the Wall Street Journal and New York Times, and former top adviser to John McCain's campaign–a role that likely would have landed him a powerful position in a McCain-Palin cabinet. With the establishment's blessing and encouragement, Boot's ideas, no matter how insane, enter the mainstream debate, crowding out by the laws of scarcity other ideas and other thinkers who might actually help us and the world.
Ever since Bush came to power, Boot has been pimping his imperial Britain snake oil, a schtick he's still working today. As we headed into the Christmas season, Boot was woofing in the Wall Street Journal about how America can solve two intractable problems–anarchic Somalia and nuclear Pakistan's lawless border regions–with one magical solution:
The essential problem in both Somalia and Pakistan is a failure of governance. The question is: What if anything can outside powers do to bring the rule of law to these troubled lands? In the 19th century, the answer was simple: European imperialists would plant their flag and impose their laws at gunpoint. The territory that now comprises Pakistan was not entirely peaceful when it was under British rule. Nor was Somalia under Italian and British sovereignty. But they were considerably better off than they are today–not only from the standpoint of Western countries but also from the standpoint of their own citizens.
I find it amazing that Boot is allowed to print outrageous declarations like that in public and not be subjected to a public shaming campaign that forces him into early retirement from public service, Trent Lott-style. If Boot had written that blacks were "considerably better off under apartheid rule than they are today," he'd be branded a racist and dropped from every newspaper in the country. And yet it's OK to say the equivalent about subjects of the British Raj–and no one even blinks?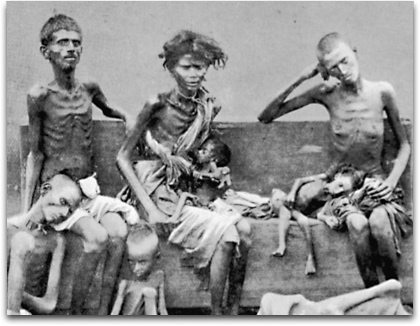 Indians were "considerably better off" under the British Raj, according to Boot
Let's remind ourselves how great Boot's fetishized British Raj was "from the standpoint of their own citizens": their life expectancy fell 20 percent from 1872 to 1921, their incomes fell 50 percent in the last half of the nineteenth century and roughly 50 million natives died in famines overseen by the Raj's imperial authority–famines that occurred at the same time the British were exporting grain from Raj fields and ports. The Brits allowed these Indo-Pakistani holocausts to go on under their administration on the popular theory that providing famine relief would create a bunch of welfare queens, as well as the popular belief that it was a good thing from nature's standpoint to allow the "weak" to die off.
I have read and heard plenty of people who argued that blacks were better off under slavery or under apartheid, and they're rightly labeled racists. So I would like to know why no one is holding Boot accountable for publishing the same argument about subjects of the British Raj, and why Boot's editors at the Journal (or the LA Times or his peers at the Council on Foreign Relations) not only allow him to get away with this, but validate it by providing him establishment cover–is this what they mistake for "maverick" thinking?
Boot apparently isn't interested in or bothered by the British Empire's terrible legacy of genocide, famine or racism. In fact, he seems to relish the idea that twenty-first-century America is fighting wars today created by imperial Britain's divide-and-rule strategy: "It is striking–and no coincidence–that America now faces the prospect of military action in many of the same lands where generations of British colonial soldiers went on campaigns," he crowed in a 2001 Weekly Standard piece published in the wake of the September 11 attacks.
Read more: afghanistan, Empire, india, Max Boot, neocon, Raj, Mark Ames, Fatwah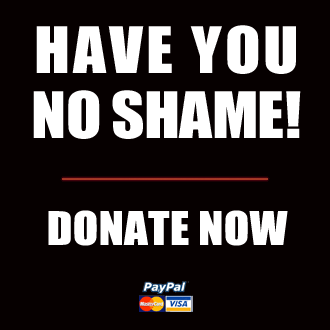 Got something to say to us? Then send us a letter.
Want us to stick around? Donate to The eXiled.
Twitter twerps can follow us at twitter.com/exiledonline