By Mark Ames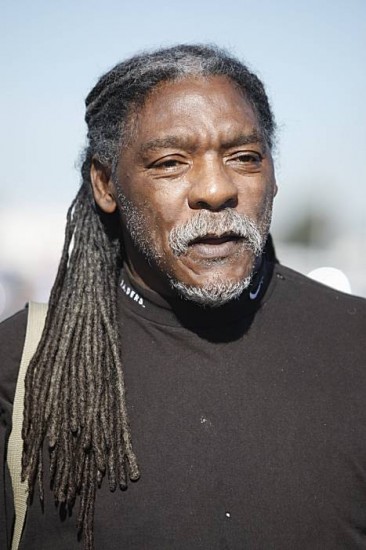 I just found out–belatedly–that one of my childhood heroes, Jack Tatum, died of a heart attack a few days ago. When Tatum played for the Oakland Raiders in the 1970s, he was the most intimidating football player of his time–not in a hammed-up telegenic way, but in a disturbing way that made people, including fans of the sport, nervous. Tatum was serious about his violence, and sadistic, and gratuitous–but not a loudmouth. After knocking countless opponents unconscious year after year, Tatum put his most famous hit on wide receiver Darryl Stingley, snapping two of his neck vertebrae and nearly severing his spinal cord. The hit left Stingley paralyzed for life from the neck down, and sealed the NFL's squeamish loathing of Tatum and the old Oakland Raiders forever.
Tatum never apologized to Stingley for that hit–and why should he have? Instead, Tatum wrote just two years later, "My best hits always bordered on felonious assaults." To this day, it's hard to find a video of the Stingley hit–even in the recent ESPN tribute to Tatum, naming him the #6 Most Fearsome NFL Hitter of All-Time, they're still too unnerved to even mention the notorious Stingley paralyzing:
A lot of Americans back then saw Tatum as a street gangster drafted into the Raiders as some kind of bloodthirsty mercenary, or a "criminal element" as one head coach at the time said of the Oakland Raiders.
He even looked ugly and mean, even by the ugly standards of the 1970's. He wasn't all that big, but he knew exactly how to hit and how to hurt. When I was a kid, I wanted to be Jack Tatum.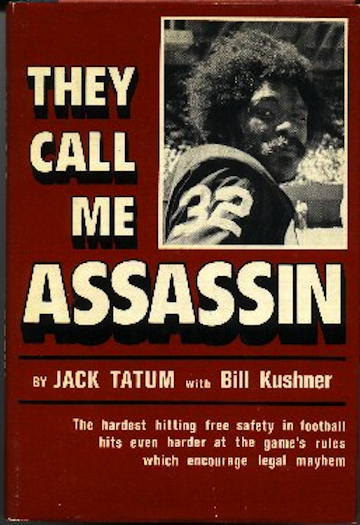 In his dry, understated autobiography on how he came to be such a fearsome hitter, They Call Me Assassin [my Bible back then], Tatum explained how he learned to hit. Note the lack of the sort of loud-mouthed histrionics we expect today; Tatum's voice is the voice of a professional hit-man:
[In high school] I learned that it hurt more to get hit than it did to actually do the hitting. That might sound strange, but let me explain. Most high school defensive players are passive. They sit back and wait for the opposition to come to them. This is bad, because a young player can get seriously hurt.

Good defensive football amounts to mass times velocity. The faster I can move toward impact, and the more violently I can drive my body through a target, the more effective my hit will be. This way I'm doing the hitting and the offensive player is absorbing the punishment. […] My method is similar to a karate punch. I concentrate on a point one yard or so behind the man I'm going after, and on impact, I drive hard to that point.
And then a page later, that same understated menace, the kind you get from a military veteran who's seen and done some nasty things:
As a warrior I must discourage running backs and receivers whenever they attempt to gain yardage against the defense. It is a physical and violent job, and quite often the end results are knockouts or serious injuries to my opponent. But it is just part of a very risky business.
In high school, Tatum became notorious knocking kids out of games–at times, opponents couldn't even field quarterbacks, because Tatum had knocked them all unconscious. In college, at Ohio State, Tatum was such a fearsome hitter that head coach Woody Hayes–a psychopath of sorts himself–pulled Tatum from practice drills because he was laying out his own teammates. Tatum's college hits are still so legendary that to this day, Ohio State's team holds a controversial "Jack Tatum Hit Of The Week" contest.
Jack Tatum's account of the first NFL opponent he put a mark on is wonderful, and reminds me why I was so inspired by his book when I was still a skinny, pissed-off 13-year-old twerp. Tatum describes how, as a rookie safety, he barely managed to bring down the Colts tight end, John Mackey:
That first time, as I went after Mackey, someone had partially blocked me and I hadn't made good contact. Mackey got up, shrugged his shoulders, and walked back to the huddle laughing and hollering in my direction, "Hard-hitting rookie..what a joke!"
The next play, the quarterback once again threw the ball to Mackey, but the outcome was a little different:
I carefully avoided the blind side blocks and drew a bead on Mackey's rib cage. Morrall [the quarterback] hadn't thrown one of his better passes, and I could have easily intercepted, but I had other plans. I wondered if John Mackey would still think I was a joke after he was really hit. As Mackey reached back for the ball, I drove my helmet into his ribs and knocked him to the ground. It was a good hit. Mackey was on the ground flopping around like a wounded duck and gasping for air. Standing over him, I glared down and asked, "How funny was that joke?" Of course, I admit I cussed at him, too.
That's the part that other, decent Americans couldn't stomach: why wouldn't Tatum go for the glory of the interception when he had the chance? Why the private violence, the savage hit, instead–a hit that made him few fans and plenty of enemies?
What made the Raiders different back then was that they were more about creating a permanent impression than merely winning–and still, they usually won. Which was an affront to all decent Americans, who saw the Raiders as an extension of the lawlessness, decadence and racial unrest of that time. But for me, it was the opposite: the Raiders, and especially Tatum, were an antidote to that bad decade. They were the answer to American squeamishness and hippie bullshit and decline–they were mean and unashamed, and they won. And the whole world was against them.
Here's a great video tribute to Tatum and his partner-in-crime, the far meaner but far less talented strong safety George Atkinson:
What's heartening is that Jack Tatum's name still inspires raw middlebrow loathing today. A recent article in Time magazine on Jack Tatum blamed him for every crime and sin under the sun, and then pretends to redeem Tatum's legacy, as if this story is one of sin and redemption. The article is titled "Football's 'Assassin': The Anti-Legacy of Jack Tatum," and it begins by describing a vicious college football hit last year that resulted in a penalty flag, something that didn't used to happen:
The Coleman incident was an unfortunate reminder that each week during football season, Ohio State coaches give an award for the hardest hit — which is fine, except that they've named it after former Ohio State player Jack Tatum. Yes, that Jack Tatum, who as an NFL safety for the Oakland Raiders paralyzed New England Patriots receiver Darryl Stingley with a barbaric helmet-to-helmet hit in 1978. It was the worst of a gallery of similar blows Tatum dished out during his violent 10-year career, earning him the macho-moronic nickname "the Assassin." In his 1980 book — which just two years after leaving Stingley a quadriplegic he was tasteless enough to title They Call Me Assassin — Tatum wrote that he liked to think his hits "border on felonious assault."(See a video of what football can do to your brain.)

Tatum died on Tuesday in Oakland, Calif., at the age of 61, an amputee after losing a leg to diabetes in his later years. True to form, he never apologized to Stingley, who died three years ago at age 55. But it's hard to blame Tatum for thinking his "felonious assaults" weren't just permissible but actually admirable. Until just recently, we as a nation of football fans, like drunk Romans braying in the Colosseum, had regularly celebrated hits like Tatum's as the apotheosis of the game. "All Jacked Up!" to quote the sophomoric ESPN mantra — football not as skilled autumn spectacle but as brute gangsta mayhem.
It's hard to know what's more annoying–the self-righteous Mrs. Crabtree tsk-tsking, the reveling in Tatum's gruesome death by diabetes, or the idiotic/delusional assertion that NFL football was always meant to be a graceful sport "like ballet" as those idiots like to say, rather than the brute gangsta mayhem that fans want and expect. And it's all Jack Tatum's fault, every poor football player who done got hurt playing the game. So you can see the Time correspondent cheering on Tatum's death as some sort of celestial justice, the victory of ballet-loving soccer fans over the brute forces of NFL fandom:
Fortunately, the NFL and the NCAA — facing mounting medical evidence that the helmet-to-helmet collisions promoted by football's jacked-up culture are leading to more and more serious concussions and their lifelong consequences — are beginning to crack down. So it's fitting that Tatum passed away on the eve of a new football season: as fans reflect on his controversial legacy, we've got to ponder our Neanderthal approach to this game and start booing its excesses more loudly.
I remember that exact same angry, moralizing, deluded tone that the Raiders faced when I was a little kid growing up in the 70s. And it was always part of what attracted me to the Raiders–their struggle. It was "The Raiders vs. The World":
As Mao once said: "Battling with heaven is endless joy! Fighting with the earth is endless joy! And struggling with humanity is endless joy!"
Mark Ames is the author of Going Postal, and the co-author of The eXile: Sex, Drugs and Libel in the New Russia (Grove).
Click the cover & buy the book!
Read more: jack tatum, oakland raiders, the assassin, Mark Ames, Fatwah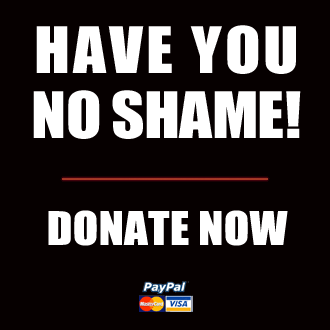 Got something to say to us? Then send us a letter.
Want us to stick around? Donate to The eXiled.
Twitter twerps can follow us at twitter.com/exiledonline