By Eileen Jones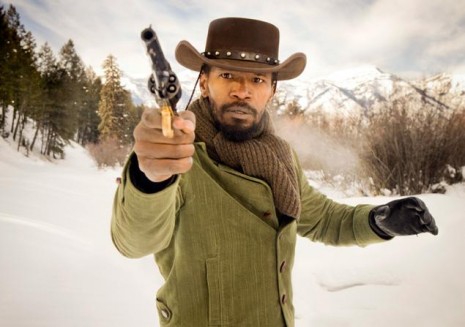 I waited to write about Django Unchained because I couldn't figure out how to account for its maddening effects. But they've gotten more and more maddening over time, to the point that I found myself in a restaurant the other night ranting about the sheer horror of hearing Jim Croce's soporific '70s soft-rock ballad "I Got a Name" scored over should-be-exhilarating shots of Django as a newly freed man riding a fine horse through a grand Western snow-scape.
Sorry, other patrons of the restaurant in question! But consider the provocation! "I Got a Name," for the love of Christ, right there in the middle of my pre-Civil War slave-revenge epic that I've been waiting a year to see! "I Got a Name"! I mean, why not the mellow stylings of James Taylor while we're at it? Maybe Django could sing "You Got a Friend" to his horse or something! My God! Has the whole world gone crazy?
So what the hell, after that there's no point holding back.
Let me just say that I'm not enjoying hating Django Unchained while so many others have a good time loving it. Hating Django Unchained puts me in company I really don't want to keep. Fretters who can't bear the idea of revenge narratives or filmed violence. Morons who hate genre movies. Spike Lee.
I'm not with them, I swear!
The problem here isn't that Quentin Tarantino made an ultra-violent film about a slave's epic revenge—that's what I wanted, that was the whole point. It's that he turned it into a big lame fatheaded joke with a Jim Croce song in it. That's unforgivable. Greatest opportunity a filmmaker has had in years, and he fucked it up.
And the bitter irony is, I read the script months ago, so deep-down, underneath all my fondest hopes, I knew he was going to fuck it up.
Here's what I wrote last February:
…Django Unchained is the Tarantino film that takes on slavery in America, turning it into a kind of Spaghetti Western bloodbath relocated to the Deep South….I've got a lot riding on this radical "Southern." Big emotional investment, partly because of how rotten American films are lately and how much a new genre is needed to breathe a little life into them. And partly because I have so much faith in genre film as The Better Way to approach cultural history and experience, better because genre actually works. It has an impact, influences how people feel. History lessons and documentaries and high-minded period dramas, when they can't be avoided, sometimes have their place in making us think dutiful thoughts. But an effective genre film…can go right into our nerve centers and makes us love things, and hate other things, and long for a scenario in which to act on our feelings.

That all might be very deplorable or even dangerous—some people think so, anyway—but there it is….

Django Unchained is about how the slave Django (to be played by Jamie Foxx) is unexpectedly freed by an urbane German bounty hunter, Dr. Schultz (Basterd's celebrated Christoph Waltz) and teams up with him to go on a plantation raid to free Django's wife Broomhilda (Kerry Washington). The despicable plantation owner Calvin Candie (Leonardo DiCaprio) uses his spread as a giant "house of ill-repuke" as Popeye would say, for white Southern gents with a hankering for "ponies," generally light-skinned female slaves judged the best-looking. "Candyland" also showcases a slave-fighting ring featuring "mandingo" gladiators who battle to the death.

Obviously, all that has to be stopped in the goriest way possible. Fine, good. Necessary, even. An ultra-violent, vengeful "Southern" can be the pop media form of "the fire next time" James Baldwin promised us: "We are going to burn down your house." On film, anyway.

Make that a plantation house in antebellum Mississippi and what decent person, black or white, doesn't want to help torch it?

But the problem is, it all reads so…stupid. Tarantino's script is everything his detractors say he is, derivative, obnoxious, juvenile. There are terrible scenes of cornball humor, like when Django…wear[s] a blue satin Little Lord Fauntleroy outfit in order to impersonate Dr. Schultz's valet, and is confronted by a slave:

"Betina: What'cha do for your massa'?

Django: Didn't you hear him tell ya, I ain't no slave.

Betina: So you really free?

Django: Yes.

Betina: You mean you wanna dress like that?

Django fumes."

You come to dread the scene descriptions because they're so embarrassing:

"The men go to different stores to purchase Django's wardrobe….Django looks damn handsome in his new duds. Brown cowboy boots, Green Corduroy Jacket, Smokey Grey shirt, Tan Skin Tight Pants, and Light Brown Cowboy Hat. He looks a bit like Elvis in "Flaming Star" and a Little Joe Cartwright on "Bonanza.""

Or this one:

"Stephen has been Calvin's slave since he was a little boy. And in (almost) every way is the 2nd most powerful person at Candyland. Like the characters Basil Rathbone would play in swashbucklers, evil, scheming, intriguing men, always trying to manipulate power for their own self interest. Well that describes Stephen to a tee.

The Basil Rathbone of House Niggers."

Tarantino writes like some of my students, and he's getting way too old for that. All that writing-like-talking can be great if you've got control over it (see Mark Twain), but it's godawful when you suffer from logorrhea and have the sensibility of a stoat. Tarantino's ain't-it-cool gloating is just as hot for the joys of Candyland, which he seems to wish he could visit personally—maybe he and Leo having a pony-party—as it is for the burning of Candyland.

But everything equally "awesome" gets boring fast, and finally has no impact. Django's revenge just tails off into nothing—I can hardly remember it. There's no slave uprising, no Nat Turner action. Django and Broomhilda are somehow going to escape from the Deep South on their own after wasting everyone at Candyland, and lead really cool lives somewhere. Maybe head to California, open a store on Melrose Ave., sell the Django Look, corduroy jackets and skin-tight pants…?

Hell, Tarantino's half-convinced me the PBS types are right: you can't deal with slavery in a genre film, it's insulting. You think of every old photo of a slave you ever saw, and wonder how Tarantino could write such crap. And here's the guy who wants to make a movie about John Brown! It's laughable!

Still, I hope I'm wrong. Maybe it just reads stupid, and all the sound and visuals will transform it. Or maybe he's on the set desperately rewriting the script between takes. He should be.
Yes, I had naïve hopes that Tarantino could bring it off in spite of everything. But no. No, no, no, no, no—that was me in the theater during most of the movie, with one stream of word-thoughts running constantly in my head—oh, no no no no no no NO.
The fucking thing's a tonal nightmare, wrong here, wrong there, all adding up to one giant mess of wrong. From the time Dr. Schultz shows up in the first scene driving a little caravan with a gigantic plaster tooth on top of it, attached to a spring so it bounces around goofily to advertise his supposed trade of dentistry, I found myself in a kind of cinema-hell.
Even prepared as I was, I couldn't believe what I was looking at, this goony series of expensively overproduced skits about slavery, built for guffaws as much as for  "ewww" reactions over gloppy blood spurts that accompany all the shooting scenes—the cost of the fake-blood-thickener they were apparently using must've almost busted the budget. There's Jamie Foxx striking Bonanza poses in his fancy new duds. There's Samuel L. Jackson, wearing an Uncle Ben's Converted Rice get-up, playing one of those uppity Gone With the Wind-type slaves who get laughs by giving their masters a lotta lip. There's Tarantino himself swaggering up as an Australian slave-driver with a cartoonishly bad "G'day mate!" attempt at an accent.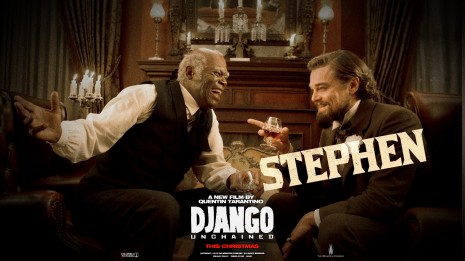 Sure, there are some fine things in the film—great actors, lush cinematography—but that can't salvage the sheer amount of dumbfuckery going on. Prime example: there are horses doing tricks, repeatedly. The last shot, over the grand finale of the exploding Candyland plantations house, is Django showing Broomhilda that he taught his horse how to do some annoying dressage move.
It's ghastly. All the controversy surrounding the movie seems to miss this central point, that Tarantino's punctuating what ideally should be a serious-as-a-heart-attack revenge film with inane laffs and hijinks. It's adding insult to injury that now Big T is going around to interviewers pontificating about the horrors of slavery and how all his research indicates it was far worse than he depicts—duh!—as if he'd just made an avenging-slavery movie that'd give you nightmares for weeks.
But he hasn't. It's what he SHOULD'VE done.
And I realize I'm arguing that what's wrong with Tarantino's Django Unchained is that he didn't make a totally different Django Unchained, i.e., the one I wanted to see, about a Nat Turner-esque slave revolt. That seeming unreasonableness kept me from writing about this movie for awhile, too.
But fortunately, somebody else found the reasonable basis for such an argument, and had more nerve than I did. Here's a quote from Remeike Forbes' astute article in Jacobin Magazine called "Why Django Can't Revolt":
Django Unchained's single obsession with the hero's manhood renders more epic possibilities unimaginable. One question looms over the film — where's the slave rebellion? Even Calvin Candie asks himself this.

Remarkably, a story about slave-on-slaver violence barely makes a nod at slave revolt. Some might say that such a grand gesture isn't really in Tarantino's repertoire, but Inglorious Basterds shows this to not be the case at all. In the movie he allows for history to be completely rewritten, as a band of Jewish-American soldiers and a Jewish theater owner murder the entire Nazi leadership in one night. Why then should something as plausible as a slave revolt be considered an absurdity?

There is one moment that seems like the perfect opportunity for Django to evolve from his lone gun-slinging to rallying others to fight. After fooling his captors and preparing his return to Candyland, Django goes over to the wagon where a few of Candie's former slaves are sitting in a cage. One would imagine that now free and moved by Django's feats at least one person, if not all, would join him and take the opportunity to reap revenge on the Candie plantation, where they themselves had lived dehumanizing lives as Mandingo fighters. Instead, they look on at Django awestruck, as he rides off. I guess their balls just weren't quite as big as Jamie Foxx's.
Forbes has zeroed in on one of two really telling points in the narrative, when it seems like Tarantino is deliberately psyching us out with the possibility of Django joining forces with other slaves.
The first is the opening scene, when Django, a member of a chain gang of manacled slaves shuffling through the harsh cold terrain of Texas in winter, is liberated by Dr. Schultz, who shoots the slavers. Dr. Schultz then counsels the other slaves about how to negotiate their own way to freedom, and Christoph Waltz's singsong voice is light and frolicsome throughout. Django never speaks to them, seems too shocked by rapid developments. This seems like the film's starting point on slavery: there is no cooperation among slaves, there's hardly even sympathy or communication amongst slaves, and therefore, no possibility of united action. We know that's not true as a rule, historically. But as a genre film set-up it might work well if, for instance, you intended to rectify that terrible state of affairs with gradually increasing sympathy, communication, and cooperation, all leading up to a goddamn SLAVE REVOLT.
Instead, later on, as Forbes indicates, evil Calvin Candie speculates about the reasons why slaves don't revolt, and makes a lengthy, outrageous argument, illustrated with the skull of a dead slave, that black people in general are biologically inclined toward submission. Only one in ten-thousand, Candie opines, would prove to be the exception to this rule. At the climactic moment of the movie, Django proudly announces himself as that one non-submitting black person, embracing Candie's theory.
It's a hell of a thing, lemme tell ya.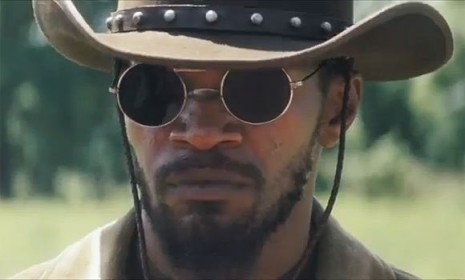 The second time in the movie that the possibility of a slave revolt gets dangled in front of us is the more egregious one. Django gets freed from his captors once more—actually, frees himself this time, through smooth-talking guile followed by unforeseen violence, clearly demonstrating what he's learned from Dr. Schultz in their bounty-hunting ventures—and once again he's looking at his fellow black men, who are still sitting in the cage, though the door is open.
The scene is held dramatically, letting us consider what's about to happen next. Pretty clear Tarantino is building expectations—will they leap up to join him, or will Django have to urge them to grab this extraordinary chance at revenge and freedom…? Nah, neither. Django demands the dynamite and rides off, the other men staring after him. Then, the shootings—Broomhilda rescued—Candyland goes kaboom—dressage—THE END.
It seemed so artificial and atrocious an ending, I thought, there has to be something else going on in the film that justifies this, and I'm just not getting it. Tarantino ain't THAT crazy. Turned out a friend of mind had a theory about how the whole movie is really a meditation on contemporary "slavery" in the form of the inescapable, exploitative worker system we're all enmeshed in right now. Or something like that. I was trying to follow it—it got kind of tricky in its particulars—but the restaurant was getting loud and the drinks were going around and pretty soon I lost the thread. Not sure it would've mattered anyway, because the last thing I wanted of Django Unchained was some allegorical exercise. The first major Hollywood genre film about slavery with the slaves as the heroes, and we're going to get meta about it? On purpose?
But I don't know how else to explain the movie's unique rottenness. Or the Jim Croce song. Readers, please advise.
Read more: civil war, Jamie Foxx, Jim Croce, Quentin Tarantino, revenge film, slavery, South, Spike Lee, Eileen Jones, movies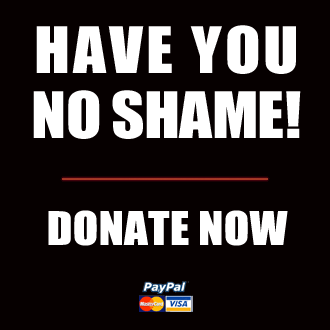 Got something to say to us? Then send us a letter.
Want us to stick around? Donate to The eXiled.
Twitter twerps can follow us at twitter.com/exiledonline