By Eileen Jones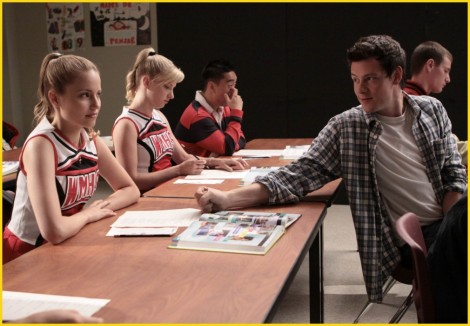 Of course it goes without saying that you don't watch Glee, you couldn't care less about Glee, you wouldn't touch Glee with a stick. It's a teen musical on TV, for Christ's sake, there could hardly be anything lamer than that. Even gibbering fans of this series acknowledge its lameness by calling themselves Gleeks.
But Glee's now a cultural phenomenon, and hard to ignore. After one season, its soundtracks are best-sellers and its songs are much downloaded. Its cast got invited to perform at the White House Easter Egg Roll because the Obamas are big fans, and then they went on Oprah. Done deal! Now every known music performer and band in the world wants to have their songs covered on Glee, which has already taken on Kanye West, Katy Perry, the Rolling Stones, Beyonce, Rihanna…and coming up there's Madonna, Lady Gaga, Coldplay…
This madness is only going to get bigger once the show's second season starts this Tuesday. If you aren't Glee-conscious already, pretty soon you'll be hearing about it whether you want to or not. Here's a fun fact to help you through it: Glee is a blatant rip-off of the great 1999 movie Election. And for some reason, nobody mentions it.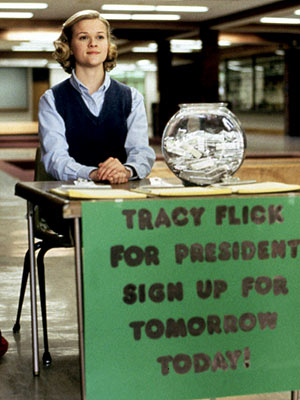 You remember Election. An annihilating satire of the American experience, Election has never really been equaled for sheer truth-telling about the crushing awfulness of high school, which sets us up for the rotten lives we're going to live thereafter. Election features a grotesque ensemble of recognizable types. Matthew Broderick gives the performance of a lifetime as the pasty, doughy, dweeby high school teacher, Jim McAllister, who lies to himself about being a committed educator but at the faintest opportunity will sell out every supposed value for sex, revenge, and escape from his crappy job and car and clothes and marriage.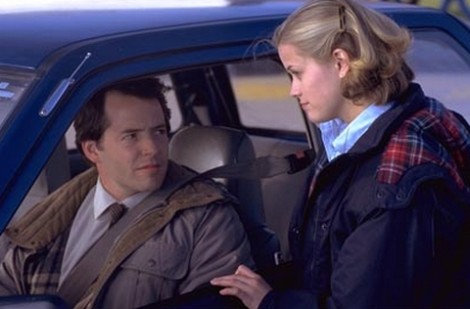 His nemesis is the immortal Tracy Flick (Reese Witherspoon, who'll never top this), a chillingly horrible high school overachiever driven on by her neurotic mother to scary depths of blank-eyed, can-do ruthlessness. Chris Klein was plucked out of the Omaha high school world where the film is set to play the big clueless jock Paul Metzler, everybody's pawn. He's set up by McAllister to run against Tracy Flick in the election for high school class president. Then his cynical lesbian sister Tammy (Jennifer Campbell) throws her hat in the ring to spite Paul after Paul unwittingly steals Tammy's nasty hypocritical girlfriend. In the end, Tammy alone figures out the idiocy of the system and engineers her own triumphant escape from it. Everybody else is doomed to play out the horrifying scenarios set in stone in high school.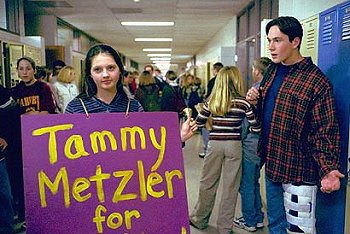 These four characters provide competing voice-over accounts of their cut-throat election battle. Well, Glee steals three of those four main characters, plus the competitive-voice-over device that reveals all of their self-serving rationalizations for rotten deeds. Instead of an election there's a series of glee club competitions, and the constant attempts to sabotage them by sociopathic cheerleading coach Sue Sylvester (take-no-prisoners comic actor Jane Lynch).
But Glee makes everyone prettier and sweeter in that way TV generally does, and works to guarantee them all redemption and happy endings. Matthew Morrison, as dedicated high school teacher Will Shuester, drives to work in a rusty car dragging its muffler, similar to the sad little compact driven by Matthew Broderick's character, but when he gets out he's tall and handsome and gym-toned and grinning, and boy, can he bust a move, like some kind of freakish latter-day Gene Kelly. He looks like a Broadway musical star because he was one, in Hairspray. He does McAllister-esque deeds, like blackmailing football quarterback Finn Hudson (Cory Monteith) into joining glee club by planting pot in his locker and then threatening to have him busted him for drug possession, but this is handled cutely with many bleatings of remorse on the soundtrack. Also like McAllister, Will's got a pathetically terrible marriage to a mean user, and a small, pinch