By Mark Ames
As we pulled out, one of the reporters ironically shouted, "Where are the protesters on this bus?" The bus erupted in cynical snickering. We hadn't even set out from Bridgeport for the first big battle of the Class War, and already it was going badly. The bus arrangement mirrored the same elitist structure that was supposedly being challenged: people who mattered were on the bus that mattered; the nobodies were put into miserable minivans that followed behind us. The charter bus slowly made its way from depressed working-class Bridgeport into Fairfield. It was like the anti-Heart-of-Darkness, a journey from decrepit Bridgeport, up-river into the familiar world of sterile middle-class suburbia — and then deeper still, up-river to the socio-economic headwaters, a hamlet of unattainable luxury and civilization that we could only dream about. We'd gone from shit to champagne. The reporters' sneering and quipping died down to a respectful hush as we slowly rolled past perfect, gleaming colonial mansions, with their grotesquely-vast front lawns and their perfectly-kept streets. All of this divine luxury had a strange way of transforming the anger on our bus into something a lot more feckless: awe, and self-loathing. We didn't belong here, and we knew it. Somehow it was our fault that we were in the drab bus, and they were in the shiny Lexus SUVs. Hell, the fine residents of Fairfield only see buses like ours on the right lane of I-95 as they zoom to their Manhattan high-rises. What was this ugly beast doing here, in Fairfield, mucking up the view?
The remaining half-dozen protesters who were kept on the bus like protected species also felt this awe. One of the protesters, Mark Dziubek, recently-downsized from a steel rolling mill, told me that even though he's spent his whole life in nearby Southington, he'd only been through Fairfield once in his life. Dziubek, a burly father of five, was the token white protester remaining on the bus. He was already getting used to this life with the people who count, and didn't relish the idea of going back to his life.
"I'm thinking that for my retraining, maybe learning to be a photographer," he told me. "Does it pay?"
I told him absolutely not, that it was an even more doomed-to-poverty profession than print journalism, which was also a guaranteed ticket to an early stroke-from-bitterness. But you could see why Dziubek was impressed, with all the photographers snapping photos of him, the exhilarating sensation of suddenly counting.
The bus stopped and let us out at the corner of Mine Hill Road and Golden Pond Lane. Last out of the bus were the showdown's two stars, both African-Americans. One was a middle-aged pastor named Mary Huguley, and the other was Asaad Jackson, a 24-year-old ex-boxer-turned-activist sporting dreadlocks down to his beltline. They were going to confront the rich white AIG executive, Douglas Poling. He was the one who took the largest bonus, $6.4 million. Poling apparently was so unnerved by the unfolding scenario that he returned his bonus a day before we arrived, while Poling's fellow AIG exec neighbor up the street, James "Jackpot Jimmy" Hass, blubbered to reporters that he had also given back his multimillion-dollar bonus and couldn't people just look into their hearts and show him some mercy.
Huguley and Jackson deliberately and dramatically marched down Golden Pond Lane towards Poling's mansion, while about 50 members of the media elite jostled and swarmed around them like worker bees with the queen. This scene unfolding was every American plutocrat's worst nightmare, once unimaginable, now a reality that could be viewed from Poling's second-story window: Two poor, pissed-off blacks, surrounded by a phalanx of the liberal elite media, marching up to my hard-won mansion in broad daylight, banging on my front door, demanding a cut of my wealth.
On the deepest-plutocrat's-fears scale, Willie Horton rates about a 2 compared to this class-war nightmare.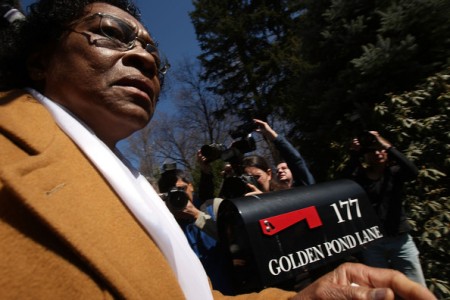 Pastor Mary on Golden Pond Lane with the liberal media elite: Douglas Poling's worst nightmare come true
As we got closer to 177 Golden Pond Lane, we saw some uniformed policemen standing at the edge of the cul-de-sac with three healthy-looking white men in weekend sweatshirts and baseball caps, and two undercover cop cars — sporty SUVs — in the driveway of Poling's neighbor. A regular Fairfield cop car slowly tailed our crowd from behind — just want to make sure nothing happens here, folks…. Two menacing bodyguards patrolled Poling's front yard: a shaven-headed guy in business casual wear with a goatee and shades, who tried giving the impression of a relaxed, experienced veteran; and a gorgeous Latino woman in a Ninja jumpsuit, who paced the lawn like a caged she-lion just begging for one of us lowlifes to stick our hand into her range, where she'd tear it off with some jujitsu move. Poling was apparently gone that day — I imagine he was scouting out citizenship opportunities in plutocrat-friendly autocracies like Kazakhstan or Liechtenstein.
Read more: ACORN, AIG, Class War, Mark Ames, Class War For Idiots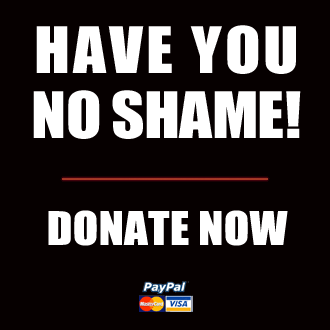 Got something to say to us? Then send us a letter.
Want us to stick around? Donate to The eXiled.
Twitter twerps can follow us at twitter.com/exiledonline