By Mark Ames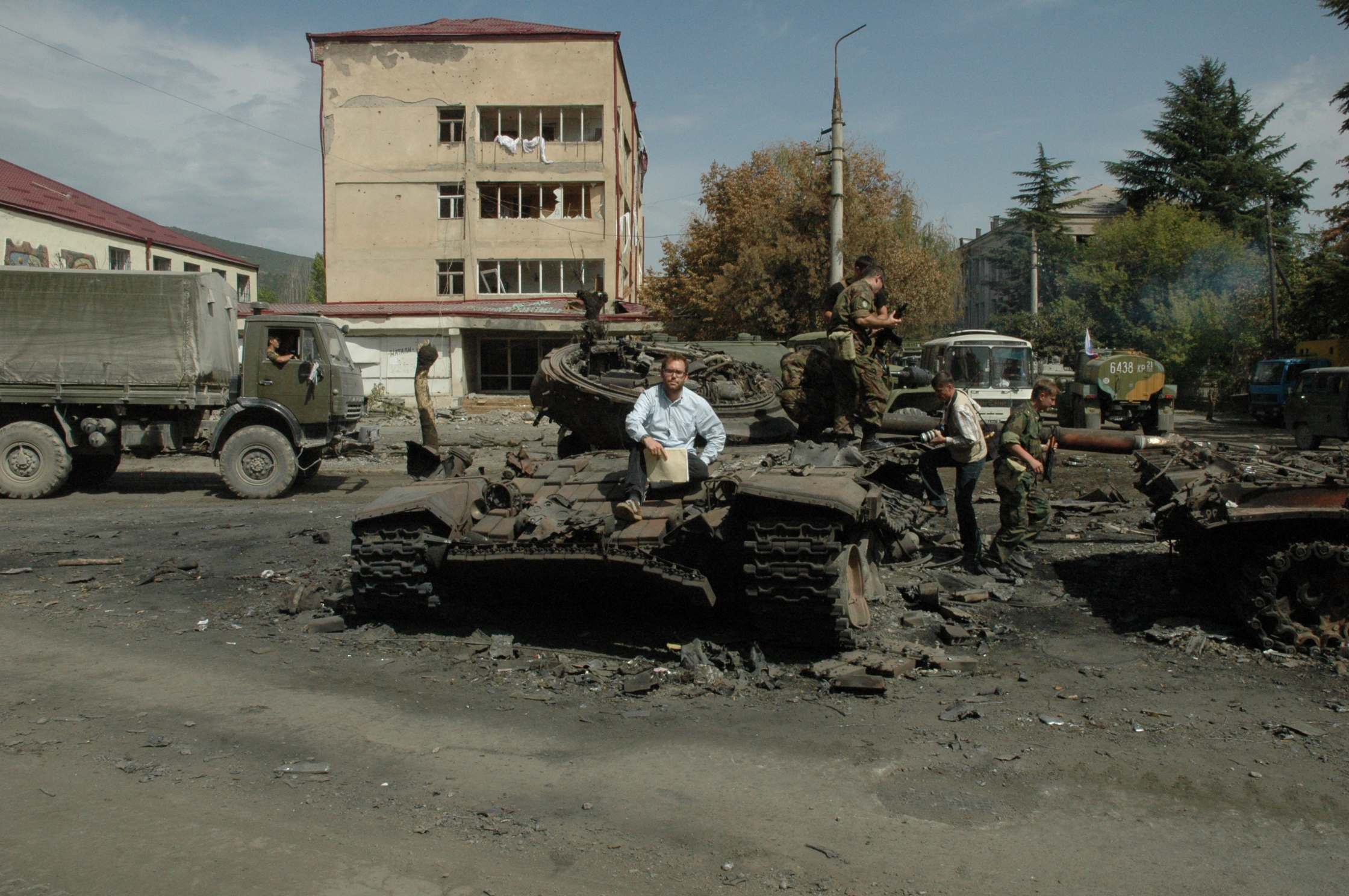 Siegel posing atop a Georgian tank in Tskhinvali. (Photo: Ames)
Surprisingly, the Kremlin tour organizer caved. The next day, Sasha arranged for the Western correspondents' first tour into occupied Gori, traveling in from the Russian/Ossetian side rather than up from the Georgian side–this would provide fresh news. And he gave us much greater access to the ethnic Georgian villages behind Russian lines that had been torched in reprisal attacks following Georgia's brutal invasion, which leveled buildings and villages and drove tens of thousands of Ossetian refugees into Russia. Sasha figured that it was a worthwhile trade-off: it was so important to show what he thought was the much bigger page-one story–that the Georgians lied when they claimed that Russia had bombed Gori into rubble–that it was worth conceding a story about how Ossetian and Chechen irregulars had torched Georgian homes in order to debunk the Gori-destruction propaganda that had been used so successfully to demonize Russia.
Here is what Siegel's trip to Gori contributed to the Times article, which made no mention of how Gori was indeed almost completely unscathed:
A Times reporter traveling between Tskhinvali, which is the South Ossetian capital, and Gori saw extensive sections of [Georgian] villages that had been burned.
On the long ride down to Gori via South Ossetia, Siegel loudly and busily counted up the burned houses in ethnic Georgian villages, excitedly telling everyone, "This is what my New York Times editor wants," running up and down the Hyundai minibus aisle. When we'd pass through Ossetian villages, he was back in his seat, on the phone loudly reporting figures into his cellphone.
When we got to Gori, we saw that it wasn't bombed to the ground, as we'd expected. Frankly, I was shocked: after what the Russians did to Grozny during the two Chechen wars, I couldn't believe that they wouldn't bomb an enemy city into rubble first and ask questions later. But the fact was, compared with the ruins of Tskhinvali, Gori looked like Geneva. Siegel wasn't interested–or, rather, his Times editor wasn't–so he went running around looking for evidence that the Russians had dropped a cluster bomb. He thought he found that evidence–we all saw the bombshell–but apparently it wasn't rock-solid enough for the Times editors.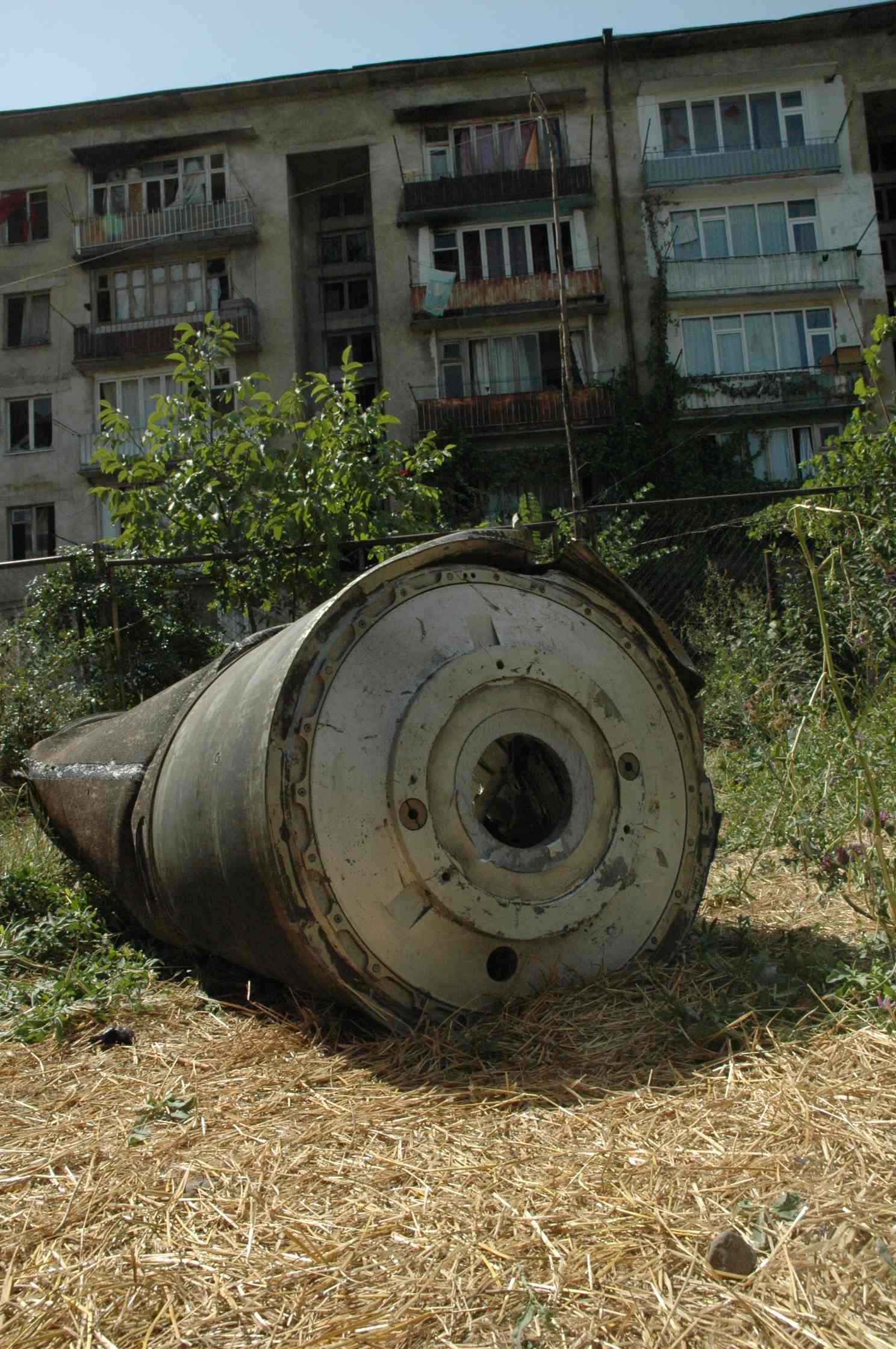 Suspected Russian cluster bomb in central Gori. (Photo: Ames)
The production of the final article that appeared on page one, with Siegel's contribution from bean-counting the burning houses, was almost entirely Georgia-centric: while temp-stringer Siegel was hired to cover the Russian/Ossetian side of the conflict zone, staffers Sabrina Tavernise, C.J. Chivers and Michael Schwirtz were stationed on the Georgian side, along with photographer-reporters Joao Silva and Justyna Mielnikiewicz, who has lived in Tblisi since 2001.
Had Siegel–or, rather, his editor–taken an interest in the really important story that we saw that day–that the Georgian propagandists had wildly exaggerated the destruction in Gori, which should have cast doubt on their entire story all along–the Times would not have had to wait until November 7 to "call into question" Georgia's claims. The paper could have called them into question right there–or at a hundred other opportunities that I saw in my time in the conflict zone.
Apparently, the editors weren't interested. And this is where the Times's reporting–from the editorial decision to base all of its staffers on the Georgian side while leaving the crucial Russian/Ossetian side of the battle zone to a stringer eager to please his US-based employer–went so woefully, recklessly wrong. In Siegel's defense, he didn't make the editorial decision to ignore the real Gori story. It seemed clear to me that it wasn't his decision, but rather that of his editors, to highlight the unbombed parts of Tskhinvali when he reported from there a few days earlier:
Russian statements had likened the Georgian assault to other recent cataclysmic wars in the Caucasus, like the razing of Grozny in Chechnya. But while Tskhinvali sustained significant damage, it was not as widespread or catastrophic as the state-run Russian news media had portrayed it.
Fighting appears to have been concentrated in two neighborhoods, while buildings in the rest of the city stood intact. Entire residential neighborhoods appeared unscathed. Even in the hardest-hit areas, most buildings were left standing.
I'm still shocked today reading this. Yes, most of the buildings were standing. It's hard to level buildings in just a few days of shelling and tank fire, no matter how fierce and indiscriminate. What the Times's stringer didn't include was that the "two neighborhoods" he alluded to were Tskhinvali's main residential district, nicknamed Shanghai because of its population density (it's where most of the city's high-rise apartment blocks are located), and the old Jewish Quarter, which was nothing but piles of rubble. Leaving out those powerful, significant details–and again, this looks like the fault of the editors in New York who hired Siegel–is active propaganda.
To see what I mean, here's how a more seasoned reporter, Peter Finn of the Washington Post, reported the same scene a couple of days later, when he finally was let into Tskhinvali:
The war between Georgia and Russia was centered on this town of at most 10,000 people, and it cut a swath of destruction, severely damaging many homes and apartment buildings.
The scale of the destruction is undeniable; some streets summon iconic images of Stalingrad during World War II or Grozny, the capital of Chechnya, which was leveled in two wars between Russian and Chechen separatists.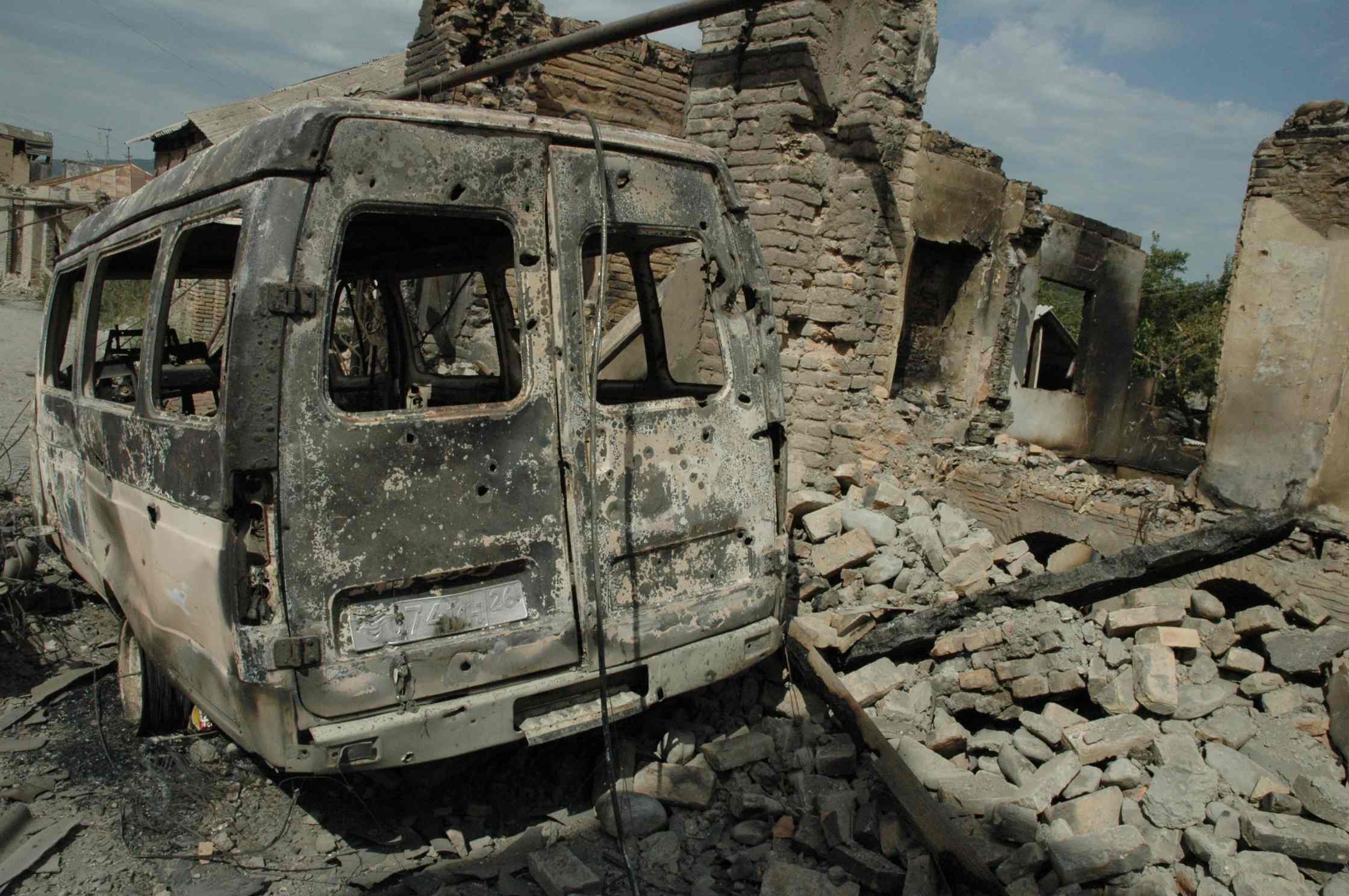 The Jewish Quarter, Tskhinvali. (Photo: Ames)
What's more disturbing is how the Times stuck to its false narrative about an innocent Georgia attacked by a neo-imperialist Russia long after the war ended and evidence started to pour in of Georgia's culpability. It took whistleblowers, human rights organizations and the Western European media to reveal what happened. In mid-September, Germany's Der Spiegel published an investigative report drawing on interviews with OSCE monitors who witnessed the war, asking, in its subhead, "Did Saakashvili Lie?"
Read more: georgia, new york times, Russia, war, Mark Ames, Fatwah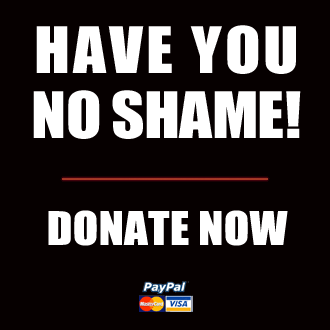 Got something to say to us? Then send us a letter.
Want us to stick around? Donate to The eXiled.
Twitter twerps can follow us at twitter.com/exiledonline