By Max Blumenthal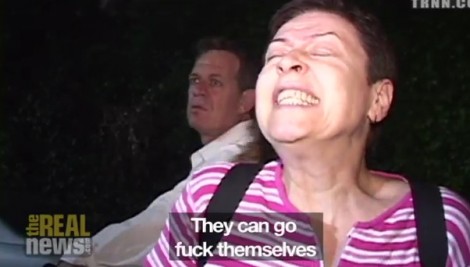 Crossposted from MaxBlumenthal.com
Tel Aviv University was built on the ruins of the Palestinian village of 
Sheikh Muwannis
. The university's faculty lounge is the village mukhtar's former home. At the corner of Arlosoroff and Ibn Gvirol streets, where the 
Century Tower
skyscraper stands, a Palestinian village named 
Sommeil
used to exist.
When activists from the Israeli group Zochrot set out into the heart of Tel Aviv's "Independence Day" festivities to educate revelers about these facts, they were accused of engaging in criminal activities.
As soon as the activists attempted to exit an office building to place small placards on Ibn Gvirol Street memorializing Palestinian villages destroyed during the Nakba, riot police surrounded them with metal gates, blocking them inside. The police informed them that they would be arrested if they attempted to interact with the crowds celebrating Israel's birth. "We will not allow you to enter the celebrations with your pictures or your fliers," a cop told Zochrot's Eitan Bronstein. "We will not allow this form of protest. It might disturb the peace so we won't allow it." Another police officer told Bronstein his placards represented "inciting material."
Though the police repression can hardly be excused, there is some reason to believe the Zochrot activists could have been subjected to harsh violence if they had been allowed to proceed with their action. While caged behind the metal gates, passersby surrounded the activists and held forth. "You're lucky the police is here. You should thank them," said a bald, beefy man who had to be led away.
Another hulking character who identified himself as a member of Unit 51 from the Israeli army's Golani Brigade paratrooper corps barked at the activists, "The only thing you are is a bunch of traitors. Every day people here are fighting… This is unbelievable. You are traitors and if we had the chance we would shoot you one by one. One by one we would shoot you…"
The demonstration concluded with police violently arresting three participants including one man for the crime of reading aloud the names of destroyed Palestinian villages.
Lia Tarachansky of the Real News Network filmed the melee. Her footage is below:
The repression of Zochrot's educational action was the street level manifestation of the campaign the Israeli government has waged to mute discussion of the Nakba and punish those who violate the code of silence. Last year, the government passed a law that allows the denial of state funding to NGO's that participate in Nakba commemorations. In 2009, it banned the use of the term "Nakba" in school textbooks. Limor Livnat, a right-wing Knesset member who co-sponsored the so-called Nakba Law and banned textbooks using the word during her term as Israel's Education Minister, declared that merely allowing students to learn about the mass expulsion of Palestinians during 1947 and 1948 would encourage them to work against the Jewish state.
The images of brawny riot cops — literal thought police — roughing up the small band of Zochrot members for publicly reading "inciting" facts recalled a passage from a widely publicized book about the importance of promoting democracy around the globe. "If a person cannot walk into the middle of the town square and express his or her views without fear of arrest, imprisonment, or physical harm," the book read, "then that person is living in a fear society, not a free society."
The book is called "The Case For Democracy." One of its authors, Natan Sharansky, was a former Soviet dissident who currently heads the Jewish Agency, a key arm of Israel's settlement enterprise. The other author is Ron Dermer, an advisor to Benjamin Netanyahu known as "Bibi's brain." Together, the two called for overthrowing repressive regimes around the world, inspiring former US Secretary of State Condoleeza Rice to quote their so-called "Town Square Test," while they actively guided Israel's descent into authoritarianism.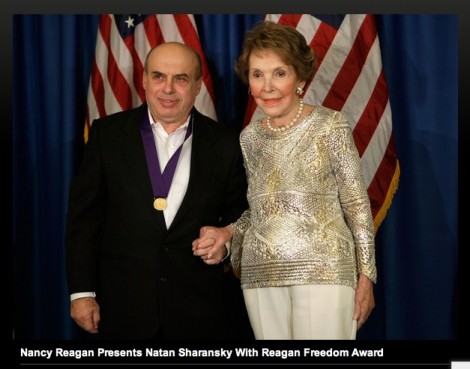 Prom date?
How could Sharansky and Dermer fail to see the irony in their actions? As the scenes from Zochrot's demonstration illustrated, reflection is never an option in a fear society.
Want to know more? Check out Max Blumenthal's previous posts: Progressive Democratic hero Elizabeth Warren enlists to serve AIPAC's pro-war agenda . . . Mitt's Foreign Policy Team Run By Ultra-Neocon Loons & Failures Itching For Nuclear War With Iran . . . Washington Post Scrubs Quote Smearing Iran War Critics, But Ex-Camp Guard Jeffrey Goldberg Runs With It Anyway
Crossposted from MaxBlumenthal.com
Read more: ethnic cleansing, freedom, israel, Max Blumenthal, Nancy Reagan, Natan Sharansky, palestine, Max Blumenthal, Dispatch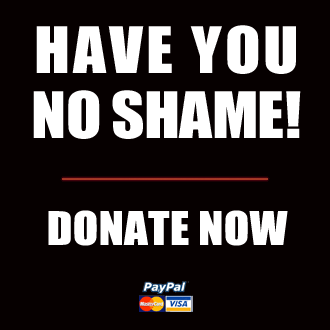 Got something to say to us? Then send us a letter.
Want us to stick around? Donate to The eXiled.
Twitter twerps can follow us at twitter.com/exiledonline