By eXile Staff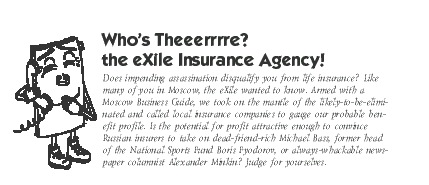 AIG Insurance
eXile: Hello? Irina?
AIG: Yes?
eXile: Yes, hello, I was given your number. My name is Michael B-.
AIG: Pleased to meet you.
eXile: Likewise. I'm calling because I'm interested in acquiring a life insurance policy.
AIG: I see. And you are a citizen of what country?
eXile: USA-
AIG: Because I'm not entirely sure that we insure anybody except Russian citizens.
eXile: I'm well known in Moscow. I'm friends with Paul Tatum, Paul Glotser…
AIG: What?
eXile: It's just that I've been here a long time, which is why I'm calling a Russian agency.
(Fifteen minutes later)
AIG: I have a question. Maybe a, er, slightly indecent one-why don't you insure yourself at home, in America? (laughs)
eXile: Well, it's just that I've lived here for so long. Of course, I don't have any legal problems there at all, none at all.
AIG: So I think we should meet to discuss this. How about Thursday?
eXile: Thursday? Let me think…Actually, I have to be a witness in a criminal trial Thursday. One of my friends was murdered, you see.
AIG: Oh, that's terrible. That's just awful.
eXile: Yes…Actually, this has happened to me more than once, believe it or not.
AIG: Yes, that's also happened with our friends. I myself had a friend murdered just last November. He had three little children. The wife was killed too…So the kids were left completely alone, you see. So you see, it happens.
eXile: Life in Moscow has really become-not calm.
AIG: On the contrary. On the one hand, it's gotten much calmer, but on the other hand, you worry sometimes…(laughs)
eXile: So in order to get a policy there, will you need recommendations from my business colleagues? Because I can get those, if you need them.
AIG: No, that won't be necessary. We'll meet with my boss and discuss your case in more detail. Then we can talk about recommendations…
eXile: Because if you need them, I can get them. I have some colleagues who are still alive.
AIG: I hope everybody all around stays alive.

Russian-Italian Insurance Agency
RIIA: How can I help you?
eXile: First of all, my name is Boris F-. I'd like to insure myself against accidents.
RIIA: Oh, against accidents?
eXile: Right. You know how things are these days…the times…
RIIA: (pause) I see…And what do you do for a living? What's your position?
eXile: I work in the Sport Committee…
RIIA: Uh-huh…The Sport Committee…So you're an athlete?
eXile: Well, let's say a former athlete.
RIIA: (long pause) Former… hmm… gotcha…so you, let's say, you are, in general, what kind of job there-just a regular worker, we can say?
eXile: Well, sure, we can say that.
RIIA: Umm…
eXile: It's just that, recently, with my work, you know, nothing is really all that simple. It's not that I think that there will be any unpleasantness at work, it's just that, in connection with work, you know, it's possible.
RIIA: Okay. Well, how do I say this, are you connected with someone abroad, or who are you connected with-or what exactly does your work involve, or what exactly is your position, or should I say-how do I say this-are you just a regular worker at the Sport Committee?
eXile: Well, in general, a regular worker at the Sport Committee… I'm doing business, too, in connection with all of that, of course. I recently returned from Germany, where I was in the hospital. I'm, you know, abroad often enough.
RIIA: Okay, understood. Ah…Well, in connection with what you've told me about yourself, I think we need to talk, because we approach such cases individually. We have to evaluate the level of risk involved with the person. I mean, I've just been asking you w-w-what you do for a l-living.
eXile: I understand. Excuse me, but you know, these days everybody risks something.
RIIA: Right…Well, judging by the information you gave me, I think we can offer you a situation where you would pay 1-2%…And, of course, you should probably come in to discuss this with us.
eXile: I get it. So we'd need to, so to speak, meet, and I, so to speak, would have to come to see you.
RIIA: Well, in general…(laughs) it would be desirable, of course, for you to come in…
eXile: Okay, but I just wanted to ask right now-if the level of risk is high, you can even reject me, right?
RIIA: No, no, not at all, how do you say, we'll say it like this-a rejection is, we'll say it like this, not ex-ex-excluded. You see, we measure the level of risk, and if we talk, and you answer all our questions openly, and we find a high level of risk, we can say we don't want to take that responsibility. And if you're insuring not for five million rubles, but let's say for five hundred thousand dollars, then, you know, we may want to consider carefully what we're doing.
eXile: Whatever you're comfortable with
RIIA: Well, of course, we'd like to talk it over.
eXile: Right. Well then, goodbye.

Moscow Insurance Company
eXile: Hello.
MIA: Hello.
eXile: I'd like to ask about life insurance.
MIA: Sure.
eXile: My name is Alexander M-. I'm a journalist, you might have heard.
MIA: And how can we help you? What kind of sum were you looking for?
eXile: Well, let's say, $50,000.
MIA: Okay, well, I see. Our accident policy covers various insurance guarantees, under which you pay regular installments, and covers temporary incapacity, meaning temporary health problems, various reductions of mobility, and, ah, of course, death.
eXile: Okay, right, so I'm at the right address, then, definitely.
MIA: Our policy covers the territory of the whole world, except zones of military conflict. So if our client goes to one of those zones…
eXile: Moscow itself is a zone of military conflict.
MIA: Uh…well, let's just say that we mean the ones recognized by the government.
eXile: Okay, I understand, I'm not going to Chechnya, so don't worry.
MIA: Just so you know. So, $50,000.
eXile: Yeah, that's the sum.
MIA: Well, we'd probably be looking at 4% for that kind of sum.
eXile: You take a pretty big percentage. So that probably means you take on clients who have…a higher level of risk than an ordinary citizen?
MIA: Yes, we insure journalists.
eXile: You insure journalists, then?
MIA: Yes..

This article was published in Issue #3 of The eXile in March 1997.

Read more: exile issue 3, eXile Staff, eXile Classic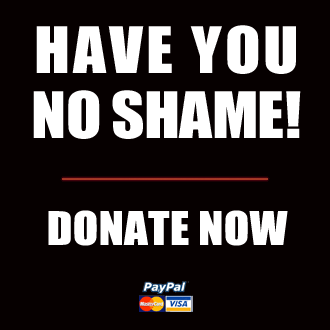 Got something to say to us? Then send us a letter.
Want us to stick around? Donate to The eXiled.
Twitter twerps can follow us at twitter.com/exiledonline