By Yasha Levine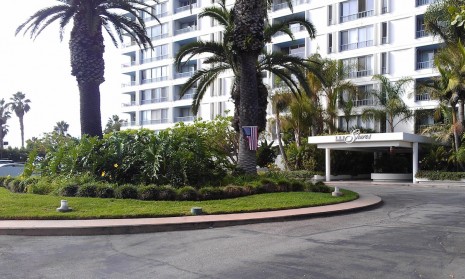 On election day, I woke up before dawn, took a dip in the ocean, made coffee and worked until about noon, when I decided to get the thing over and go vote. I walked five blocks to my polling station, located in the lobby of the Santa Monica Shores apartment towers sitting right on the beach.
It was a warm clear Southern California day. Outside the polling station, long-stemmed palm trees swayed softly in the light ocean breeze.
I could see through the glass doors that there was a long line stretching diagonally across the lobby. I swung the doors open and didn't take more than two steps inside when I was hit by a gut-wrenching smell–a musky, nauseating mix of rancid beer, rotten fruit and anchovies. The lobby was filled to the brim with pensioners—and one of them had a yeast infection that had gone rogue.
I remembered that smell very well. I became intimately familiar with it on a long  Greyhound bus trip I took across the Midwest a decade ago, during which I and a few dozen poor souls spent a whole night cooped up with a sick, obese woman suffering from a gnarly yeast infection in full bloom. I had plenty of time to ponder and try to figure out the source of that rancid smell as the bus made its way from Denver to St. Louis, and had my suspicions confirmed by a woman sitting one row over: "I think she got a bad yeast infection." People started trying to figure out what the stench was and who it was coming from almost as soon as the bus got going and the AC system starting recirculating the air.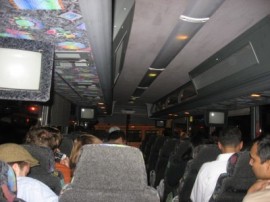 That bus ride took place many years ago, but the experience was seared into my memory forever. The low-level nausea, the claustrophobia, the helplessness . . . I bought a bottle of cheap wine at a truck stop and downed it to numb my senses and help me sleep . I remember dozing off into forgetful sleep and waking up suddenly, thinking it was all just a bad dream—and realizing that no, it was real and I still had many long, painful hours left to go.
These memories came rushing back to me as I waited for my turn to vote. The line moved slowly on account of all the confused, shuffling old people who had to be carefully herded into their voting booths. And the smell only got worse inside the cramped room where the voting was taking place, wafting in from a nearby booth and adding another layer of misery to the already depressing choices laid out in front of me on the ballot.
First there was a "choice" between incumbent Senator Dianne Feinstein and some unknown Republican challenger who was in the race for purely self-promotional reasons. Senator Feinstein has been successfully using her position to enrich her financier husband Richard Bloom and her big business backers. She's not going anywhere anytime soon—she'll probably be there for life.  Then there's Jerry Brown's half-assed attempt to shore up California's budget by imposing a regressive sales tax and boosting income tax rates on people making $250,000—which isn't even that much in California's major cities, especially if you're raising a family. Here's a tip to would-be populist pols: if you're gonna tax the rich, then you should tax the rich—not working stiffs who have to show up to work everyday for a living. You'll get a lot more support that way.
Looking at the various measures and propositions on the ballot, I saw nothing that had anything to do with the real-estate meltdown that's still raging all across the state. Nor was there anything that would help the masses of unemployed. Instead, there's a human sex trafficking state proposition designed to lock up illegal immigrants, and a Los Angeles County measure that's trying to force condom use on San Fernando Valley's porn industry. Yep, this is the kind of degenerate politics we're dealing with here, folks.
The only votes I felt good about were the ones I cast against: a handful of ballot measures put in by various oligarchical forces. Just about all of them were in one way or another greased with Koch blood money, included the infamous Proposition 32 that was designed to destroy the ability of labor unions to raise money from their members. Proposition 31— although lesser known, was my personal favorite. You know how Republicans and libertarians are always screaming about the sanctity of states' rights over the evil federal government? Well, this proposition, which was underwritten by a bunch of shady front groups and the "homeless" Burger King billionaire Nicolas Berggruen, was trying take the "rights" debate one level down. It wanted to give counties the constitutional right to ignore California's strict environmental regulations. No joke. Next thing you know, they'll be trying to convince us it's all about "School District Rights" and "Neighborhood Watch Rights." Then there was Proposition 33, an obscene measure funded by billionaire George Joseph, owner of Mercury Insurance. He dished out over $17 million—yes, 17!—of his loot on a simple proposition that was designed to do one thing: raise auto insurance rates on most California drivers.
The choice on these was easy—and felt good, too. I even forgot the fungal stench for a few moments while I was making sure to punch the right holes.
Having done my duty as a naturalized American citizen, I scrambled out of the lobby and into the cool beach air, breathing deeply to get the horrible smell out of my nose and lungs.
But the unpleasantness came flooding right back at night—after I started hitting the whisky heavily at home and then went out to a local bar to watch final election results.
Sure, Obama won. The Democrats made a few good gains in the Senate. A few Koch-funded Tea Party goons got booted hard from the House—that's always good for a few feel-good moments. But on the whole, the election was a depressing spectacle, leaving us with the same old set of greedy technocratic hucksters. As I got drunker and drunker watching Wolf Blitzer and John King on mute present the elections results, parading the same bland prompt jockeys, trying to look dignified as they swiped and scratched at their gee-whiz blue and red maps . . . those Greyhound Bus memories kept getting stronger and stronger until there was nothing. I was back on that bus, forced to breath airborne vaginal yeast infection spores, fighting nausea at every breath. I closed my eyes and hurtled through darkness . . .
I woke up the next morning with a bad hangover and the following words scrawled on a piece of paper next to my bed:  "We're still on the bus. No way out…suffocating…helplessness, claustrophobia…for four more years. Four more years. We're gonna be on that bus….no getting off now." Looking at the note, it was clear that I was severely inebriated on election night and, not unreasonably, must have convinced myself that the end had come. I was glad I no longer kept my .357 Magnum loaded and ready within easy reach of my bed, like I did in Victorville.
But the most important thing was that the yeast smell was gone and . . . as soon as I get over this nasty hangover, it'll be time to get to work.
Yasha Levine is an editor of The eXiled and co-founder of the S.H.A.M.E. Project. Read his book: The Corruption of Malcolm Gladwell.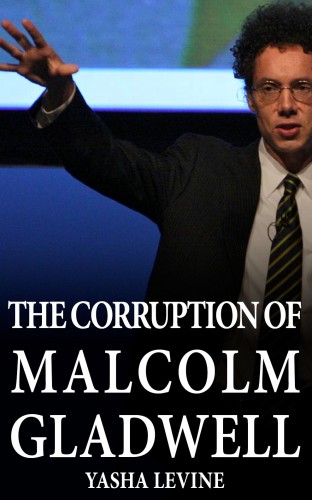 Click the cover, buy the book!
Read more: elections 2012, Obama, santa monica, yeast infection, Yasha Levine, Dispatch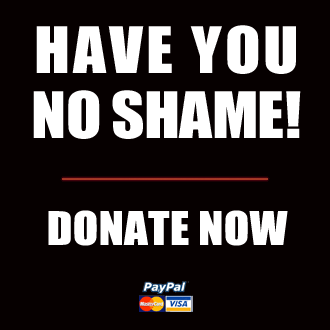 Got something to say to us? Then send us a letter.
Want us to stick around? Donate to The eXiled.
Twitter twerps can follow us at twitter.com/exiledonline