By Yasha Levine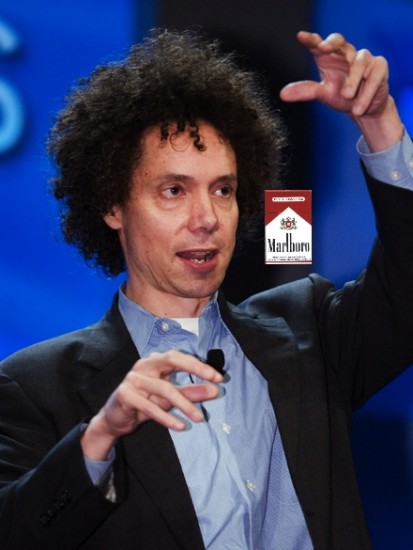 Malcolm Gladwell has described himself as a "conversation starter" who likes to "ask questions" and "follow-up" with more questions. Well, here's a question for Malcolm Gladwell: When you wrote all those pro-tobacco articles and tobacco industry executives sang your praises, were they paying you to be their shill? Or did you just volunteer to write tobacco-friendly propaganda, out of a sincere belief in the righteousness of their cause?
Most people would never imagine or suspect that Malcolm Gladwell, a staff writer for the New Yorker magazine and bestselling author beloved by the NPR crowd, would have ever been a crooked propagandist for big tobacco. And neither did I, at least not until I happened to stumble across an article Gladwell wrote in 1990, while he was working for the Washington Post. Headlined "Anti-Smoking Efforts May Carry High Price, Studies Say," it was such obvious and shameless pro-tobacco propaganda that I couldn't believe someone of Gladwell's stature put his name to it–or that he hadn't been ashamed enough to scrub it from the WaPo's archives.
I was so intrigued by that article and what it might say about one of the most influential corporate writers of our time that I decided spend the past few days combing through Gladwell's published work from the 90's and early 00's, and what I found frankly shocked me: one shameless pro-tobacco article or piece of propaganda after another.
Let's start with the first article that caught my attention:
Wednesday, February 28, 1990 Anti-Smoking Efforts May Carry High Price, Studies Say By Malcolm Gladwell Washington Post

WASHINGTON – If the campaign to curb tobacco use is successful in reducing the number of Americans who smoke, it could place a serious strain on the nation's Social Security and Medicare programs, according to recent economic studies.

That conclusion contradicts the widely reported comments from Health and Human Services Secretary Louis Sullivan, who in kicking off his campaign for a tobacco-free America last week estimated that an end to smoking could save $52 billion every year in lower health-care costs and increased productivity.

But according to many health economists, Sullivan failed to account for the fact that even though smokers run up higher medical bills, they die relatively young. That means that – on average – they collect only a fraction of the money they pay into Social Security during their working lives. In effect, they subsidize the pensions of nonsmokers.

Because they die prematurely, smokers may also end up with medical bills no larger than those of nonsmokers, who on average have four to five more years of life to run up hospital charges.

None of the economists who studied the issue say their conclusions should discourage Sullivan's anti-tobacco campaign, which they see as important in combating one of the nation's gravest health problems. But their results suggest that the war on tobacco is more appropriately cast as a public-health crusade than as an attempt to save money.

They also suggest that as Congress and the White House step up their fight against tobacco, they should fortify institutions that are most likely to bear the social consequences: Social Security and Medicare.

…

Little is known about whether smoking costs society more than it saves. One recent, controversial study, by University of Michigan economist Willard Manning, weighed the smoking-related expense of higher medical costs, life insurance, fires and lives lost to "passive smoke" against the higher taxes tobacco users pay and their lower costs in retirement pensions and nursing-home care. It found the two sides were roughly equal.

But even if the overall balance of costs and benefits of smoking is difficult to determine, it is clear that an end to smoking will produce an enormous increase in the financial obligations of the federal government.
That's right, folks. According to Malcolm Gladwell, circa-1990, smoking was the only thing keeping Social Security and Medicare from going totally bankrupt. Ha! And you thought tobacco companies were evil! They're the best friends our grandparents ever had!
Gladwell's sleazy pro-tobacco masterpiece, which didn't even pretend to offer a counter viewpoint to at least give the appearance of journalistic objectivity, was essentially a rehashed press release based on a 1987 pro-tobacco study called "The Social Security Costs of Smoking," produced by the National Bureau of Economic Research, an organization funded by the biggest names in rightwing propaganda funding, including the John M. Olin Foundation, Scaife Foundations and Lynde and Harry Bradley Foundation.
Coincidentally, the study quoted by Gladwell was also found in the files of Victor Han, Director of Communications for Philip Morris Worldwide Regulatory Affairs.
This wasn't the first time Gladwell churned out overt tobacco industry propaganda, nor would it be his last.
Tobacco companies battled major lawsuits all through the 90s, and as Washington Post's business and science reporter, Gladwell covered the beat and frequently wrote about smoking-related topics. Clearly Gladwell was an important target for tobacco lobbyists to see things their way if they were going to succeed in softening up Washington's political class. So when Gladwell wrote about tobacco issues for the Post, somehow he always subjected critics of big tobacco to tough scrutiny and skepticism, while the industry itself was almost always given a free pass.
Nine out of ten doctors agree: smoking is good for your Medicare!
For example, in a 1990 Post article headlined "Measuring Chemicals' Dangers: Too Much Guesswork?" Malcolm Gladwell questioned the accuracy of scientific risk prediction, casting doubt on the ability of scientific studies which clearly proved that smoking cigarettes negatively impacted health. "Many scientists are beginning to argue that the guesses made in the name of risk assessment are no longer good enough," he wrote.
Even more damming: Gladwell appears on an early-90s tobacco industry roster of "third-party" shills who could be counted on for support. The document in question is titled "THIRD-PARTY MESSAGE DEVELOPMENT CONTACT LIST" and contains an entry for Malcolm Gladwell, alongside dozens of notorious corporate lackeys and right-wing "journalists," ranging from Fox's John Stossel and former Bush press secretary Tony Snow, to Grover Norquist and the head of the Heritage Foundation, Ed Feulner. There's even Reason magazine editor Jacob Sullum, who was outed as a paid agent of big tobacco. (You can read about more about them, including how RJ Reynolds paid Jacob Sullum $5,000 to "reprint" his article, here and here.)
And in that list of tobacco-friendly names appears none other than Malcolm Gladwell.
For those not familiar with public relations industry lingo, "third-party" refers to a PR technique in which corporate propaganda is funneled through seemingly independent journalists, academics, non-profits, think tanks and other respected "third parties" in order to bolster the credibility of "the message" with the public. Here's how a Burson-Marsteller PR expert described the third-party technique in 1995:
For the media and the public, the corporation will be one of the least credible sources of information on its own product, environmental and safety risks. Both these audiences will turn to other experts … to get an objective viewpoint.

Developing third party support and validation for the basic risk messages of the corporation is essential. This support should ideally come from medical authorities, political leaders, union officials, relevant academics, fire and police officials, environmentalists, regulators.
What the hell is Gladwell doing on a list of tobacco-industry defenders? Well, at least one thing is clear: It's not because of some freakish clerical error. He carried big tobacco's water when they needed it most.
And he continued doing it even after being hired by New Yorker in the mid-90's. For example: In a 1996 book review published in the New Republic, Gladwell slammed journalist Philip J. Hilts for comparing tobacco industry execs to Nazis, and then used the occasion to smear all tobacco critics in general:
What is grotesque about this passage is not just the casualness with which Hilts enlists the Holocaust in his campaign against the Marlboro Man; Auschwitz, after all, has been cheapened before. It is also the incredible moral and analytical simplification, the obliteration of notions of responsibility, that is required to compare the act of selling people cigarettes to the act of herding people into a gas chamber. At the moment of its greatest victory, the anti-tobacco movement has begun to acquire a noxious odor of its own.
Big tobacco was clearly pleased with his efforts. Not only did a Philip Morris PR exec hold up Gladwell as the voice of reason to counter "shrill" criticism, but the executive actually used Gladwell's New Republic article in a sleazy attempt to get Hilts banned from writing for the New York Times.
Here's the letter Philip Morris sent to the paper's executive editor in October 1996:
Mr. Joseph Lelyveld, Executive Editor New York Times 229 West 43rd Street, New York, NY 10036-3959

Dear Mr. Lelyveld:

Both in his recent book on the tobacco industry and in his November Good Housekeeping article on Environmental Tobacco Smoke (BTS), New York Times reporter Philip J. Hilts expresses a fervent and personal antagonism for both the tobacco industry and the men and woman who work in it.

We believe it is therefore inappropriate for Mr. Hilts to continue to cover our industry for the Times.

Mr. Hilts has even gone so far as to compare U.S. tobacco executives with Nazi concentration camp doctors, a comparison that New Yorker writer Malcolm Gladwell termed "grotesque" in his New Republic review of Hilts' book. Gladwell quotes Hilts as an example of excessive and distasteful anti-tobacco fervor.

Hilts reveals a similar fanaticism and a blatant disregard for the facts in his recent Good Housekeeping article on ETS, in which Hilts commits no fewer than 32 errors of scientific fact and record.

As a freelance writer, Hilts is free to write anything he chooses. His opinions of the tobacco industry and the people who work in it are his to express.

But a New York Times journalist assigned to a particular beat has a responsibility to bring at least a modicum of objectivity to the subject he or she writes about. It is obvious that Mr. Hilts cannot even muster the pretense of objectivity when it comes to the tobacco industry. He has an economic and personal interest in fanning the flames of anti-tobacco rhetoric, and we believe that makes him an inappropriate choice to report on our industry.
Nice going, Gladwell. You'd make President Reagan proud!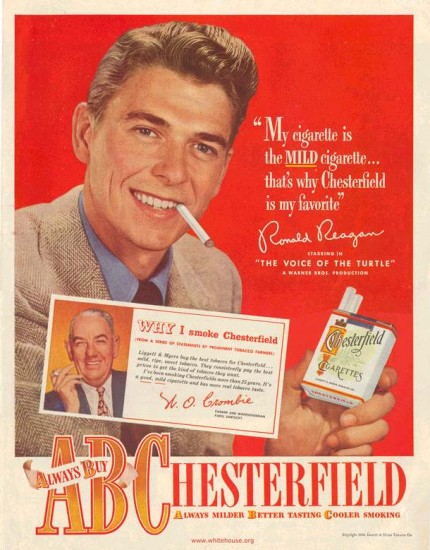 Suddenly, Malcolm Gladwell's youthful affiliation with the rightwing YAF movement and the far-right National Journalism Center outfit, which spawned Ann Coulter's "journalism" career, no longer seems so odd.
Malcolm kept on shilling well into the next decade. His first book, The Tipping Point, was published in 2000. A big portion of it dealt with tobacco. Specifically, Gladwell analyzed various studies into teen smoking and came to the simple conclusion that kids pick up the habit simply because they want to emulate cool people, totally ignoring the countless millions of dollars big tobacco spent (and probably still does) specifically targeting kids. After all, in the 90s the average starting age of smokers was calculated to be 12, and tobacco companies haven't been shy about taking credit for it. Here's a 1975 internal document from Philip Morris that gloats about hooking kiddies:
Marlboro's phenomenal growth rate in the past has been attributable in large part to our high market penetration among young smokers . . .15 to 19 years old . . . my own data, which includes younger teenagers, shows even higher Marlboro market penetration among 15-17-year-olds.
But that's all bull to Gladwell. The Tipping Point is clear on this: tobacco's innocent; it's we, the people (and especially cool people), who are the real culprits:
Over the past decade, the anti-smoking movement has railed against the tobacco companies for making smoking cool and has spent untold millions of dollars of public money trying to convince teenagers that smoking isn't cool. But that's not the point. Smoking was never cool. Smokers are cool. Smoking epidemics begin in precisely the same way that the suicide epidemic in Micronesia began or word-of- mouth epidemics begin or the AIDS epidemic began . . . In this epidemic, as in all others, a very small group — a select few — are responsible for driving the epidemic forward.
The Tipping Point was a huge hit with captains of the tobacco industry, and the book was recommended reading for people in that industry. Here's an email sent by Philip Morris exec Michael Fitzgibbon to the company's resident behavioral scientist, Carolyn J. Levy:
From : Lafayeueriver@aol.com Sent: Monday, November 06, 2000 9:12 AM To: Carolyn.J.Levy@pmusa .com Subject: Book recommendation

Carolyn

You have probably read this, but just in case, I recommend you read (or have one of your minions submit a book report on) The Tipping Point, by Malcolm Gladwell (Little, Brown). Beyond the piece on teen smoking, there is some interesting, possibly useful, information.
The Tipping Point was also a big hit for Gladwell, personally. Not only did he get a sweet $1.5 million advance to write it, but the book sold nearly 2 million copies and boosted his reputation in big business circles to the point that he started raking in $40,000 per speaking engagement.
Malcolm Gladwell has been criticized before for his cozy relationship with the business community, particularly regarding the massive speaking fees he receives from the same companies he writes about. Is this what it's all about? Or is there more?
The New Yorker might want to ask Gladwell about the kind of relationship he had/still has with big tobacco. Readers would probably want to know.
Mark Ames contributed his wisdom to this report.
Yasha Levine is an editor of The eXiled. You can reach him at levine [at] exiledonline.com. He last wrote about the legalization of shit burgers and the far-right Christian fascists behind Texas' anti-TSA crusade.
Read more: corporate propaganda, gladwell, libertard, malcolm gladwell, marlboro, new yorker, philip morris, shill, tobacco, Washington Post, Yasha Levine, Health & Lifestyle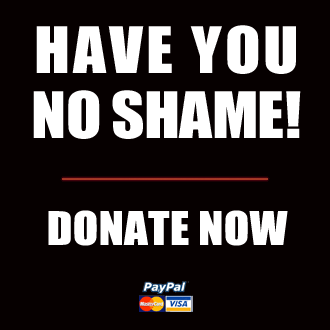 Got something to say to us? Then send us a letter.
Want us to stick around? Donate to The eXiled.
Twitter twerps can follow us at twitter.com/exiledonline