By Eileen Jones
Lotta critics reviewing Men in Black 3 have wondered what was the necessity for it. Who was really craving Men in Black 3? As garrulous A.O Scott puts it, "Can you think of a new movie with less reason for existing than Men in Black 3?"
Why, yes, yes I can, as a matter of fact. But A.O. immediately realizes his question is stupid and answers it himself:
What? "Battleship"? Yes, O.K. Good point. Hadn't thought of that. "What to Expect When You're Expecting"? Fair enough. But still. "The Avengers"? Let's not go there. And stop interrupting me when I'm trying to make a serious point.
Can't help interrupting you, A.O., if you're going to blather like that.
Nick Pinkerton of The Village Voice is in a similar snit about MIB3 because, he claims, not only did no one ask for this movie, no one can even remember the earlier Men in Black movies:
Can any one of the millions of Americans who saw Men in Black 2 in 2002 describe its plot today? A single scene? I saw both MIB movies upon their original release and have as little memory of the experience as if I'd been mind-wiped with one of those "neuralyzing" flash sticks that Will Smith and Tommy Lee Jones use to give amnesia to witnesses of supernormal incidents.
The irony here being, of course, that that's the main thing people remember from MIB, the wonderful memory-wiping neuralyzers. MIB the First was peppered with little insights and clevernesses in its alternative explanation for how the world works. Our "alien population" is partly extraterrestrial; they live among us generally disguised as fellow humans, which explains creatures like Newt Gingrich and Dionne Warwick and Sylvester Stallone and supermodels. The top-secret "men in black" police them and prevent any slip-ups from becoming public knowledge by using neuralyzers. (Except for occasional stories leaking out in the supermarket tabloids, which actually report the truth about aliens but nobody believes them.)
Neuralyzers are terrific because they're such an apt tool for our era. They seem to explain the way we are now: addled, horribly mind-fucked, Philip K. Dicked, not sure what just happened, unable to reliably recall how we got here long enough to do anything about it. Amnesia is the condition of our age, like the doomy po-mo theorist said. Or if he didn't say that, he said something just as good. What was his name again?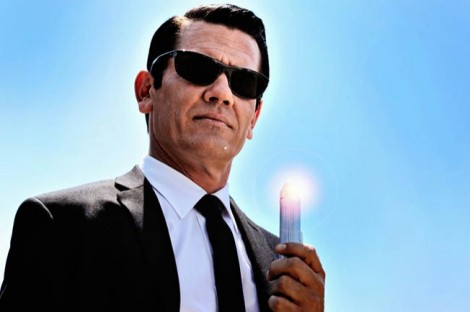 Anyway, Men in Black 3 maintains just enough of its old cheerful, casual charm to get by, with slap-dash direction by Barry Sonnenfeld and a hit-and-miss script by Etan Cohen (Idiocracy, Tropic Thunder). It's centered on a nice conceit about Agent J (Will Smith) time-traveling back to 1969 to prevent a rampaging alien (Jemaine Clement of Flight of the Conchords) from killing Agent K (Tommy Lee Jones), or rather, Agent K's younger, somewhat less crusty self (Josh Brolin). Brolin does a great impersonation of Tommy Lee Jones, as has been widely reported, nicely conveying Jones' steady hangdog gaze and shrewd Texan drawl. Michael Stuhlbarg (the lead in the Coen Brothers' film A Serious Man) avoids most of the pitfalls of his alien star-child character, Griffin, who can see all possible future realities at once. ("Oh, I hope it's not the one where Agent K forgets to tip the waitress…")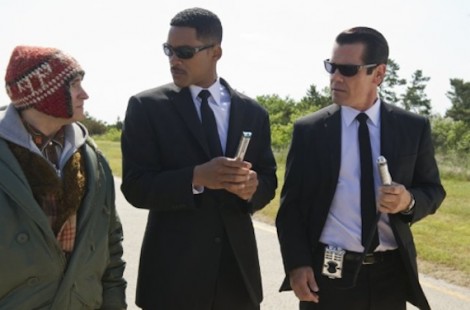 And Bill Hader is a riot as Andy Warhol, portrayed here as an MIB agent working undercover as a phony art-guru. Assigned to monitor the alien life teeming at The Factory, "Andy Warhol" is desperate to get out of the assignment because he's running out of fake-art ideas and is reduced to "painting soup cans and bananas." Hader does a beautifully dreamy, vapid Warhol-performance that switches off hilariously when he clutches Agent K and begs him, "You've got to fake my death, man! I can't listen to any more sitar music!"
Which brings us to the interesting retro qualities that were always a satisfying part of MIB. The signature black suits of the agents, cut severely, their skinny black ties and matching black sunglasses, make them look like either highly placed, secret government officials or West Coast jazz band members circa 1965.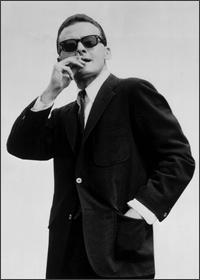 The MIB agents preserve their look of high-modernism from the 1950s-early '60s, long past the high-modernist era (i.e. the last generally good-looking era) into the 1990s, 2000s, 2010s. They embody an alternate reality that was headed toward a Jetsonesque Space Age utopia. Their headquarters are all clean lines and confident austerity and miraculous design flourishes.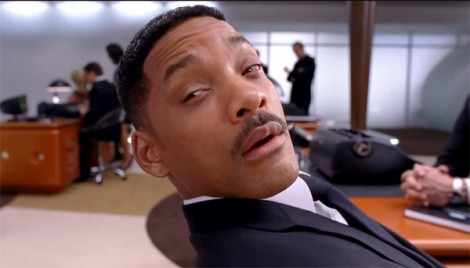 But this gleaming, competent, hopeful world is only enjoyed by a small elite cadre of alien-managing bureaucrats, officials, and enforcers operating in secret. Meanwhile the rest of the world grubbed along into the huge bummer of the late '60s, then the '70s and '80s and all the messy, moldy-looking decades we've lived through.
It's telling that the movie time-travels back to 1969, a few years past the pivot point away from high modernism, toward degrading hideousness. (I just went to a museum exhibit documenting America in 1968, a very, very bad year for a lot of reasons, not least of which was the capering-idiot-in-multicolors hippie aesthetic takeover. The only people who looked good in 1968 were the people wearing black. That is, Johnny Cash; Martin Luther King Jr. before they shot him; Elvis in black leather for his television comeback performance; Huey Newton—nice beret! that guy could accessorize—and the Black Panthers; and those two Olympians in black track suits and matching gloves who gave the Black Power salute during the medal ceremony. Everybody else, gah.)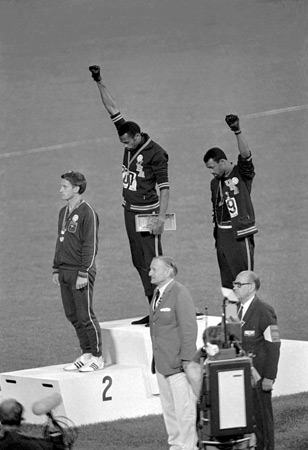 In the 1969 sequences of MIB3 the aesthetic development of the "normal world," as lived by the American majority in a state of ignorance and increasingly ugly color schemes, is already moving rapidly away from the agents. We just see the beginnings of the visual polarization, especially in the shots of ungainly, lumpy, bespectacled citizens in their gold-and-avocado-colored livings rooms watching the Apollo 11 moon launch on TV. They show us the early schism leading to the contemporary MIB scenes featuring Space Age/Cool Jazz agents "wiping clean" all the alien spew, human mess, and nasty memory, before letting the whole unsightly circus crank up again.
It's fantasy, see, and it's always intriguing to see what we like about a fantasy. 
Nick Pinkerton doesn't see it that way. He recognizes the MIB films' "retro-futurism," but disapproves strenuously, because he finds MIB3 to be, um, unrealistic about the late 1960s:
As for the time-travel culture shock, you get a few hippies with speaking roles and no significant engagement with the zeitgeist of the era. "It wasn't the best time for your people," J is warned as a black man traveling into the vicinity of the MLK assassination, but aside from a light-comic profiling scene, Martin Lawrence's Black Knight had about as much to say on race relations as MIB3 does.
He's even upset that Hader's Warhol isn't a strictly accurate portrayal:
Hader's Warhol says things that Warhol would never conceivably say…and functions as a condescending stand-in for "freaky" '60s counterculture as a whole, dismissed with a smug emperor-has-no-clothes twist.
Sigh. See, he's right in a way, but only in an automatic, Village Voice-ian way that's like a constant defensive crouch against anyone who might not revere every aspect of the '60s-'70s counterculture glory days. There's no question the movie "sides" with the romantic high modernist/Great Society vision of the world that preceded it. At least as encoded in the films' production design, that's where knowledge, restraint, ingenuity, tolerance, and urbanity reside. And production design arguments can be interesting things to watch.
Read more: 1969, Andy Warhol, Barry Sonnenfeld, Bill Hader, counterculture, Josh Brolin, time travel, Tommy Lee Jones, Will Smith, Eileen Jones, movies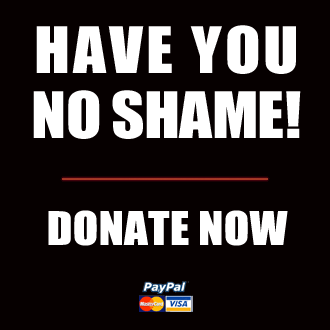 Got something to say to us? Then send us a letter.
Want us to stick around? Donate to The eXiled.
Twitter twerps can follow us at twitter.com/exiledonline