By Pancho Montana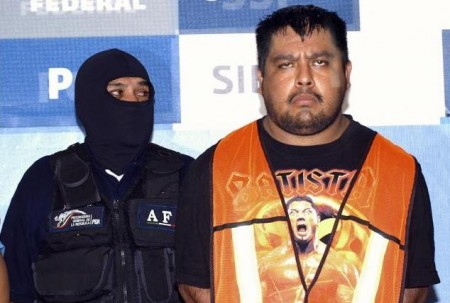 He worked in the cell led by Miguel Angel Treviño "el 40," now a full-fledged cartel capo. But back then he was a jefe de sicarios (leader of the hit men/enforcers).
After pushing enough dope up the border, he earned his cred and took over administrative activities for the criminal cell. He quickly rose to be the main administrator of economic resources of the cell led by "el 40".
You see how the short and stocky Juan worked his way up the criminal ranks? It not much unlike Bob from accounting kissing asses to escalate the corporate ladder so he can live the life of a CEO and fuck up the global economy.
But I'm not being fair in my comparison, not fair to Señor Juan, I mean. At least narco traffickers are honest about the shit that they are into, comparing him to a Goldman Sachs-style goon wouldn't be just wrong, it'd be an insult.
The Sachs are a low breed, even compared to the Zetas.
Our little Juan confessed to multiple crimes, like when the Zetas used the US consulate and local TV station Televisa Monterrey as target practice; gotta test fire those R-15s, make sure those shiny toys from Arizona or Texas are working properly and as advertised.
He participated in most of the high-impact action when he was integrated into the cells of Gory and el Canicon, who where in charge of the plaza in Monterrey, including the murderings of several soldiers. Three of them got their throats cut outside a stripclub. Hey, they had style and grace.
After that, there were several other high profile hits and then he was given the plaza of Cadereyta here in Nuevo Leon, which must have made his boss el 40 happy, real happy. This is a good plaza for making the cash money, milking oil pipelines for example. I'm not sure If he was involved in oil-theft, but since Zetas want to monopolize criminal activities around here, it would not surprise me.
It will be only a matter of time before they go into pickpocketing. They're like Google. They want have their hand in everything and be the best at it.
Ok, so brave Juan is now the boss of an important plaza in the state. And it's around this time that he comes into the spotlight when he was wounded and then rescued by municipal cops during a shootout with the military personnel (that's our cops for you, always ready to help) in the Viejo Mesquital area of Apodaca, NL. This generated a chain reaction that shook every metropolitan area Police Corporation, exposing them as associates/facilitators/employees and all-around bitches for the narcos. A fact everyone but Presidente Felipe knew, I guess.
After all this heat, Juan's bosses decided that it was best if Juan was rotated out of the area until shit cooled off. So they sent him to Cancun to fill the narco-boss spot left open by a one Juan Manuel Jurado Zarzoza, or "El Puma". The guy's mentioned in some YouTube torture videos. If you are interested (and know spanish) search for: "matazetas".
Anyways Colosio filled the spot left by Señor El Puma who was arrested in June this year. Puma was involved in most of the shady businesses you find around Cancun, like smuggling Cubans FOR the yanks (some aid agency funded by the US Government, but you probably don't hear about this much in the US, do you?) and I don't mean cigars…
So Cancun it is, I don't think Juan complained much there. Who cares if the last two jefes de plaza didn't last very long. Fuck it, send me to the paradise lost of the Mayan Riviera.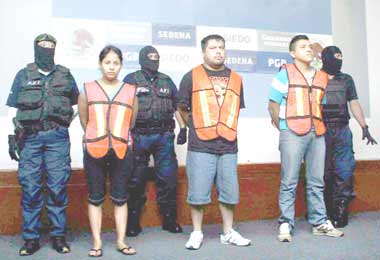 Well, he didn't stick around for very long, either. He was caught wearing a construction worker vest or something, along with a bodyguard and his female accountant. Nabbing an accountant, that's becoming more and more common when mid-to-hi level capos get detained. Not a big suprise, though. This is an international, multi-billion dollar business were talking about here.
Here's the loot confiscated along with Juan (and the accountant):
– 6 short arms (handguns, various calibers)
– 46 chargers/magazines (doesnt specify if they are for pistols or rifles)
– 1kg of coke
– 4 vehicles (models not specified)
– 67 grams of weed (personal portion for the day? Most likely)
– $2071 american dollars
– $114,670 mexican pesos (roughly $10,000 USD)
– 1 PC
– Communications equipment (cellular phones, nextel radios and maybe some hi-end MATRAS radios)
So, is it the end for Juan? It may very well be. He'll probably end up being sent to a maximum security prison to rot. Then one day, in the middle of the night, they'll come for him. It'll be military or SIEDO, and they'll take the firmly tied-up Juan on a helicopter tour of the Pacific Ocean. And they'll remind him of the 12 soldiers he killed in Monterrey and will be thrown out of the bird (a brand new Blackhawk, courtesy of the USA) into the open ocean, never to be seen, or heard of, or remembered… Erased. Like the "desaparecidos" (the disappeared ones) during the Guerra Sucia (Dirty War) of the 70s against communist revolutionaries. But now, instead of calling them guerrilleros, they call them narcos. The "desaparecidos" of the war against drug cartels. Amen.

Pancho Montana is an eXiled Special Mexican War on Drugs Correspondent. You can reach him at montana [at] exiledonline.com.
As a native of Monterrey, Nuevo Leon, located in northern Mexico, Mr. Montana lives in Gulf Cartel territory. That means the streets belong to the Zetas, a paramilitary organization trained by the Yankees and hired by the Gulf Cartel to keep things civilized and business booming.
Read more: drug cartel, drug war, mexico, monterrey, zetas, Pancho Montana, The Mexican Drug War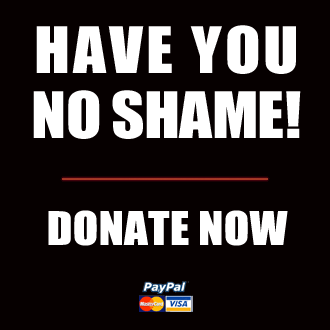 Got something to say to us? Then send us a letter.
Want us to stick around? Donate to The eXiled.
Twitter twerps can follow us at twitter.com/exiledonline