By Pancho Montana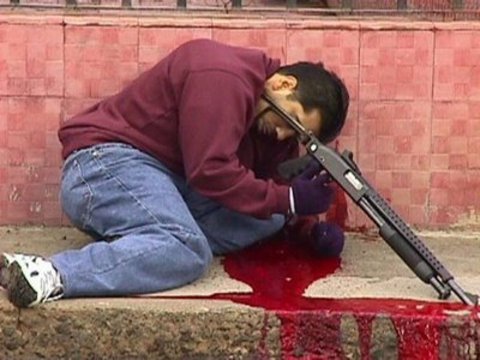 MONTERREY, MEXICO — Another day, another shootout. Forget about the tropical storm that hit the Pacific just now, it's raining bullets in this biatch.
It seems that every day there is another firefight in this or that part of the city, and frankly I'm getting sick of it. Every day, a copy of a copy of a copy. It's tiring, exhausting—that's what the drug war is beginning to feel like. A drag, kinda like the Iraq war for you gringos.
Ok, so today's shootout was in the Alfonso Reyes neighborhood, also known as "La Risca" to us natives. This is a BAD neighborhood, one of our favela-looking, crime infested, Tony Montana-worshipper-producing hoods in the cerros.
It all started around mid-day when someone fired at the local cops from the top of a hill. The obvious suspect: organized crime gangs. This, naturally, led to what we call a "mobilization." The army and the federal cops swarmed the area and cleared it shanty by shanty until they captured the criminals.
So who were these dangerous, fearless fighters? Turns out just a bunch of kids test-firing a new gun. Who better to target practice on than a gaggle of cops, right? You gotta simulate real-life situations. . .
So at the end of the sweep, a tattoo-coated cholo was taken in by the verdes (green means soldiers) along with two 16-year-olds. While you Americans get Dodges and Fords for your sweet 16, kids out here get M-16s. (Who has more fun with their gifts? I don't know.) It was reported that the gun was brand-new and probably bought at the border. From the pictures, I could see it was a nice looking R-15, with the scope and all . . . I wondered how much it cost them?
So the kids were testing it out and Monterrey's finest got all worked up about it. Not really news around here, but I guess the cops don't like being treated like moving targets, like those exploding clay targets, except redder and more liquid. I don't blame them.
The second interesting case comes from another shithole here in Monterrey: Apodaca. The Zeta second-in-command and chief CFO for the plaza there was captured with the standard narco happy meal combo that should be familiar to you all by now: weapons, cellphones and drugs (weed, coke and crack, for them curious peoples). But also in his possession were two electronic money counters (Yes, they earn THAT much money…and most of them don't even know how to read or count right, I mean just look at the "narco-messages" they leave, thats some disgusting spelling. These idiots are sometimes the only image of Mexico that the rest of the world gets, and they project us as illiterate fucking cowboy goons.)
Going back to the action, the more interesting item in the Zeta's possession—his name, by the way, is "El Borrado" or "the Erased"—was a book containing information on payments to members of various criminal organizations in different states, as far away as Chiapas and Oaxaca. The Zetas may be illiterate, but they got the best accountants money can buy in Mexico and the records were detailed as all hell, dated and geo-coded. But a few in particular grabbed my attention: they were labeled "caídos," which means "fallen" in Spanish. These denoted the monthly payments made to the families of deceased and detained members. ("Payments" are called "pensiones" in Spanish, and that is exactly what these records for "caidos" were: pensions paid out to relatives of fallen narco soldiers, just like what your government does for its young heroes suckered into serving in the military.)
I knew about this practice, but in this time of shortages, confiscations and balls-out conflict, I didn't expect the cartels—and much less the Zetas—to honor this very generous tradition. You gotta give it to Mexican narcos, they still have a little bit of honor, if at least to their own, even the asshole Zetas. Hell, the government in the US doesn't want to give its people basic access to doctors. But then the Zetas are not the US government…
But the media here is all caught up in the mini-Zetas case: how Mexican children are de-sensitized by the everyday violence, how we've got a Lord of the Flies society and that everyone should lock their doors and hide their daughters. . . While it's not a lie, it's not really new, either. You might remember Rosalio Reta, our original mini-Zeta from way back (who also happened to be an American)? This is just their excuse to put pressure on Mexico's newly ascendant government, the party we all love to hate, el PRI, to get tough on crime.
Yeah my paisanos if you're thinking of traveling back to the madre patria to visit the relatives then hold on to your wallets and purses because the PRInosaur seems to be making a come-back, to our misfortune . . . or not?
Maybe the retrograde move to PRI signals that Mexicans are thinking our fiesta-loving asses were "better off" with a semi-totalitarian government like the last PRI presidency was, 70-plus years in power. Some say that PRI was "the perfect dictatorship." It was most definitely corrupt to the bone. I mean, every politician in Mexico steals, but the PRI goes much lower. They are corrupt scum even by our standards, and we don't set the bar too high on "fair government." And that just makes those pensions paid out to fallen Zetas by the Zetas seem that much more progressive.

Pancho Montana is an eXiled Special Mexican War on Drugs Correspondent. You can reach him at montana [at] exiledonline.com.
As a native of Monterrey, Nuevo Leon, located in northern Mexico, Mr. Montana lives in Gulf Cartel territory. That means the streets belong to the Zetas, a paramilitary organization trained by the Yankees and hired by the Gulf Cartel to keep things civilized and business booming.
Read more: drug war, mexico, Pancho Montana, Dispatch, The Mexican Drug War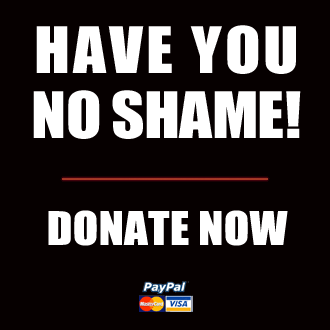 Got something to say to us? Then send us a letter.
Want us to stick around? Donate to The eXiled.
Twitter twerps can follow us at twitter.com/exiledonline