By Rick Rucker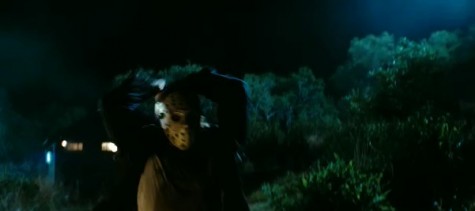 If you haven't seen a slasher film lately, Marcus Nisbett's reboot of Friday the 13th feels paradoxically fresh. That's probably because the genre is delivering a very specific product, so well-tested in eleven sequels that the only real challenge is not to ruin the formula. "I don't know if it's the tits or the murder," my father once remarked, noticing I was renting a new Friday film every day. I'm still not sure, though I'm developing a hypothesis—but more on that later.
This is clearly the best Friday the 13th film yet. Though it lacks the cool gimmicks from previous installments (telekinetic girl, Manhattan, Freddy vs. Jason), more sequels will rectify that. You watch this movie, you want a sequel. It's weird but palpable. You can feel in your gut why Friday the 13th is second only to James Bond in sheer sequel-numbers, though almost every individual Bond and Friday picture is middling-to-bad.
This just happens to be the Casino Royale of Friday the 13ths, on its own merits better than everything that came before. The filmmakers actually improve the formula, mainly through making the killed kids bearable. Freddy vs. Jason was nearly ruined by its unwatchable "protagonist" teens. Here they're not self-aware like Scream, they're simply fulfilling their basic functions, competently written and acted. One of the actresses was obviously cast because she had breasts that would make angels weep. Godspeed, Friday rebooters!
If Jason himself has changed, he's newly Native American. He lives off the land, hunts with a bow and arrow, and hurls axes like that guy from Last of the Mohicans. He injures kids, sniper-style, to draw out their friends. He runs, collects bodies (you better use every last part of that teen, Jason!), sets traps and fashions crude alarm systems. To give you an idea of how genre-savvy the filmmakers are, somebody put an Indian "Calumet" brand logo in Jason's cabin's, harkening back to the "Indian Genocide"/"We are trespassing" motifs from The Shining. While it's a stretch to liken trespassing on Jason's land to the Native American genocide, it's indisputable evidence of neurons firing, one of the rarest phenomena in America. When your production designer has read an obscure essay on The Shining from fifteen years ago, you're in decent hands.
The previous movies made Jason an unstoppable zombie out of necessity, as he was inconveniently "killed" at the end of every film-eventually making "unstoppable zombie" Jason's default designation, as there was simply nothing else to call a guy like that. Here Jason dies in such a way so as not to die, but it'll be interesting-if ultimately irrelevant-to see how they handle his mortality. After twelve Friday films and a ton of other slasher movies, does Jason even need to "die?" Couldn't a few teens just escape and consider themselves lucky? Are we gonna see Jason patching up that gaping wound in Part 2? Maybe you filmmakers should take the truism "The Audience Roots for Jason" a little more seriously and just have our hero kill 'em all.
The kills in this installment are decent, if not terribly inventive. They're machete-centric to a fault (although the one on the dock: nice). It was interesting to see Jason human again, and able to tussle with the kiddies. Considering Jason's iconic nature and his new but not unwelcome characteristics, tweaking the kill-styles could be interesting. Who doesn't want to see Jason go all Bourne Ultimatum on some little punk who does that mixed martial arts fighting? How about Jason slaughtering four camp counselors in four different ways in four seconds? "The Jason Bourne of teen-murder" is fresher than "unstoppable zombie."
Why not give each teenager a characteristic (track star, chess grandmaster, karate, baseball, gun nut) and then have them face off with Jason? The track star could get into a running match, the chess player could have to engage Jason in a battle of wits, the karate guy could fight hand-to-hand, the baseball guy could get into a throwing match, or attack Jason with a bat, the gun nut could shoot and miss. That way it'd be like doubly tragic, in that "wasted potential of youth" way; no matter what your meager talents, you fail, you lose. That would further develop the appeal of these films to older audiences, who aren't coming back to them again and again just out of nostalgia.
Conventional wisdom says slasher movies are mainly for teenagers, and the plots externalize adolescent anxieties. But conventional wisdom completely ignores the relationship between bright, promising adolescence and wretched adulthood, generally defined in modern Western societies as futilely attempting to prolong adolescence. (Like Doug Stanhope says, "I haven't learned one thing in the last ten years that hasn't just depressed me more.")
While many of the teen victims in Friday the 13th are deliberately portrayed as pricks, most aren't. They're simply adolescents who happen to be doing what you most wanted to do when you were sixteen, a thing that's sat in your head and festered ever since, like that raisin in the sun. So let's start with the bedrock premise: teenagers, without adult supervision, doing drugs and having sex in idyllic nature.
Sounds pretty awesome, right? Even Grandpa still uses the weekend getaway with the hottest chicks from high school as a wanking fantasy. He's got the trees, the lake and everything!
I can still recall the nuclear erotic energy of visiting a campground or going on vacation when I was a teenager, the girls by the pool, the possibilities. Whether you got lucky a lot back then or not, adolescent sexuality produces some of the most intense emotional experiences of your life.
But as H.L. Mencken mentioned, Puritanism is "[t]he haunting fear that someone, somewhere, may be happy." Jason is this Puritan rage, the spite vote. He doesn't speak to teenagers nervous about immorality. Jason speaks to everyone who wants teenage immorality for themselves, right now, and is thwarted. We wanted it more than anything when we were teenagers, and we still want it today. While we don't admit it, those teenagers from the Friday the 13th movies represent a joy we may never have had, and likely never will have. Even if we were among the sexually Chosen Ones, we never had enough, and it's too late now. Our strongest adolescent emotions, passions, and lusts are gone, never fully gratified. In the Saw series, the killer wants to help victims "appreciate" their lives, a goal that's unstated but somehow also palpable in the Friday the 13th series. These teens are experiencing the only real-world heaven our minds have ever conjured for us, and they take it for granted. So they've gotta pay.
This little slasher-film hypothesis first took shape when I realized sexy movies like Y Tu Mamba Tambien or The Dreamers were intolerable to me. While foreign films depend on breasts to compete with the big budgets of Hollywood, the sex and intrigue just frustrated me. Either I was in a relationship and the sexuality reminded me of the erotic potential I was missing out on, or I wasn't in a relationship and the sex reminded me of the erotic potential I was missing out on. Throw in a killer, and somehow it's not so offensive to the fantasy parts of the brain.
While some people have wonderfully rewarding sex lives, most of us are getting older, paunchier and uglier, irreversibly. When most of us think about sex, we're eternally adolescent. Men had endless lusts, and women didn't have to worry about skin care. The kids in the Friday the 13th movies don't sin by taking drugs and having sex. They sin in not knowing how fleeting that joy is. They're ignorant of the danger lurking around them, the loss of looks, enthusiasm, and passion, the grinding dullness of the workplace, the sexual famine of marriage, the burden of children, the diminishing returns of friendship, the breakup of families. Of course, the audience isn't consciously factoring that in; there's a pit in their brain where all that pain eternally sits.
The kids are unaware of our horrible Western lives, where family, tribe, and clan are dissolved in an acid-bath and every potential relationship is too fraught with the stress of awkwardness, of not knowing your place in the hierarchy, to even be worth investing in.
No wonder we root for Jason!
Read more:, Rick Rucker, Entertainment, movies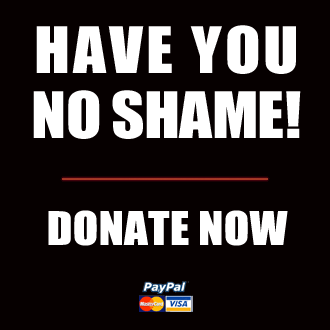 Got something to say to us? Then send us a letter.
Want us to stick around? Donate to The eXiled.
Twitter twerps can follow us at twitter.com/exiledonline