By Eileen Jones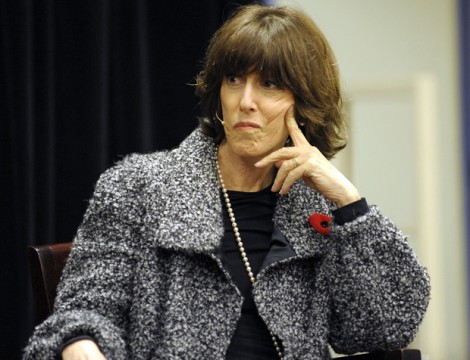 Am I missing something? Did Nora Ephron do something great once in her seventy-odd years that I never heard about? She cure cancer and I was never told? She make an uncharacteristically watchable movie and hide it in a vault for posterity and we're just discovering it now?
After seeing encomiums all over the place practically calling for Ephron's canonization, I checked IMDB and saw only the usual dreadful facts of her life. Like how she became professionally annoying after husband Carl Bernstein cheated on her, by writing a self-pitying memoir-novel featuring gratuitous recipes that became a rotten Meryl Streep movie called Heartburn, and how she utterly ruined American romantic comedy forever and ever and ever and ever with When Harry Met Sally and Sleepless in Seattle.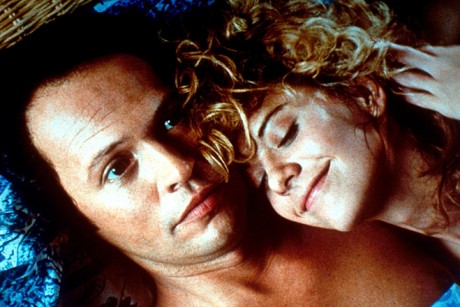 (I know, you can't believe American romantic comedies were ever good, right? But they were. Ernst Lubitsch did a beautiful one in 1940 called The Shop Around the Corner, for instance, that writer-director Ephron deliberately mucked up and rendered horrible and titled You've Got Mail in a dreary attempt at technological topicality. She also co-starred mugging Meg Ryan and shucks-folks Tom Hanks in it. Ephron helped make them the Cute Co-Stars From Hell in the 1990s. You'd think such heinous acts would prevent post-death encomiums. But no.)
To hear people tell it, Ephron was wonderful. So brilliant, so funny, so amazingly able to think thoughts and be female at the same time. They tended to be really tiresome thoughts, those pseudo-bracing ones your detestable horse-faced aunt might throw out on a day when she feels particularly self-congratulatory. Letting you know she understands how to live life fully, and you don't. Ephron was like an Auntie Mame for the bland provincial set, simultaneously pushy and forgettable, saying things that take the form of witty remarks but aren't actually witty, or interesting, or anything.
Here's an example of a Nora Ephron quotable quote (you can google reams of them):
Insane people are always sure that they are fine. It is only the sane people who are willing to admit that they are crazy.
You see what I mean? That kind of blah reaction you get, followed by exasperation when you realize tons of people think that's really fresh and insightful? That's the Nora Ephron Effect. When Harry Met Sally and her other ghastly works are chock-full of that junk.
And then there's her drooling advice to women that's really insufferable.
"Above all, be the heroine of your life, not the victim."

"The desire to get married is a basic and primal instinct in women. It's followed by another basic and primal instinct: the desire to be single again."

"Summer bachelors, like summer breezes, are never as cool as they pretend to be."
All of this stuff's got mold on it, it sounds like Dear Abby trying to get hep, but women in the entertainment business have trotted out reverent eulogies anyway. Mindy Kaling of The Office said this:
Nora Ephron has been the single most influential person to me as an artist.
Didn't know Mindy Kaling was an artist, did you? Yeah, turns out everybody is now, unless you specify otherwise. You have to check "NOT AN ARTIST" on the form.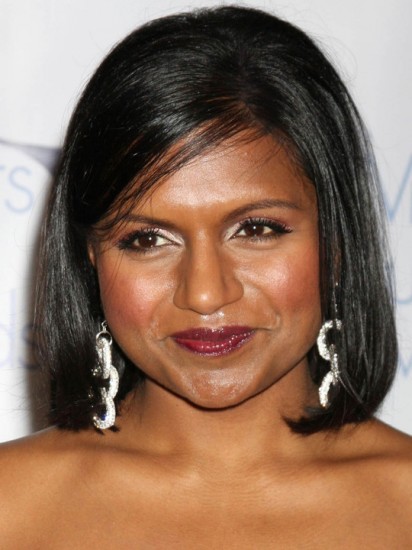 But the capper is Lena Dunham's tribute, she of the despicable HBO show Girls. Nora Ephron is Dunham's personal heroine, turns out, and no wonder. They share a vaguely similar combo of traits: privileged, wired-in background, creepy faux-feminism, mean banality, and allergy to anything that resembles the observable truth:
Her advice was unparalleled. At one of our lunches this past January, I was sheepishly describing a male companion's lack of support for my professional endeavors. She nodded in a very "don't be stupid" way, as if I already knew what I had to do: "You can't possibly meet someone right now. When I met Nick, I was already totally notorious"—note: Nora was the only person who could make that word sound neither braggy nor sinister—"and he understood exactly what he was getting into. You can't meet someone until you've become what you're becoming." Panicked, I asked, "How long will that take?"

Nora considered a moment. "Give it six months."

I loved her propensity for asking a question when she already knew the correct answer but wanted to let you make a tiny fool of yourself. The best example of this was when we were discussing a popular book and she earnestly asked, "Did you think that was a good book?" I said, "Well, yes," before Nora came back, sharply, with "It wasn't." I later told this story onstage with her, and she laughed as though she knew it was one of her most awesome tricks.
That last bit is the best evidence of Nora Ephron's "awesome" wit and wisdom: a crabby old woman tells a dopey young woman a book she likes is crap, and offers no explanation, and that proves the crabby old woman's a genius.
We've come a long way, baby.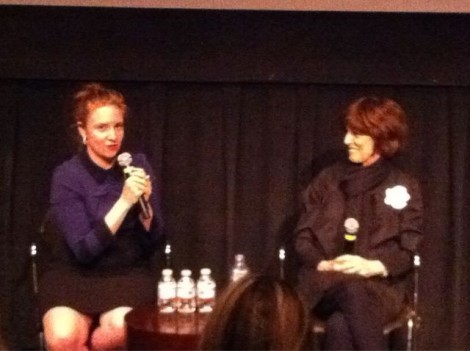 Read more: celebrity death, Lena Dunham, Meryl Streep, Mindy Kaling, Nora Ephron, romantic comedy, Sleepless in Seattle, When Harry Met Sally, You've Got Mail, Eileen Jones, Fatwah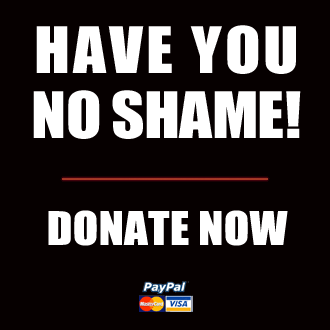 Got something to say to us? Then send us a letter.
Want us to stick around? Donate to The eXiled.
Twitter twerps can follow us at twitter.com/exiledonline