By Eileen Jones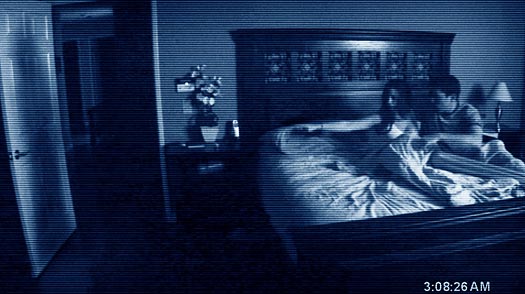 I finally got around to seeing Paranormal Activity, the low-budget ghost movie that's making so much money. It's spinning through the predictable cycle already charted by The Blair Witch Project ten years ago:
1) early fan buzz and glowing reviews, followed by
2) naysayers claiming the movie's not scary, it's stupid and boring, while critics begin to damn it with faint praise by saying the film's "a triumph of clever marketing," which leads to
3) a total raving backlash, with all agreed that fans of this piece of crap are idiots who don't even know they've been had. And still to come,
4) a vague consensus that, in retrospect, Paranormal Activity was pretty good.
I'm not sure why we find it necessary to go through these convulsions over small, cheap horror films marketed as "found footage." Personally, I like them. I wish people would go out and make lots more of them. Small cheap horror films are a proud American tradition. The "found footage" idea is great and, strangely enough, it's relatively unexploited in our camera-crazed society. If more of us would get out there and shoot small cheap horror films purporting to be "found footage" instead of grousing about the few "found footage" horror films we already have, it would be a better and sweeter world.
Anyway, Paranormal Activity is good if you like ghosts. I like ghosts. I also like zombies and psychotic killers with chainsaws—I had a fairly traditional American education—but I'm not bored by low-resolution long shots of rooms in which nothing happens but a door opening six inches, apparently by itself. If you like ghosts, that's practically the money shot.
Paranormal Activity has some big flaws, but I find big flaws fairly forgivable in $10,000 films made by amateurs. For example, the lead couple, Micah Sloat and Katie Featherstone (played by Micah Sloat and Katie Featherstone in a bit of non-clever reflexivity) are white twenty-somethings so conspicuously affluent you know they must pay, per the Horror Code, for their whiny privilege. That's distractingly obvious.
I read one review referring to the couple as "middle-class" and nearly spit up my coffee. They live in a big fancy-ass house in San Diego—in SAN DIEGO, where houses haven't sold at reasonable prices since the first Catholic missionaries infested California—with a tiled-in pool and a flat-screen TV of billboard size. What do these youngsters do to earn such a spectacular pad? She's a grad student in English—hah!—and he's a day-trader, i.e., a schmuck. In fact, he's such a schmuck it constitutes the biggest flaw in the film, because you know from the outset that his schmuckiness is directly tied to what's going to happen, horror-wise, and it's a long wait before it happens.
The film takes place in and immediately around the house, and it represents the attempts of the aforesaid young couple to document with an expensive camcorder the creepy phenomena occurring there. They are solemnly warned by a psychic investigator (Mark Fredrichs) that any negativity between them will "feed" the possibly demonic presence in the house, so again, we know early on what we're in for. The couple will turn on each other. The entity will gorge itself on the yummy delicious cornucopia of rich-people-neuroses, and grow strong, and destroy the young couple.
And what could be fairer than that?
Writer-director Oren Peli does his best work with the low-res black-and-white camcorder shots of the couple's bedroom, with the time-code running in the corner of the frame. We keep returning to the same shot set-up ("Night #13") and staring at the couple in the bed, waiting for something to happen. These shots are the ones that break the easily bored. But if you like the uncanny effects that are so essential to the film medium, you'll really enjoy them. There's an effect involving Katie standing in a trance-like state by the bed in the middle of the night, staring down at the schmuck Micah, that's just fabulous. The film is speeded up to register that she's there for hours, with the time-code racing ahead, but she's standing so still there are only tiny, flickering movements in her posture. Nice!
Sadly, some critics who admire the film aren't making a very good case for it. Richard Corliss, the thousand-year-old codger-critic for Time, harrumphs that this film is a wonderful throwback to good old-fashioned, restrained, non-gross-out horror films for grown-ups like we used to have back in the day when Roman Polanski was sodomizing his first underage girl. Then Corliss caps it off by comparing Paranormal Activity to those super great hippie-era experimental films we all miss so much:
PA [that's Corliss' cool way of referring to Paranormal Activity – ed.] has less in common with modern gore movies than with certain avant-garde films of the late '60s, like Michael Snow's Wavelength — a murder mystery in the form of a single, slow, 45-min. zoom shot through a room — and Morgan Fisher's Phi Phenomenon, an 11-min. shot of a wall clock without a second hand. In Fisher's film, viewers were meant to concentrate so intently that they could see the minute hand move. PA uses a similar strategy….
Doesn't exactly make you want to rush right out and see PA, does it? Not unless they're handing out tabs of acid in the lobby.
Corliss made it sound so stupid I started to wonder if I might be wrong about liking this film. Maybe I'm getting so I like too many new films, which was never an issue before in my entire life, ever. I mean, I've liked a lot of films lately: District 9, and In the Loop, and Inglourious Basterds, and The Informant! and A Serious Man…
They can't ALL be good, can they? Or is it possible that we're waking up from a long stupid sleep and experiencing a burst of painful intelligence expressing itself in film form?
Yep, thinking it over, I'll stand by it. Uncanny as it seems, that's what's happening. Enjoy it while it lasts! We'll be stupid again soon!
Read more: Blair Witch Project, ghosts, horror, Eileen Jones, movies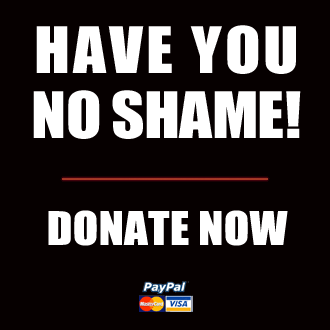 Got something to say to us? Then send us a letter.
Want us to stick around? Donate to The eXiled.
Twitter twerps can follow us at twitter.com/exiledonline