By Abram Kalashnikov

The fashionable writer Viktor Pelevin provides this neat little paradox in his latest novel, Chapayev and Pustota:
"Foreigners, of whom there is an incredible number in Moscow, have for many years dressed in such a way that they could not be discerned from ordinary passers-by-for security reasons. Most of them got their ideas on the appearance of the ordinary Moscow passer-by from CNN broadcasts, of course. And CNN, seeking to portray Muscovites as they follow the ghost of democracy through the scorched desert of reforms, has in 90 cases out of 100 presented viewers with close-ups of U.S. Embassy staff dressed as Muscovites, because they looked much more true-to-life than Muscovites who had been trying to dress as foreigners."
One may question the generalization in this passage, but Pelevin, after all, is a novelist, not a journalist, and even if he writes something that is blatantly wrong but does it in an endearing way, his readers will admire him and not sling overripe tomatoes at him.
In the news genre, one is normally careful to avoid patent bullshit. But a foreign correspondent enjoys a novelist's freedom to write any amount of baloney. People in the countries from which foreign correspondents report do not normally read their coverage, and people back home do not care enough to question what they read.
Those overripe tomatoes have been on my mind since I read a recent story by Moscow correspondent Alan Philps in the Daily Telegraph. It goes as follows:
"The Kremlin has acquired unexpected allies as it prepares for this week's latest round of its struggle with the West over NATO expansion. The prostitutes of the Crimea are to boycott NATO sailors taking part in Operation Sea Breeze this summer. Instead of taking the old enemy's dollars, it has been reported, they will pelt the men with rotten tomatoes. In its weakened state, Russia needs all the help it can get – even from patriotic women of easy virtue. For it is preparing to receive a far more doughty female, the United States Secretary of State, Madeleine Albright."
Now, we need to get a few things straight here. Is Mr. Philps sure Madeleine Albright is more "doughty" than the Crimean hookers? And if he is, how does he know? Does he really think Ms. Albright would be brave enough to throw tomatoes at NATO sailors without any bodyguards around? Surely the U.S. Secret Service would protect the Secretary of State better than Crimean pimps can safeguard their charges.
And then, of course, there is the minor matter of sovereignty. The Crimea is (as the Telegraph reporter omits to mention) Ukrainian territory. It is possible that many of the hookers in question belong to the peninsula's Russian ethnic majority. That would explain their supposed patriotic zeal. But then the prostitutes' decision to boycott the NATO armada should be viewed as an embarrassment to the generally pro-NATO Ukrainian authorities, which cannot even keep the local hookers under control, rather than as proof of Russia's weakness.
And, since Mr. Philps does not cite any sources for his report (filed out of Moscow), does he know for a fact that it is patriotism that makes the honorable ladies of the Crimea stock up on tomatoes? What if they are in fact motivated by nasty past experiences with NATO sailors? If the British Navy should launch an investigation into previous visits to the Crimea by its officers and men, is it possible that instances of kinky behavior or reluctance to pay for services rendered might surface?
An American editor might have demanded that the correspondent source his information, and then Mr. Philps would have lost a juicy lead to an otherwise boring foreign policy story. But British newspapers are more lenient about this sort of thing, especially the Telegraph, which has recently tried hard to get rid of its reputation for stodginess. It's easy to imagine the paper's foreign editor asking Mr. Philps to provide a picture of the hookers to go with the story and Mr. Philps making his staff put through a few calls-to AP Photo, Reuters and ITAR-TASS-and then phoning back London to say the pictures were not to be found in the archives.
Everyone knows that some British newspapers tend to be irreverent. Not the Financial Times. It is a serious paper read by serious people-investment bankers, brokers and a host of financial wannabes. These are intelligent people who need to be provided with a suitable reference frame when they think about far-off places like Russia. Chrystia Freeland does that in her recent analysis of the Russian political situation.
"Every winter weekend in Moscow crowds of charmed children can be found in the Tretyakov Gallery, gazing at Bogatyri, a 19th-century portrait of three mythical bogatyrs-battle-scarred heroes who patrol the nation's borders. The legendary troika is so beloved that the Mars company recently featured it in a television advertisement for chocolate bars."
Yes, in an ad that announced that the Mars bar is now 10 per cent bigger. The company has also used elephants, truck-drivers and skateboarders in its advertising, although you won't find children in the Tretyakov Gallery gazing at pictures of any of the three.
Done with her foray into the history of Russian culture, Freeland proceeds to the actual political analysis, saying that First Deputy Prime Ministers Anatoly Chubais and Boris Nemtsov have "forced out corrupt or conservative officials and replaced them with their own allies."
This interesting statement implies that conservative views are somehow akin to corruption, and that the two ministers' allies, not being conservative, cannot be corrupt. Oddly, Freeland actually seems to believe what she writes, because she goes on to say that Chubais and Nemtsov "have weakened the ties between the government and its banker friends and defended the rights of minority, Western shareholders in Russian companies."
That, after Chubais' furious media campaign against the multinational metals company TransWorld, which owns shares in most Russian aluminum companies, and after Nemtsov got his friend Boris Brevnov, a banker, appointed vice president and then elected president of United Energy Systems, Russia's power gridholder. Dream on, Ms. Freeland.
The Brits can be flippant or naive, but they "always look at the bright side of death," as Monty Python's Flying Circus used to sing. This week I am giving away a prize for warmheartedness and compassion to Reuters, for a story entitled "Hardline former Yeltsin aide Yegorov dead at 45."
The story does not have a single kind word to say about poor Yegorov, who used to advocate the war in Chechnya. In each paragraph but one, the agency relentlessly reminds the reader that Yegorov was a hawk and a hardliner. If Reuters has to report a death, it will certainly do its best to make readers feel good about it.
Read more: exile issue 7, press review, Abram Kalashnikov, eXile Classic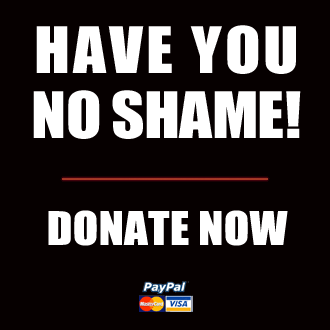 Got something to say to us? Then send us a letter.
Want us to stick around? Donate to The eXiled.
Twitter twerps can follow us at twitter.com/exiledonline