By Eileen Jones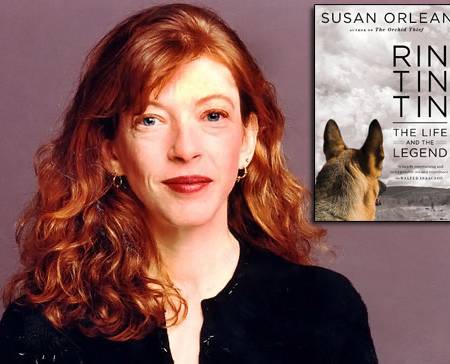 There's a book out about Rin Tin Tin, the old dog-star of Hollywood, by that stuck-up New Yorker hack Susan Orlean. She's best-known for writing the bestseller The Orchid Thief, which got adapted by lofty screenwriter Charlie Kaufman into a smug self-reflexive film called Adaptation starring Nicolas Cage as Charlie Kaufman the screenwriter trying to adapt The Orchid Thief for film, which just shows you how up its own ass this movie is. And guess who plays Susan Orlean in it? Meryl Streep. Yeah, the snootiest most high-culture over-Oscared WASPy revered actress alive. Amazing how those kind of "quality" people still get together, as if they all belonged to the same private club where they meet regularly for cocktails and lucrative business deals and deciding who will play whom in the film.
It's very unfortunate that Susan Orlean should write a book about Rin Tin Tin, because I'm actually interested in reading a book about Rin Tin Tin. So I read hers. Battled my way through it, actually, against the tremendous obstacle of the author herself. There's an awful lot of Susan Orlean messing up Rin Tin Tin: The Life and the Legend. Every time you settle in to read about some charged moment in the life of an interesting German Shepherd, you find yourself swamped by the high-toned musings of Susan Orlean again.
It's too bad about New Journalism, which seemed like such a good idea at the time. You actually want to read about a thing and instead you've got to read about the irritating super-literary schmo who found out about the thing, and all the trouble the schmo went to, and how the schmo felt about it. Somebody really ought to clean up New Journalism, at least enforce a No-Schmoes policy.
Anyway, New Journalist Susan Orlean narrates how she learned about Rin Tin Tin by talking to many exotically primitive, non-quality people along the way, and by doing amusingly grubby things like  rooting through their public storage units. But such excursions are well worth it to her, because that way Susan Orlean finds out more about how fascinating Susan Orlean is:
For me, the story of Rin Tin Tin let me cast a line into the pool of my childhood memories, an undertaking that felt more urgent every day I walked further away from the edge of that pool. I began the story of Rin Tin Tin soon after my father died and my son had been born; the idea of continuity was suddenly very real to me. Reeling Rin Tin Tin into the present would not only revive his story but also perhaps clarify my own—the story of who I am and how I happened to become the person I seem to be.
Orlean's favorite tone is that of soft profundity, the kind that only the privileged can afford. "Leisure class" breathes through every syllable. That fishing metaphor's a beaut, isn't it? Casting a line into the pool of childhood memory, reeling in Rin Tin Tin. So evocative of an agrarian past, but not the dirty starved hard-working one, no, the gentler more contemplative never-never world of Walden Pond, The Andy Griffith Show, and blonde airbrushed Americanized water-walking Jesus H. Christ telling disciples to be fishers of men. It's so perfectly trite and phony there's a kind of sick genius in it. Of course, Susan Orlean probably has a pond on her 55-acre property "where she lives with her family and her animals in Columbus County, New York," as the bio-blurb informs us. And I wouldn't put it past her to fish in it, either, in a wistful, bemused way that she'll write about later for The New Yorker.
All this is rotten, because Rin Tin Tin was a beautiful animal with many fascinating qualities and an epic life story. When she can stop writing about herself for awhile and focus on the dog, Orlean gets some good stuff across about him. He and his litter-mates were rescued from a bombed-out cellar in World War I France by an odd, lonely, dog-loving soldier named Lee Duncan, who already knew about the then-rare-in-the-US breed called the German Shepherd. He named his puppy for a little French toy that was popular at the time, trained him to do astonishing things, and took him out to Hollywood where, against all odds, the dog became a top star of the 1920s. Such a top star, his box-office earnings regularly bailed out Warner Brothers studio, where he was referred to as "the mortgage-lifter." His celebrity made German Shepherds the most popular dog in the USA for many years.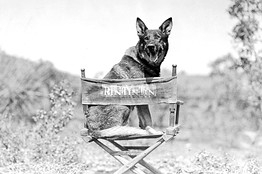 The charismatic dog had a very dark face, which made him difficult for cinematographers to light; later Rin Tin Tins, some related to the original German Shepherd star, some not, were more classically handsome representatives of the breed, and always had more tan markings. But none ever matched the remarkable combination of star qualities that the first Rin Tin Tin had. After the dog's death in 1932, Lee Duncan's life was a sad one; he was forever trying and failing to recapture the perfect relationship he had with the perfect dog-star, and then resigning himself to living as the keeper of "the Memory Room" full of Rin Tin Tin memorabilia.
Rin Tin Tin the First was athletic, with an amazing ability to leap walls up to twelve-feet high, which was obviously cinematic gold. He had a matchless range of expressions (Duncan trained him to do a lot of them) and, in repose, an admirably grave demeanor that inspires some typical Orlean oversell:
[He had] the resigned and solemn air of an existentialist. In his most popular portrait—shot in the 1920s, copied by the tens of thousands, and signed "Most Faithfully, Rin Tin Tin" in Lee's spiky script—his jaw is set and his eyes are cast downwards, as if he was thinking about something very sad. Even when photographed doing something playful like, say waterskiing or sunbathing or riding a horse or getting a manicure or snowshoeing with starlets or drinking a glass of milk with a group of children who were also drinking milk, he had a way of looking pensive, preoccupied, as if there were a weight on his soul.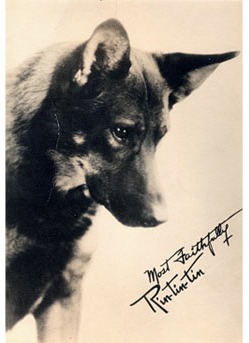 Well, it's a lovely photo of Rinty, all right, let's just say that.
His typical character in movies was that of a Jack London-esque dog torn between his wild side and his tame side, and his dark face could look nicely atavistic when he was running with a wolf pack but trying to decide if he ought to slip off and rescue some rare worthy person in trouble. The description of these dog movies in which the dogs are the real heroes with moral dilemmas sound pretty good, I have to say. Silent film fostered the possibilities of animal-acted drama. A dog's face is every bit as interesting to study as a human's, after all—more interesting, actually—as many an upstaged human actor knows to his sorrow, animals will act you off the screen every time.
Later on, when Rin Tin Tin III was starring on a hit TV show, the dog character wasn't nearly so central. He mainly hung around waiting to save some hapless idiot, without seeming to ponder whether such a lifestyle might be an ignoble one for a proud wolf-descendant. The "Lassie, come quick, Timmy's trapped in the well" narrative was the order of the day.
The Talkies ended Rin Tin Tin's career as a huge movie star. After Warner Brothers made The Jazz Singer and sound film became the only game in town, Jack Warner sent a cruel memo to Lee Duncan reminding him that "dogs don't talk" and therefore they wouldn't be renewing Rin Tin Tin's contract. It makes one happy to think that Rin Tin Tin once bit Jack Warner; according to legend, he bit most of the film types he worked with, or at least threw himself into fight scenes with such enthusiasm he was a menace to human co-stars. Atta boy, Rinty! Good dog!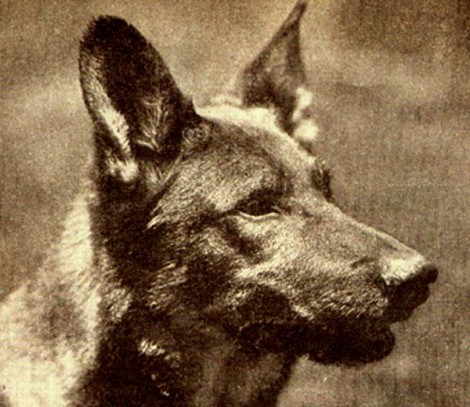 (Reminds me: I was on a film shoot once, working with a novice director who was a real rat-bastard. The scene involved a German Shepherd and the director wasn't pleased with the dog's performance and didn't know anything about dogs, or directing, or anything. He decided to "adjust the dog's position" without asking the trainer, strode up and pulled the dog's front legs forward. The dog growled deeply in his face, the bastard director leaped back as if shot, and the entire crew lit up with joyful anticipation. But the dog was a disciplined dog: he didn't proceed to rip the director's throat out, and the rest of the rotten movie actually got made and released. It was a real shame.)
Susan Orlean tours through a lot of related subject matter surrounding the "life and legend" of Rin Tin Tin, and some of it is pretty interesting. Stuff about the breeding and popularization of German Shepherds, the rise of the concept of the "companion animal," other dog stars like Rover and Strongheart and Lassie, that kind of thing. (My favorite bit of info was the fact that there was a film genre known as a "snow" in silent era Hollywood, when audiences were fascinated by the idea of the "frozen North." Only they didn't call it a "Northern." So somebody might say, "We're going up to Canada to shoot a 'snow.'")
Orlean seems to be good at research. If she'd stay off her own feelings and quests for "meaning" in everything and rein in the bathetic prose style…which she won't. Get a load of this doozy, which occurs after Susan Orlean stages a big scene of "meaning" for herself by visiting a World War I cemetery:
As I drove away in the dusky light, I kept seeing the tailored rows of graves, those tiny repositories of stories that are hardly remembered, all those sad and broken boys resting in the velvet lawn of St. Mihiel, forever. Almost one hundred years of resting there, enough time to be forgotten, the lives that continued after theirs ended having now filled up the space that opened up when they died, so their absence now has been lacquered over, smoothed out, almost invisible.

What lasts? What lingers? What is snagged by the brambles of time, and what slips through and disappears? What leaves only a little dent in the world, the soft sunken green grave, the scribble on a scrap of paper, the memory that is bleached by time and then vanishes bit by bit each day?
"What is snagged by the brambles of time?"! It goes drooling on like that, the whipping-up of one's own emotions into a sentimental froth that fourteen-year-olds indulge in, fourteen-year-olds whose lives have been pretty cushy, anyway. It's interesting that in telling the story of Rin Tin Tin, Orlean has to describe genuinely ghastly things happening, and some she chooses to weep and pontificate over extensively, while others she reports with crisp brevity. After describing the widespread use of dogs in wartime military service during World War I, for example, and relating a number of anecdotes about the indispensability and incredible heroism of the dogs in combat and all that, she rids us of the war dogs thusly: "The French military destroyed the majority of its dogs as the war skidded to a close. The British, German, Italian, and Russian military likely did the same."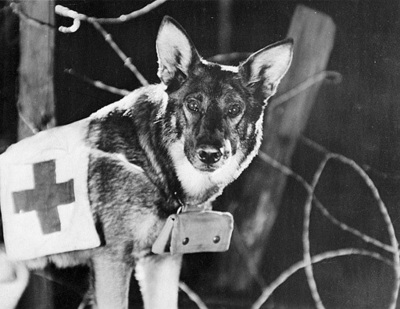 Suddenly the drive to do intensive research deserts her, as well as the impulse to drivel over the unremembered dead. Lee Duncan managed to save Rin Tin Tin from the wholesale slaughter—he's the dog that we're waxing lugubrious about here—so, moving on. Interesting mix of the sopping-wet and the suddenly dry, the mushy-soft and unpleasantly hard, in Susan Orlean's prose. In other words, a nasty rich bitch peeks out occasionally through all that whipped-cream wordplay.
Still, the dog himself is great, and few film stars ever get a worthy biographer. If you look at it that way, it's not so bad.
Read more: Adaptation, Charlie Kaufman, dogs, film stars, Meryl Streep, Rin Tin Tin, Susan Orlean, The Orchid Thief, World War I, Eileen Jones, Books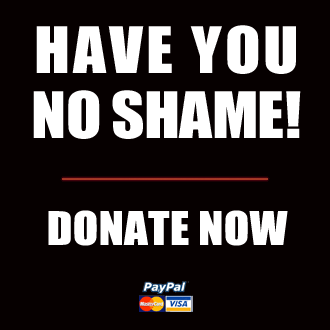 Got something to say to us? Then send us a letter.
Want us to stick around? Donate to The eXiled.
Twitter twerps can follow us at twitter.com/exiledonline