By Eileen Jones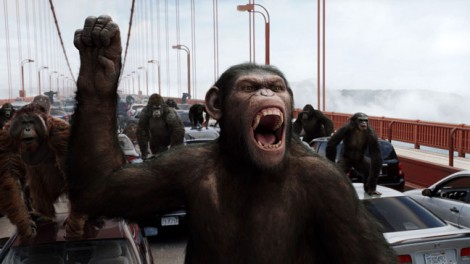 First, ask yourself the question, do you want to see a movie in which apes revolt against humanity?
If the answer's No, ask yourself these follow-up questions: 1) Why the hell not?, and 2) What's WRONG with you?
Apes revolting against humanity works on so many levels. Most obviously, apes are great creatures, and humans are not. It's helpfully built right into their biological classification, "the great apes"—gorillas, chimpanzees, and orangutans—and in Rise of the Planet of the Apes, you get to identify with the apes against humanity, as is proper.
It's an uprising movie, and uprising movies are just what we need right now. Why on earth somebody doesn't remake Spartacus and film the Geronimo story and take another shot at Pancho Villa and do a decent depiction of the 1916 Irish Easter Rising and the spectacularly successful Haitian slave-revolt against the French in 1804 and cinematically celebrate Nat Turner and Harriet Tubman and John Brown, I can't imagine. But until somebody does, Rise features a chimpanzee Spartacus, at least.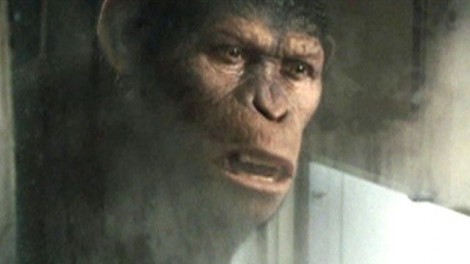 Plus there's the overt sociological angle that's so heartwarming. The old Planet of the Apes movies did the racial allegory everyone remembers fondly, but this new "prequel" is quite a bit stretchier. The apes here are representing not only all of suffering animalhood currently getting squeezed out of existence, but all of humanity's subjugated, shunned, and shat upon, and that's getting to be a bigger, roomier, more self-aware global majority all the time, transcending racial categories, though God knows race is still a big ugly factor.
Therefore Rise of the Planet of the Apes can be a pretty rotten movie in many ways and still work. You have to sit through a lot of James Franco and excessively plotty meanwhile-back-at-the-lab stuff, plus a patina of sickening CGI over everything. Never mind all that. Those are the apparently necessary conditions for the ape revolt. Keep your eyes on the prize.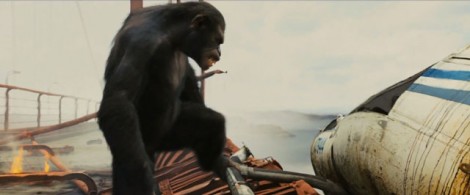 I saw the movie with one of those right-thinking urban audiences who are there to feel the film intensely and vocalize their response. When Caesar the chimpanzee speaks for the first time, saying "No!" in response to his jailer's order, the whole audience said, "Whoa!" in unison. Because like Spartacus says, "When a slave says No, Rome trembles." And when an ape says No, Rome freaks out entirely.
(Admission: Kirk Douglas as Spartacus doesn't really say that. He actually says, "When just one man says, 'No, I won't,' Rome begins to fear." But my way's better.)
Plot rundown: in Rise, Our Hero is Caesar the chimpanzee whose super-intelligence was lab-engineered. His mother and a dozen other chimps, the subjects in a seemingly failed experiment, are killed off, but Caesar is saved by a weedy scientist named Will Rodman (James Franco) who's in charge of the experiment. Rodman wants to find a cure for Alzheimer's Disease, partly for personal reasons—his father (John Lithgow) is fading fast—and partly to curry favor with the slick nasty boss (David Oyelowo) of the evil biotech firm. Those cold, official glass-and-metal citadels aptly represent a world run by and for a loathsome exploitative elite, and inside them, the chimps in cages and strapped to lab tables whose misery drives the profits? Them are us.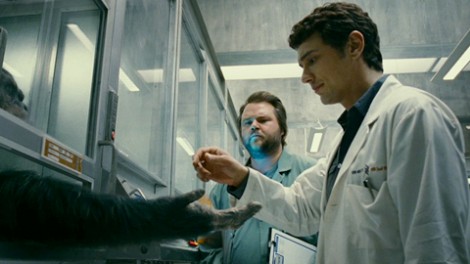 So Caesar gets raised in suburbia by Rodman and his dad and, eventually, Rodman's girlfriend (Freida Pinto, pretty but otherwise negligible). This is the waiting-around part, while Caesar slowly figures out what we already know, that humans, as a rule, are no damn good. Sure enough, Caesar winds up attacking a human who richly deserves it, and he's hauled off to be caged in a seedy cement primate holding pen with a bunch of apes who don't appreciate his fancy human-style duds. Rodman can't get him out. Rodman's useless girlfriend starts to make oh-well-maybe-it's-for-the-best noises.
This is where things start to get good, movie-wise. Embittered Caesar has finally had enough. He acts in accordance with the famous-last-words advice of jailed union man Joe Hill, right before his execution on trumped-up charges: "Don't waste any time in mourning. Organize."
Many stirring shots of Caesar in his cell plotting revolution. Andy Serkis of Gollum fame plays Caesar and presumably should get the credit for nice expressive eye-work as Caesar cogitates on the problem facing all revolutionaries: how the hell do you get a bunch of stupid primates throwing feces at each other to join forces and fight their oppressors? Leon Trotsky, Michael Collins, Nelson Mandela, they all went through the same thing.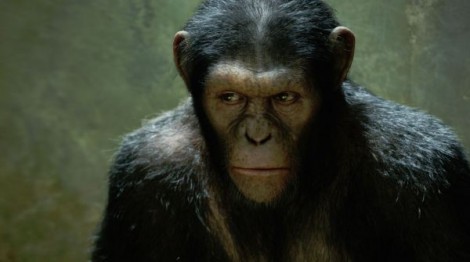 In Caesar's case, the solution involves getting control over the cookie-reward system at the primate pen, converting the big gorilla and the meanest chimpanzee to the cause, stealing some ape-smartening formula from the lab, learning to use weapons, etc. I feel sure Caesar's system roughly resembles some revolutionary handbook already in existence, maybe something by Mao Tse-tung.
And when the apes get smart, it's pretty thrilling. Nice shot of them standing together as a group, all on their hind legs, looking at their warden (Brian Cox) in an appraising way that would make a wiser man get out of the ape-imprisoning business immediately. From then on, enjoyment reigns. Apes overrun the biotech firm, apes liberate the zoo primates, apes arm themselves, apes cross the Golden Gate Bridge en masse heading for redwood forests, apes fight the cops, a gorilla takes down a helicopter…
Yeah, lots of spontaneous applause in the theater at the end, and you don't hear that very often anymore.  May this be the first of many Uprising Movies, and may they give us all some practical ideas for future use.
Read more: Andy Serkis, Freida Pinto, James FRanco, revolution, Rise of the Planet of the Apes, slave revolt, spartacus, uprising, Eileen Jones, movies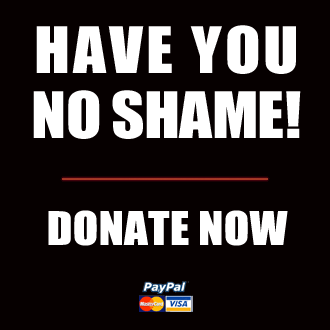 Got something to say to us? Then send us a letter.
Want us to stick around? Donate to The eXiled.
Twitter twerps can follow us at twitter.com/exiledonline