By John Dolan
He got furious; he had a vicious temper, which probably had something to do with that epic divorce from the department; he screamed at me, "That's just self-serving passive-aggressive crap and you know it! You know damn well you're not…." He was right; my little stylized protest was a classic bit of coy grandstanding, and he was right to call me on it. Not that I learned anything. Nobody ever learned anything from these psychological sessions. It was just a kick in the face accompanied by a compliment, and the compliment was as coy and oblique as my protest—his implication that I was an exception, that the stats didn't apply to me.
God knows I was desperate to stand out somehow. I lived at home, took the train to Berkeley, went days and days without speaking to a soul. Even getting yelled at was something like contact.
What drove Beloof to drive me to est was a disaster of the sort in which I specialized. I came into his office in the next-to-last week of the semester, coyly miming embarrassment, to tell him that I'd just found out my whole semester was wiped out because my tuition check had bounced. Apparently the university had sent a letter to my parents' house way back in Week 2 of the semester, announcing the check was no good, and either I hadn't seen it or I'd been too scared to open it or some damn thing. Even now I don't know how it could have bounced anyway, because I was on a scholarship. Not the pat-on-the-head kind, by the way, just a California State Scholarship, the kind you get for being poor.
So now, in the next-to-last week of the semester, they sent a followup informing me in bland lawyerly diction, "Hey stupid! Hope you don't think you're getting any credit for this semester because we kicked you out three months ago!"
Since two of my classes were with Beloof, it was my duty to come and tell him I wouldn't be taking the final exams. And besides, it was a pleasure, or as close to pleasure as I had in those days, getting to talk about myself and have a psychology. It was my moment of glory, almost as good as limping around in the wounded Union soldier's uniform back when I was young enough to trick or treat. Teling him in a carefully modulated, understated way that 14 weeks were officially down the drain.
He grimaced at me, instinctively furious but wary of falling into another of my passive-aggressive traps. His moustache was writhing. Finally he told me, "We need to do something about you."
I was all for that. I'd even dragged myself up the hill to the Student Health Center, but had drawn a Freudian "silent mirror" analyst, Dr. Spinka. He asked me questions about my childhood, and stared back at me like a good silent mirror when I said, "It just seems like it'd be better if I died." Which, of course, I took as his learned equivalent of "Well duh!"
Beloof told me there was a seminar he wanted me to attend. He'd take me there. And he did, a week later, picking me up at BART in his fussy little French car to head into SF.
est (my Word program keeps wanting to capitalize it; Word clearly doesn't remember the 1970s) was pure SF. Herb Caen, the pyramid, opera, all that Chron stuff I read about and never expected to meet. Maybe dormies at Berkeley got over to SF every weekend, but I hadn't been there in years. I spent the ride over worrying if I was sitting correctly in the passenger seat and feeling how full my bladder was. That was the one thing I knew about est: they wouldn't let you go to the bathroom for the whole seminar. And the seminar lasted a whole weekend. My bladder was terrified.
We joined the stream of youngish real-estate stoners filing into a huge room with folding chairs. A warmup preacher was ranting on the podium, a high-voiced manic little kibbles & bits terrier of a man. He told us he only needed three hours of sleep a night these days. Sometimes he could get by with two. Massive applause. Calls from the crowd, "Me too!" "Yeah!" Kind of white yuppie revival style. But then, for all their coastal smooth, most of these people were probably only a generation away from Missouri. Add a little Tibetan incense and voila, you're a deity, like Werner was.
Beloof sat beside me, which was awkward enough, but worse yet he was a mere spectator, clapping away like everybody else. It was painful, because even then I knew enough to know how fragile his claims to fame were, and it seemed very unwise for him to let one of his protégés see him in mere spectator mode.
That's the thing with Beloof, with all those damned mentors; you can't settle on a tone with them. He was infuriating, a buffoon, a spoiled old brat.
When I went home to see my poor father teaching himself Lithuanian with a paperback dictionary, doing his unpaid and in fact bitterly-mocked research into Indo-European linguistics—my father who remembered every word of every book he ever read, and flinched every time the doorbell rang for fear it was a bill collector—it's very hard to feel too much pity for Beloof, who lived in a mansion in the hills and was paid an obscene salary to prattle about his absurd vanities.
But he was about the only person outside my family who paid any attention to me in those years, and I guess I should damn well be grateful. And besides, his enemy Brandt, who had transformed the old Speech Department, was no better, to put it mildly. Not even much more sophisticated; just better-networked, with updated patter, which was already dating very quickly and would be overthrown by the theory-geeks in a few years. I'm sure as Hell not on their side, or any side here, even my own– little manipulative coward.
Read more: berkeley, john dolan, obituary, vw van, John Dolan, Feature Story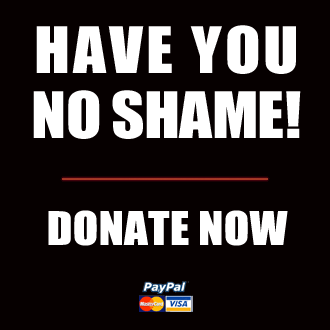 Got something to say to us? Then send us a letter.
Want us to stick around? Donate to The eXiled.
Twitter twerps can follow us at twitter.com/exiledonline