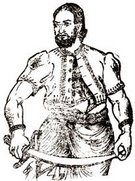 Kandy Man with long name who fought the Brits.
Key fact: in Sri Lanka heroes were allowed to get fat, another reason to like the place.
You see some pretty sick stuff when you do my job, but I just read something sicker than any Congo cannibal buffet. It's an article by a posh little limey named Jeremey Brown condemning the Sri Lankan government for being too messy in putting down the LTTE, and demanding that we stop buying the cheap textiles the poor Sinhalese make their living churning out.
What's sick about this is that the British establishment destroyed the Sinhalese people completely. Completely and purposely, sadistically. Stole their land, humiliated and massacred their government, made it Imperial policy to erase every shred of self-respect the Sinhalese had left.  You can talk about the Nazis all day long, but for my money nothing they did was as gross as what you find out when you actually look into the history of British-Sinhalese relations. If you can even call them "relations"; I guess a murder-rape is a relation, sort of.