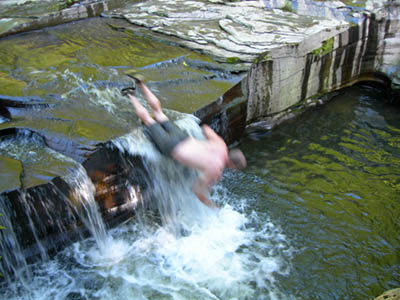 I saw a jet trail in the sky this morning and wondered why there aren't so many of them any more. And instantly started grinding through the useless, absorbing little inquisitions that keep the mind from wasting its time on lesser matters like making a living. I've learned to be wary of the first, natural hypothesis of any 53-year old mammal's brain, which is simply that the world is going to Hell, damn it. I've learned to squint around that little mental cataract and formulate slightly more rigorous options, little lists of possible responses like the heads-up display that leads the Terminator to choose "Fuck you, asshole." Standing at the top of the alley, the dog sniffing the weeds beside me, I came up with three quick possibilities for the scarcity of jet trails:
1. Jet trails must be some sort of condensation of hot exhaust in cold air; so, because of global warming, the outer air isn't as cold so condensation doesn't form.
2. Better engines and jet fuel mixes mean less exhaust; hence, fewer jet trails.
3. There are as many jet trails as ever, idiot. You're just getting old and whiney: "When I was a boy, there were jet trails so thick the woolly mammoths used to trip over them…." Shut up and keep walking. (more…)