By Eileen Jones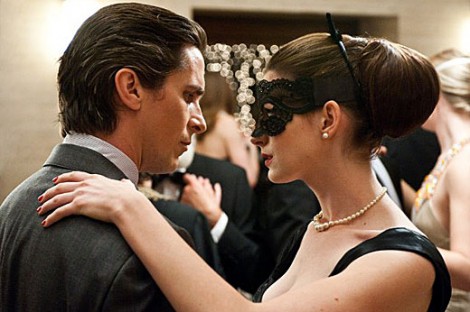 Dear Reader,

This whole review's a spoiler, so if you're not prepared to handle an all-spoiler review, take a hike. (You know the drill.)

Yours in despair,

Eileen J.
So get this. At the end of The Dark Knight Rises, Batman/Bruce Wayne (Christian Bale) is supposedly dead and gone, having sacrificed himself to save Gotham City without the public appreciating it—ungrateful bastards! Commissioner Gordon (Gary Oldman) gives the eulogy at the sparsely attended funeral. In tribute to Batman's heroism, Gordon reads Sydney Carton's final lines from A Tale of Two Cities.
Yeah! He really does! The whole "It's a far far better thing I do than I have ever done, it's a far far better rest I go to than I have ever known" bit!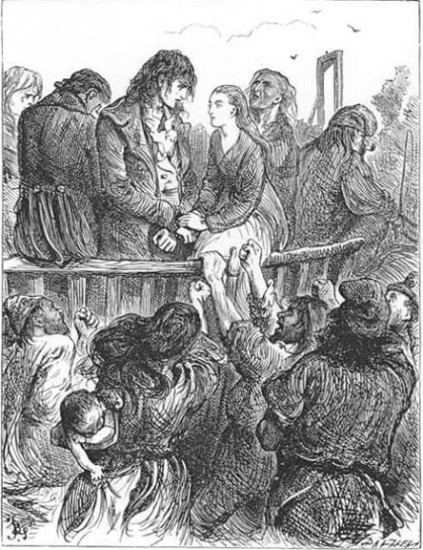 Now, this takes some nerve. Those are among the hammiest lines ever conceived by the human brain, and they take considerable justification to lead up to 'em. Charles Dickens spent about 500 pages carefully building to the big lugubrious sockeroo. Sydney Carton's noble death on the guillotine is an absolute triumph of careful handling by a master of lurid melodrama who was all for incremental social change but got very, very squeamish about revolution, no matter how necessary and justified…
Wait, hang on—why the hell is Batman being compared to Sydney Carton, the guy who saved an aristocrat by taking his place in the tumbril, sacrificing himself to a French peasant mob represented by Dickens as vile, bloodthirsty, and insane?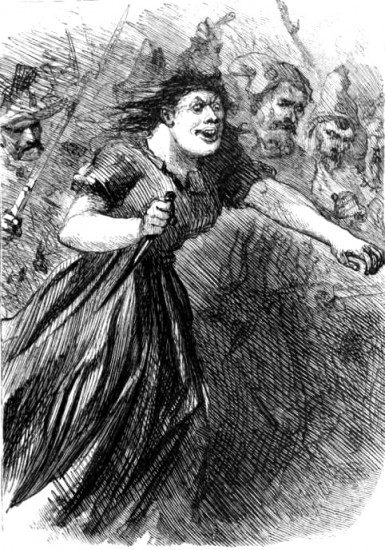 Well, it seems Christopher Nolan had hisself an idea, he and his writer-brother Jonathan, when writing this Batman-movie-to-end-all-Batman-movies. They thought they'd angle it so that the populace of Gotham City, finally rebelling against the vicious plutocrats in control and demanding a more just society, would turn instantly into a French Revolution-type mob and go all Robespierre on the rich and powerful.
First the Nolans pulled a lot of rhetoric straight from the Occupy movement and put it in the mouth of Bane (Tom Hardy), the masked, muscled-out gargoyle with the silly voice who's the villain of the piece. Bane's up on the steps of City Hall or wherever, exhorting the people to rise up and take back control of their city from the Wall Street thieves and billionaire bloodsuckers. But during this oration, Nolan never cuts to reaction shots of the crowd—he's pulling the old camera trick of making us, the audience, the "mob."
Take that, you 99%-ers, you mob-waiting-to-happen, you incipient villains!  Let this be a warning to you not to listen to any charismatic rhetoric about your rights as citizens!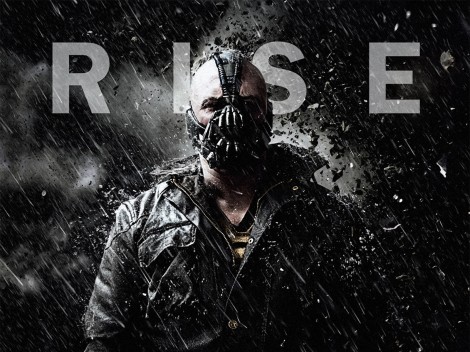 Because sure enough, the dreadful working class hordes dressed in sinister motley casual-wear—hoodies and the sorta thing—are manipulated by Bane to take back their city. So the first thing they do is buckle down to releasing all the violent psychopathological criminals in the prison—that's the first thing protesters always do, it's Step One in the Social Justice Playbook. Then they go around looting violently and attacking women in fur coats.
Later on, the brainwashed mob follows Bane through the streets to a confrontation with the cops, where the Nolan boys continue to get all topical on our asses. The brave men in blue, the vulnerable uniformed "thin blue line" of police, armed only with pathetic small handguns against tanks and assault rifles, and badly outnumbered, march right into the terrifying mob of savage sans-culottes, I mean protesters, who mow them down.
Ripped from today's headlines, see, only reversed: now it's the police who get mauled and the protesters who do the mauling.
Soon it's hand-to-hand combat, cops versus protesters, in some of the rock-bottom worst staged fight scenes I have ever, ever witnessed. Has Christopher Nolan never even watched any news footage of street fights or riots? They're generally scary-looking because they're so ragged and random and chaotic, with surges of crowd motion and sudden bursts of mayhem, arms flailing, legs kicking, people falling and getting stepped on and tripped over, violent pile-ups in one area while other areas open up as people scatter. Nolan's fight is so badly choreographed, everyone's fighting in pairs, trading phony-looking, equi-powerful punches like guys in old Westerns, and all the pairs seem to be maintaining an even distance from each other like it's a barn dance.
Maybe Nolan figured we'd be paying too much attention to Bane fighting Batman in the foreground to notice the rest, but seriously, you can practically hear Nolan yelling though a bullhorn at the extras to do another take, and this time try to punch more like John Wayne.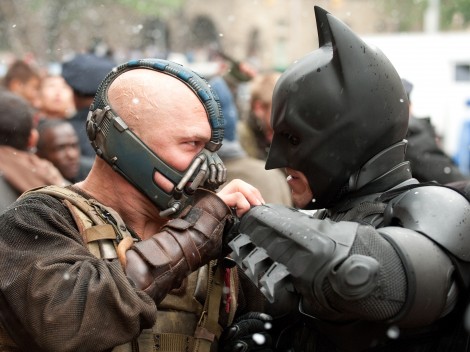 Still later Bane and the protesters and all the other bad guys have lost. The protester-perps are all kneeling down with their hands clasped behind their heads, guarded by the standing cops, as the cops gaze out manfully at the horizon. Virtue triumphant!
I go into all this at such length because the critics and bloggers who've already mentioned these embarrassing facts about The Dark Knight Rises aren't getting half-enough play. The wild charge by Rush Limbaugh that the film is actually a left-wing smear because the villain Bane is meant to refer to Bain Capital, Mitt Romney's corporation, is getting more traction than the film's amazingly in-your-face pro-plutocrat, anti-protestor plot development.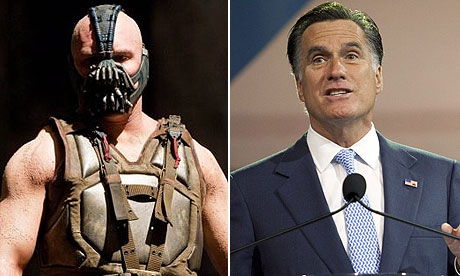 Plus there's so much other attendant madness swirling around the film, first the death-threats against critics who disparaged it, then the midnight-show mass murders in Aurora, Colorado, then the latest round of debates about violent media and its potential effects on violence-prone people—it's hard not to feel addled by it all.
Critics who love and defend the film note the anti-99% rhetoric, but hurry to contextualize it as all part of Christopher Nolan's dark vision, his wonderfully profound portrayal of a whole world gone mad, which is so great it justifies a certain "provocative" topicality. Here's Andrew O'Hehir of Salon going absolutely bonkers over this film:
I would argue that Nolan is mostly being provocative with this tale of underclass resentment, of an uprising by the lower half of the 99 percent that is turned to evil purposes. If so, it works. In its tremendous, almost apocalyptic action sequences, "The Dark Knight Rises" suggests a reverse-engineered version of a Soviet-era revolutionary epic, in which the masses are the villains and their onetime overlords the heroes. Bane's attack on a football stadium right after kickoff concludes a simultaneously brutal and elegant sequence, set against an angelic boy singing the national anthem, that's worthy of Martin Scorsese at his best.
HAAAAAAA-HA-HA-HA-HAAAA!!! That idiotic football stadium scene, with its stupid cliché-kid singing a fey, tremolo "Star-Spangled Banner" as part of the buildup to bombing the place? I swear, I thought there might be some intentional black comedy going on there. But no—turned out to be UNintentional. Especially the finale with the football player running for a touchdown not realizing the field is exploding behind him, killing all the other players (is he a DEAF football player?), and turning around triumphantly in the end zone only to see a giant smoking crater. Far Side cartoons have been made out of images like that!
That's "simultaneously brutal and elegant…worthy of Martin Scorsese at his best"?! Martin Scorsese!! Guy who did Raging Bull!! Scorsese oughta SUE Andrew Goddamn O'Hehir for defamation of character!!
Anyway, my point being…gotta calm down here…my point being, this movie isn't just ideologically rotten to the core, it's rotten in the regular way, too. Bad, stupid, lame, embarrassing, and seemingly interminable, full of main characters delivering long-winded speeches explaining their histories from childhood so we'll be sure to understand their motivations, which are murky and trite in equal measure. Famous and excellent actors do their damnedest to put all this crap across. But don't let all the cinematic embiggening fool you! Nolan lays on bogus profundity with a trowel!
See, you enamored critics and fans, you're all giving Nolan way too much credit, you always have.  Just because Heath Ledger gave a terrific performance as the Joker before he went to the Great Oscar Party in the Sky—just because the production designs are large and well-lit, just because Nolan's cinematographer Walter Pfister can shoot some good angles—you all give Nolan credit for being some kinda deep, edgy nihilist showing us the infinite corruptibility of humanity or something. But Nolan signals who the good guys and the bad guys are just as simplistically and strenuously as any old-time Hollywood hack who used to rely on white hats and black hats to keep things clear.
We all know who's "good" in The Dark Knight Rises, no matter what their tiresome human frailties are. Batman/Bruce Wayne, Commissioner Gordon, the "angry orphan" who sees himself in Batman (Joseph Gordon-Levitt), John Blake aka soon-to-be-Robin, Batman's faithful flunkies Alfred (Michael Caine) and Lucien (Morgan Freeman), and all the cops who fight on Batman's side, upholding law 'n' order no matter what.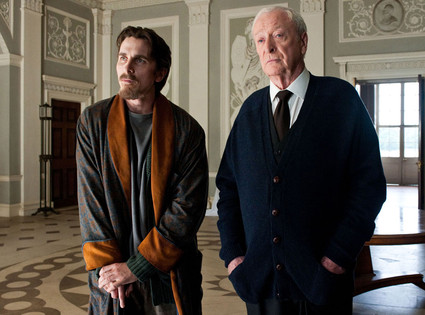 Selina Kyle/Catwoman is also unambiguously good in this Batman, because she's played by Anne Hathaway with her giant doe eyes and schoolgirl pertness, and more importantly, because she renounces "class warfare" at the end. Sickening little scene when Catwoman, portrayed here as battling her way up out of poverty and exploitation, comes upon a looted apartment and shudders with horror at the property damage. A framed photo of a nuclear family has been smashed! It's unbearable, in a city of poverty and suffering, that the glass in this framed photo of blonde people should get broken!
Then she changes sides and helps Batman save the aristocrats from the tumbrils.
And who's bad? Lessee. Bane, of course, who comes from some literal hellhole in the Mideast seeking vague revenge on Gotham City, and of course, the 99% proles who are manipulated into following Bane. A few of the evil plutocrats are bad, until they're attacked by the working class, then they're seen as victims of badly dressed upstarts and become good again.
The ultimate villain, it turns out, is Miranda Tate (Marion Cotillard), an environmentalist who's always talking about her dedication to the cause of sustainable energy. Ain't it perfect? She spends most of the movie gassing on about the renewable energy sources and saving the planet, then out of nowhere she sticks a knife into Batman.
Fucking tree-huggers—shoulda known!
So how much of a Tory bastard is this Chris Nolan, exactly? His devoted followers might not care, but all of a sudden I do. Anyone out there got insider info? I'm thinking of knitting his name into a shawl I'm working on. (It's a Tale of Two Cities reference. Look it up.)
Read more: 99%, Anne Hathaway, Batman, Catwoman, Christian Bales, Christopher Nolan, occupy movement, The French Revolution, Eileen Jones, movies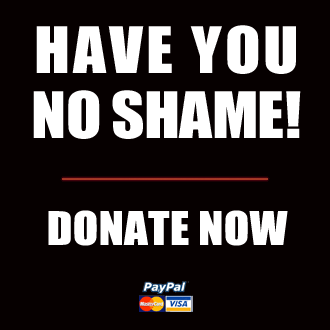 Got something to say to us? Then send us a letter.
Want us to stick around? Donate to The eXiled.
Twitter twerps can follow us at twitter.com/exiledonline