By Eileen Jones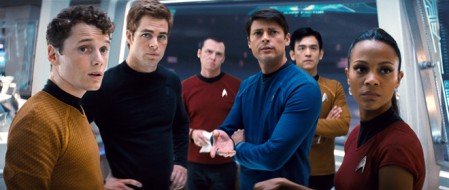 So Star Trek '09 is out, it's a big hit, and response to it is way over the top. This is highly enjoyable if you like to see people grappling with a popular culture artifact as if their lives depended on it, leaving rational resistance behind. What else are popular culture artifacts for?
Director J.J. Abrams of Lost and Fringe fame has engineered this Star Trek revival in such a way that the vast majority of us are going to take it and like it. Sure, you might sit there in the theater ticking off all its faults—the Romulan villain played by Eric Bana hardly makes a dent in the consciousness—most of the action scenes are rote at best—and overall, the corn is as high as an elephant's eye. Easy to carp, but it's ultimately useless against Abrams' nostalgia-machine buzzing along in perfect working order.
And perhaps it's not the bad kind of nostalgia either, when you wallow around in a regressive Neverland of yore that paralyzes your faculties. No, this might be the kind where you root through the idealized past in order to retool parts of it for your own uses so you can roar on ahead. (See "The Modalities of Nostalgia" by Michael Pickering and Emily Keightley in Current Sociology 2006: 54: 919. No? You refuse to see "The Modalities of Nostalgia" by Michael Pickering and Emily Keightley in Current Sociology 2006: 54: 919? Probably just as well. It's really tedious.)
Star Trek '09 looks back in order to look forward. It pillages the Star Trek legacy, comes up with amusing "origin stories" for the characters, and then jiggers an "alternative reality" plotline so that what happens from now on with young Kirk (Chris Pine) and young Spock (Zachary Quinto) and the young Starship Enterprise gang never contradicts what we know already happened to old Spock and old Kirk et.al. And awaaaaay we boldly go, propelled by energizing chunks of the past, whoo-hoo! Sequels galore!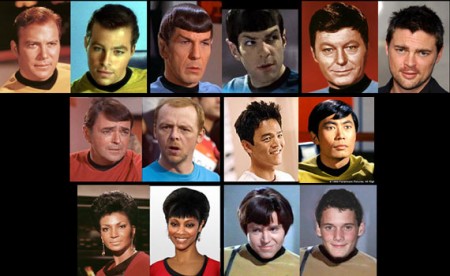 Of course, everything depends on buying young-Kirk and young-Spock and the rest of the alternates and wanting to continue with them, and this is where J.J. Abrams shines. He's got a real feel for casting, for actor's faces, and for certain types of character interaction, especially humorous interaction. The scenes involving Bones (Karl Urban) giving Kirk repeated medical shots in the neck are genuinely funny, partly because it's a joy to see Kirk jabbed in the neck, but also because both actors are good at comedy and have figured out a way to convey essential Bonesness and Kirkness without being overbearing about it. Casting the great Simon Pegg of Shaun of the Dead and Hot Fuzz as Scotty is an excellent example of how to get fresh life out of old familiar characters.
But when it comes to staging big action sequences, Abrams is tragically uneven. The sword-fight sequence with John Cho's Sulu is a travesty, a travesty, I tell you! Did all the fight choreographers in Hollywood boycott this production or something?
Regardless, the franchise by now has accrued affective power that's hard to shrug off. Even if you were never a Trekkie or anything close to one, somehow over the decades we all got Trekkified. Especially when it comes to Spock, a Tribal Elder of our collective imagination. Good or bad, it's too late to change our Spockophilia now.
There's an interesting effect near the end of Star Trek '09 when Spock (Leonard Nimoy) is advising his younger self, and the close-ups of Nimoy-Spock are blurred, his familiar features all watery, as if seen through sentimental tears. I have no idea if that was the intended effect, or if the idea was just to make Nimoy look younger—if so, it was wasted effort, he looks a hundred years old in the best possible sense—but it seemed perfectly appropriate. It's not a particularly good scene, as far as moving dialogue or powerful acting or anything else, but the point is, it doesn't matter. It's SPOCK. One Vulcan salute from him and we all feel embiggened. (That's a perfectly promulent word coined on The Simpsons.)
As a result, the claiming of Spock-power for political purposes by the left and right wing has gotten hilariously out of hand. Lefties, of course, feel confident of their long-standing claim on the Gene Roddenberry source material. MIT Comparative Media Studies honcho Henry Jenkins notes that Star Trek started off as a nostalgia machine forty-odd years ago, with Roddenberry mourning the lost "Camelot" of JFK and trying to revive its spirit in TV show form during the darkening LBJ era. That's old news, but the comparisons of Barack Obama to Spock are fairly new, and rampant:
Spock has been on many minds lately, and not entirely because of the new film. Big thinkers in both print media and the blogosphere — from New York Times columnist Maureen Dowd to MIT media moguls — have referenced the Enterprise's science officer in recent months, drawing parallels between the dependably logical half-Vulcan and another mixed-race icon: Barack Obama.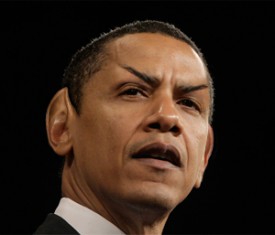 This Obama-Spock conflation has led to push-back from righties. Warner Todd Huston of Red State, for example, charges Obama with un-Spock-like arrogance in requesting a White House screening of Star Trek '09 in his article "Noblesse Oblige? The One Wants His OWN Star Trek Showing: I Know Spock, Mr. Obama. You are no Spock."
See Red State's accompanying photo showing Obama as no-Spock:
There's also an interesting righty counter-appropriation of Captain Kirk in Dan Perrin's Red State tribute, "Finally, A Real Star Trek Captain":
For those of you who have watched the various television and movie versions of Star Trek, and have been wondering when are we going to see a real Star Trek Captain, finally we have one. James Tiberius Kirk is back.
For those who like to give the middle finger to the world of the politically correct, buy two tickets, and settle in for a great show.

Parents who want to teach their children examples of leadership and courage — and sacrifice, take the whole family.

James Tiberius Kirk has always been a leadership role model, a character of great courage and vision and purpose.

There are far too few examples in today's world of you-can't-shake-hands-at-graduation because you might get a mild flu.

To those looking for an antedote to the wimpy, lets live in a risk free world, hang-wringing whiners — this movie is it.
You can see how this might be the perfect political compromise. If the left gets Spock, the right takes Kirk. Deal!
Star Trek '09 is, arguably, already on the case, embedding the new James T. Kirk firmly in the iconography of the '50s rebel white male, showing him joyriding in a vintage hot rod through Iowa cornfields, riding a motorcycle wearing a black leather jacket, hitting on girls relentlessly, always in favor of hotdog bravery, etc. He is, at first, out of place in the cool diverse '60s-looking world of the Starship Enterprise, the high-modernist, space-age pad which still spells the utopian future for us, mainly because it was the last one we ever envisioned. After our gleaming collective NASA-induced fantasy of the '60s, dystopian futures have ruled our imaginations—thanks, Blade Runner, thanks Terminator, thanks Road Warrior. No doubt they have their own dark glamour, but they're tough futures to hold up as a collective goal. (You mean we have to kill all the animals to get to Blade Runner? Seriously? Jeez…)
So Star Trek '09 goes back to retrieve our utopian future, where Uhura (Zoe Saldana) still sports a forever-fashion-forward mini-skirt and modified go-go boots, Spock is both very young and very old and can meet himself in the middle, and everybody's up for a cultural do-over.
Read more: Barack Obama, J.J. Abrams, Leonard Nimoy, Simon Pegg, Spock, Star Trek, Eileen Jones, movies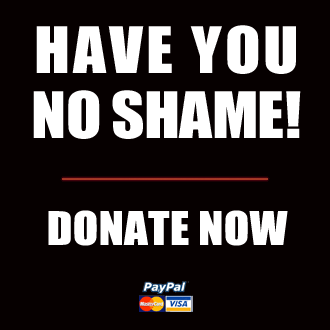 Got something to say to us? Then send us a letter.
Want us to stick around? Donate to The eXiled.
Twitter twerps can follow us at twitter.com/exiledonline