By Team eXiled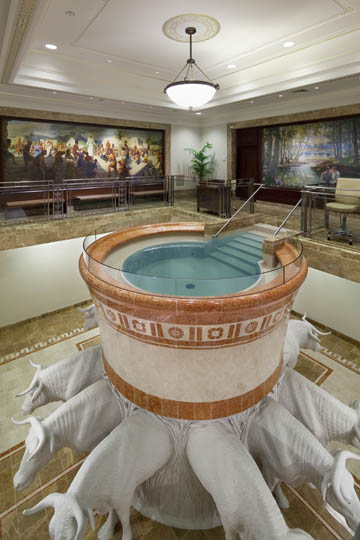 Mormon Jacuzzi? Nope, it's Ayn Rand's soul's salvation
As readers of The eXiled know, we operate a leading Washington DC political PR firm, "Our Founding Fathers Global Strategies LLC", specializing in crisis-management and strategic communications for our negative-net-worth clientele. "Our Founding Fathers GS LLC" has devised a comeback plan for Mitt Romney to reignite his flagging campaign, which we offer gratis, pro bono.
We call our 1-point comeback campaign "Brigham Shrugs" and it boils down to this:
"Baptize Ayn Rand, already!"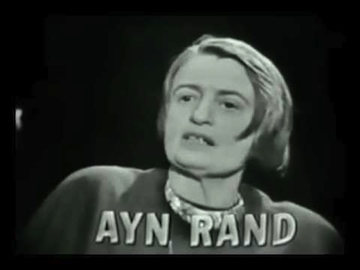 This crazy baglady is "Going Joseph Smith"
The Mormon baptism-of-the-dead process is pretty painless and E-Z. Here's a description of how Mormons baptize the dead. We recommend you  play that song from Ghost by the Righteous Brothers while reading this description, it's all so moving 'n' spiritual:
BAPTISM FOR THE DEAD

Perhaps the most striking feature inside a Mormon temple is the large baptismal font, large enough to accommodate several people standing waist-deep in water. The font rests on the backs of twelve life-size sculpted oxen in a special room. It is here that baptisms for the dead are performed. The proxies are usually a group of teen-age Mormons who have traveled from their homes in a group for a temple excursion. Dressed in white, they line up to enter the waters one by one to be immersed by the officiators with the short baptismal prayer: "Having authority given me of Jesus Christ, I baptize you for and in behalf of N. N., who is dead, in the name of the Father, and of the Son, and of the Holy Ghost. Amen." The name of the dead person is read from a list to the officiator just before the immersion. One proxy may be baptized quickly in succession for ten or fifteen dead people. After the baptisms, two other officiators confirm the newly baptized dead persons as members of the Mormon church and confer upon them the gift of the Holy Ghost, by placing their hands upon the head of each proxy, with a similar short pronouncement. Hundreds of such baptisms and confirmations can be performed in a few hours. It is an efficient, production-line operation.
Efficiency and production-line baptisms of the dead. Those words are music to Ayn's dead ears.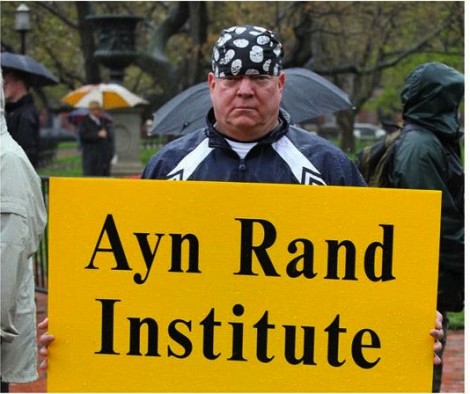 This gentleman's sign should read "Who Is Joseph Smith?" Mitt, this is your moment!
Would you like to know more? Read Mark Ames' "Atlas Shrieked: Ayn Rand's First Love Was A Sadistic Serial Killer Who Dismembered Little Girls" and listen to Mark Ames' radio interview "The Fountainheadbanger".
Read more: ayn rand, Tea Party, Team eXiled, Elections Porn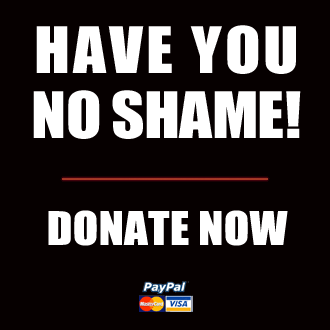 Got something to say to us? Then send us a letter.
Want us to stick around? Donate to The eXiled.
Twitter twerps can follow us at twitter.com/exiledonline