By Mark Ames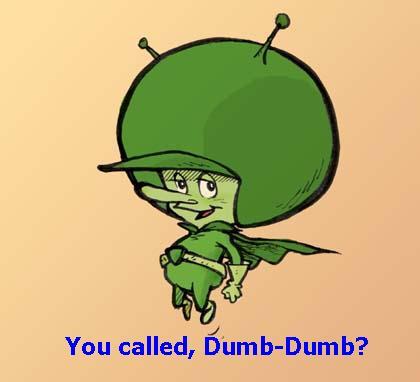 The best reason to support President Obama's decision to dump Bush's Star Wars program is that the neocons are outraged. They're wrong about everything: the geopolitical world's biggest losers, punditry's equivalent of the Chrysler car design unit. Everything that comes out of the neocons' brains is a guaranteed lemon. It's hard to understand why the Hell these people still have jobs, let alone citizenship in the nation they ruined–until you remember that America stopped being a meritocracy a few decades ago, and only shamelessness and bluster are rewarded.
Now the neocons are back to try to ruin us again. This time they're screaming treason and stab-in-the-back at Obama for the crime of canceling a corrupt, failed, and ultimately dangerous-to-ourselves missile shield that was to be set up in the Czech Republic and Poland.
I was in Russia when the ABM Treaty was scrapped back in 2001. We'd just taken Kabul, the Russians had already rolled out the red carpet for us opening up their former bases in the ex-Soviet Central Asian republics, and so naturally the neocons told Bush that we didn't need the Russians anymore, so fuck 'em. The day America announced its withdrawal from the ABM treaty, Putin gave an address to the nation that was one of the few, if only times, I recall him looking actually shaken–after 9/11, his KGB/military base was furious that Putin cooperated with America, arguing that America couldn't be trusted and letting America into Central Asia "temporarily" was like inviting Dracula into your home–he'd never leave until he'd drained every last person. By ripping up the ABM treaty that quickly after we'd taken Kabul, Putin was made to look like a fool, and it showed in his television address that night.
I was also in Moscow in the spring of 2006, when Foreign Policy magazine published an article by two American experts arguing that the only purpose of setting up the missile shield in Poland and the Czech Republic was to give America first-strike primacy over Russia. The American academics, Keir Lieber of Nortre Dame and Daryl Press of the University of Pennsylvania, argued that the missile shield being set up in Eastern Europe only made sense if its design was to give America the capability to launch a successful nuclear first-strike on Russia and shoot down whatever remained of their arsenal–as Lieber told me in an interview, it made no sense to place the shield  on Russia's northwestern border if the object was Iran or North Korea, because the shield is designed to take out the missiles as close to their launching point as possible. The only possible reason for setting it up in Poland and the Czech Republic was to first-strike Russia.
The Russian media went apeshit when the Foreign Policy article was published, and the country's leadership has been furious about the missile shield ever since. But what I find really idiotic is that the neocons who pushed it didn't plan on the Russians taking counter-measures to get some negotiating leverage against the missile shield. They just figured, like Dr. Evil when he has Austin Powers sent off to be assassinated out-of-view, that "I'll just announce the shield and take a decade to set it up on Russia's borders, and assume that the Russians won't cause problems for us in the 10 years it takes to set it up, and everything goes according to plan, what?"
And so ever since Bush announced he was scrapping the ABM treaty in 2001, Russia has become a growing menace to America's hegemony around the world, arming everyone from Venezuela to Hezbollah and of course Iran, not to mention whatever shenanigans they've been playing in Afghanistan and Iraq. But really, even if Russia is "evil," can you blame them? It worked: now we're doing a deal to get rid of a system we don't need, so that they'll stop causing problems we can't handle.
It takes a functioning brain to understand that the world doesn't always work the way you want it to–and now that America has been so weakened by all the other neocon-designed disasters, we're too weak to pick a global fight with Russia. That's why Kissinger, Scowcroft, Gates, and other "realist" Republicans pushed Obama to throw in the towel on this loser program, and instead focus on trying to undo all the damage done by the neocons.
You'd think they'd be gone forever, but no: now the neocons are back, telling us that scrapping the missile shield is surrender. It's Munich 1938, for the 1 billionth time repeated over and over like some neocon Groundhog Day–that's their favorite idiotic historical analogy, and they'll never tire of dragging it around like some Halloween pumpkin to scare us.
It's like bad slapstick from a shitty Hanna-Barbera cartoon, the way these neocons constantly whisper disastrous advice into America's ear. Yep, I'm talking about "The Great Gazoo," the snobby, sexually-ambiguous martian who tormented Fred Flintstone with his catastrophic advice, always abandoning Fred after disaster struck. The neocons are Gazoo: Charles Krauthammer, John Bolton, Mona Charen, Max Boot, Fred Barnes, The Weekly Standard, The National Review, the Washington Post editorial page…. and of course, Dick Cheney.
Now Obama's announced one of his rare brave/intelligent decisions–to scrap Bush's Star Wars project–and the Great Gazoo doesn't like it one bit. The neocons are screaming that President Obama's plan to scrap the missile shield in eastern Europe will lead to the destruction of Western civilization as we know it. That Obama is some kind of blackface version of Neville Chamberlain. It's pure Gazoo comic relief of the lowest Hanna-Barbera sort, and the repeats are worse than the first-runs were.
Just in case anyone's forgotten, below I'm recounting some of the highlights from the Great Gazoo/neocon show over the past decade, to get a flavor of the hijinks and knee-slappers that they wreaked to our poor nation: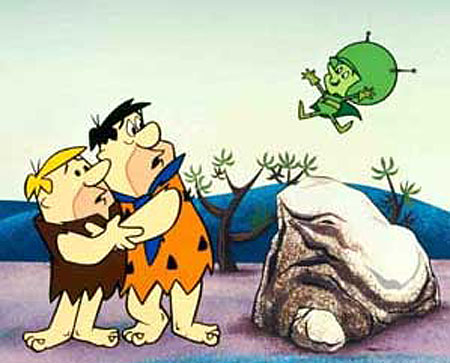 2002:
POOF! "Oh Mister Preeeesident, it's meeeee, Gazoo. You let Bin Laden get away, dumb-dumb, and now you've got a country called Afghanistan that's of no use. Pretty soon, people are going to start asking questions about 9-11…"
"Boy am I glad to see you, Gazoo. What should I do?"
"If you just listen to me, Mr. President, I can solve your problems."

"Really? How?"
"It's not that difficult, dumb-dumb. Invade Iraq. You earthlings are soooo slow."
"But my dad says invading will be a problem."
"You're dad's an earthling, dumb-dumb. It'll be a cakewalk. The entire Middle East will become pro-American. I told him that a decade ago but he wouldn't listen, because he's a dumb-dumb."
"I'll listen to you, Gazoo."
"I know you will, George. It seems you're the only earthling who isn't a dumb-dumb. Now do as I say and invade Iraq."
"What sort of planning should I do? How many troops should I use, Gazoo?"
"It doesn't really matter, just have your troops bring lots of vases because the locals will greet them with flowers. Now, about North Korea…"
"I did as you said, Gazoo. I stopped talking to North Korea completely, and pulled everyone out of negotiations."
"Good, North Korea should be begging to surrender to us in a matter of weeks, not months. Toodle-loo, dumb-dumb!" POOF!
2004: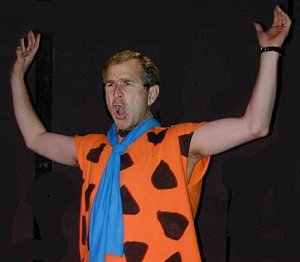 "Gazoo, where are you? You gotta help me out, this Iraq thing is turning into a disaster!"
POOF! "Don't be a dumb-dumb, Mr. President! If you'd listened to me and done it right, you wouldn't be in this mess."
"But you told me to invade Iraq, Gazoo!"
"Of course I did, dumb-dumb. And everything would have turned out perfectly if only you'd bombed Iran and Syria in the aftermath. Those two are mucking up a perfectly good occupation. Clearly I wasted good advice on a dumb-dumb. Now it's your mess, not mine."
"But Gazoo, I can't invade Iran right now, our forces are overstretched, the Shia in Iraq are in revolt–"
"That's not my problem, dumb-dumb. I told you to invade Iran, and you didn't. If you don't want to listen to me, do so at your own peril, dumb-dumb."
"No wait, Gazoo, don't leave me! You gotta help get me outta Iraq!"
"Toodle-loo, dumb-dumb!" POOF!
2006:
POOF! "Oh Ehuuuud Olmert, Mr. Prime Minister? I know how to get rid of the threat on Israel's northern border. If you just listen to me, I can solve your problems, dumb-dumb."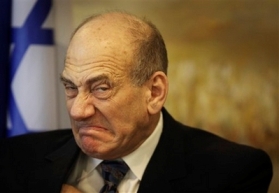 "Gazoo, is that you?"
"No, it's Baal. Of course I'm Gazoo, dumb-dumb."
"I'm sorry, Gazoo, it's just."
"Listen to me and shuttup, dumb-dumb. Now, here's how to get rid of Hezbollah and win the next elections. Bomb the Shia villages and invade the south of Lebanon with armored columns. It'll be a breeze, dumb-dumb. They'll never bother Israel again."
"Really, Gazoo?"
"Of course, dumb-dumb. You're the one with the air force and tanks. Use them. Toodle-loo!" POOF!
TWO WEEKS LATER:
"Gazoo! Help me, it's Ehud! Where are you, Gazoo?"
POOF! "I'm trying to have a bath, dumb-dumb. You earthlings have no manners."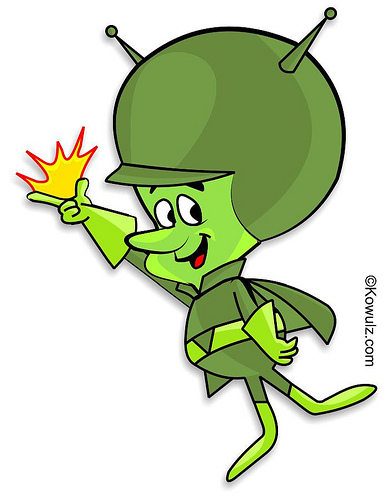 "But Gazoo, we've bombed and bombed and invaded southern Lebanon just like you said, and it's turning into a military defeat. We're losing to Hezbollah!"
"Of course you're losing dumb-dumb, because you didn't listen to me. Iran is the real problem, so you have to bomb Iran. Do I have to tell you everything, dumb-dumb?"
"But I can't bomb Iran unless America bombs Iran with me. You said President Bush wouuld bomb Iran if I got in trouble, and they're not bombing. What happened?"
"He's a dumb-dumb too, just like his father. Just wait until he finds out that North Korea will set off a nuclear test bomb in a month–of course, if the dumb-dumb listened to me and continued not talking to North Korea, he wouldn't be in this mess in the first place."
"But Gazoo, I'm ruined if the war ends in a defeat like this!"
"You're still here, Ehud? Well look, I can't help a dumb-dumb who doesn't listen to me, now can I, dumb-dumb? Call me when you've bombed Iran. They wouldn't dare to retaliate, that's for certain. Toodle-loo, dumb-dumb!" POOF!
2008:
POOF! "Oh Miiiiiisha, Mr. President of Georgia? Helloooo, it's me, Gazoo. I know how you can regain South Ossetia and overcome your domestic political problems, if you just listen to me, dumb-dumb."
"Gazoo? Boy am I glad to see you."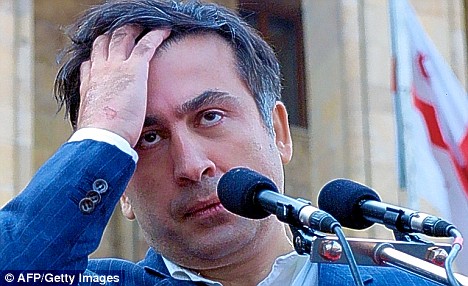 "I'm sure you are, dumb-dumb. So here's my plan, if you're not too much of a dumb-dumb to understand it: invade South Ossetia with the troops that America trained up for you. It'll be a cinch–the Russians won't even know what hit them."
"Really?"
"Yes, really, dumb-dumb. You have Gazoo on your side, and the Russians don't have Gazoo. Anyone who's not a dumb-dumb realizes that the side with Gazoo wins."
"I'm glad I have Gazoo on my side!"
"I see you're learning, Misha. Maybe you're not such a dumb-dumb."
"How will my military victory in South Ossetia solve my political problems, Gazoo?"
"Well, dumb-dumb, you'll be so popular you won't need to kill or jail your political opponents anymore, because everyone will support President Saakashvili, war hero!"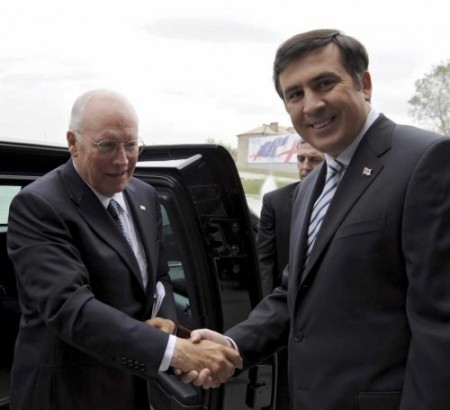 "Gazoo, you're a genius!"
"Tell me something I don't know, dumb-dumb. Toodle-loo!"
TWO WEEKS LATER:
"Gazoo, help me! Where are you Gazoo??? The Russians destroyed my army, and they're deep inside Georgian territory!"
POOF! "Do I have to do everything for you, dumb-dumb?"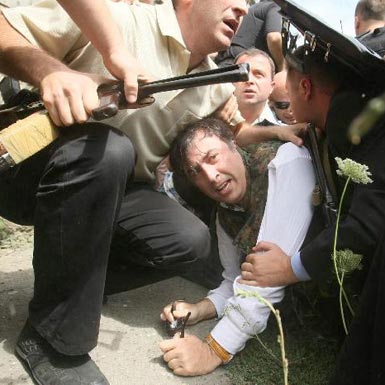 "But Gazoo, I thought you said that the Russians would never invade after I took South Ossetia."
"That's not what I told you, dumb-dumb. I said that Bush would never let Russia invade. Unfortunately, Bush is a dumb-dumb. And even I, the Great Gazoo, am powerless to help a dumb-dumb."
"What do I do now? I'm ruined!"
"Gazoo has it all worked out. Your friend John McCain is much smarter than the dumb-dumb Bush, and he agrees that it's time to start a New Cold War with Russia. He understands how easily America will win the New Cold War, unlike dumb-dumb. As soon as McCain is the new president, everything will work out fine. Toodle-loo, dumb-dumb!"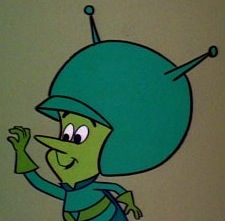 *          *          *
Now it's 2009, and Gazoo, who laid low for awhile, is back with a vengeance, particularly since there's no caveman president to take his advice seriously. So instead, Gazoo is bullhorning his message to the tens of millions of cavemen Flintstones across America who might heed his message. And his message is this: by scrapping a loser weapons system that cost America dearly in all kinds of ways while gaining it nothing, Obama is worse than a "dumb-dumb"–he's opened up the castle gates to the Russians, and any day now, they're going to re-invade Europe and destroy Western civilization as we know it.
How hard can it be to understand that, dumb-dumbs?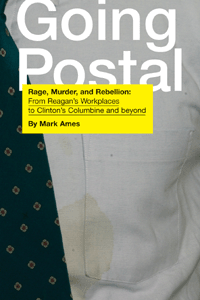 Click the cover & buy the book!
Read more: Flintstones, Gazoo, missile shield, neocons, putin, Mark Ames, Fatwah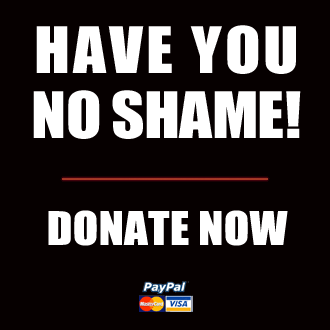 Got something to say to us? Then send us a letter.
Want us to stick around? Donate to The eXiled.
Twitter twerps can follow us at twitter.com/exiledonline