By Eileen Jones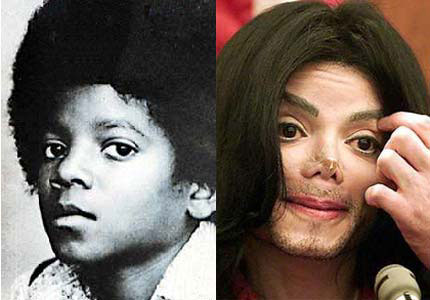 I just saw an article headlined, "Michael Jackson Dead Too Soon at 50." Dead too soon, you sadists? The more fitting headline, if you have any heart at all, is "Michael Jackson Dead Not a Moment Too Soon"! Because if ever there was a merciful release, for him and the whole wide world, this was it.

Jackson was about to start a big concert tour when blessed cardiac arrest came to the rescue. Why are we not all cheering whatever combination of drugs helped the miserable no-nosed sod out of this mortal coil? Can you imagine the ongoing carny freak show that was about to ensue? Frail, pale Jackson with a face like the Phantom of the Opera desperately moonwalking from city to city to pay off his 400 million dollar debt? And those gangs of pitifully weird fans, also aging in ghastly ways, turning out to watch, as if the International Association of Mental Institutions had all released their patients simultaneously for the occasion?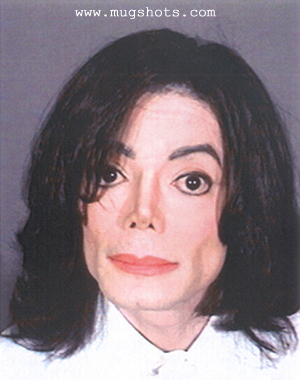 It's monstrous, lamenting Jackson's death, wishing him back in his bleached body and up on a stage somewhere wearing a glitter glove and grabbing his skeletal crotch. All that guff from people like Quincy Jones, who ought to know better, saying he had so much more to give. Nobody ever saw such a used-up husk of a person, such a walking corpse, as Michael Jackson. Couldn't one honest person who knew him stand up and say, "Thank God that's over!" He's out of his misery now, and we don't have to shudder at the sight of him anymore! There will be no more pathetic comeback CDs! No more offspring named Prince Michael III, IV, and V! Assorted children are safe from his creepy affections! O Death, where is thy sting, when it comes to Michael Jackson?
The fact is, Michael Jackson peaked at age ten, when he was still a black kid with a robust voice who could really belt it out: "OHHH baby give me one more CHAAAAAAANCE…." He's the only guy in the world whose voice broke and got subsequently higher and reedier. It went from a fierce yowl too big for the kid's body to a breathy contralto, and a speaking voice so exaggeratedly girly it sounded like Marilyn Monroe vocally reincarnated.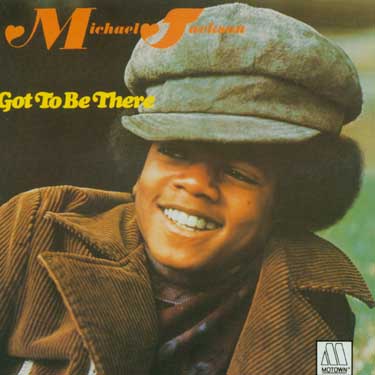 As so many have asked in the intervening years—what the hell happened to him? Was he an inadvertent castrato or something? Did his vicious father Joe do him some permanent injury to the groin area during one of the legendary childhood beatings? Or did Jackson himself make a bold first step toward achieving white girlhood, starting with the nuts and moving on to the nose?
The new soft breathiness of his voice was already noticeable in the ballad "Ben." (That's a love song fourteen-year-old Jackson sang to a rat. If you weren't around in the '70s you wouldn't understand about the whole vermin-film subgenre that seemed so right for that decade in America.) Even the more energetic songs he did later for Off the Wall and Thriller are airy and anemic compared with the splendid childhood stuff: "Bill-hee Jean is not my luv-huh…" Maybe it was the type of arrangements that were favored then, in that distressing era of '80s pop, but there seemed to be a lot of gratuitous "WHOOOs" and stuff in those songs, as if to show that Jackson could still throw out a big note when he wanted to.
Speaking of breathy voices, Farrah Fawcett's dead too. We have a celebrity-death two-fer. Fawcett's less interesting, of course, because she never had any talent to lose. The source of her fascination was how on earth she stayed famous for decades just from one poster that showcased her nipples. Plus a stupid hairdo that became a cultural blight. It wouldn't go away. Up through the '90s, when I went back east to my hick hometown for a visit, I'd still see women flaunting that appalling flipped-back 'do.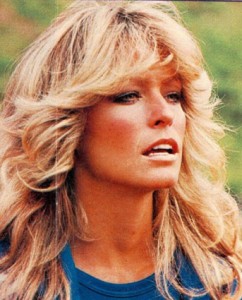 Critics and pundits are trying to make posthumous claims that Fawcett had substance ("A Serious Actress with Range" is the tile of Peter Hartlaub's "appreciation") but let's be serious here for a moment. She was a terrible actress and a painfully dippy celebrity presence and a wearying exhibitionist too, judging by that rolling-naked-in-paint attempt at artistry for the Playboy Channel and the I'm-a-proud-anal-cancer-victim documentary with her mortifying fat git boyfriend Ryan O'Neill hogging the camera. Her death spares us further Farrah-docs, anyway. Shouldn't there be some policy for putting celebrities down–like horses with broken legs who thrash around maiming themselves horribly–when they get past a certain point of public self-abasement? We shoot horses, don't we?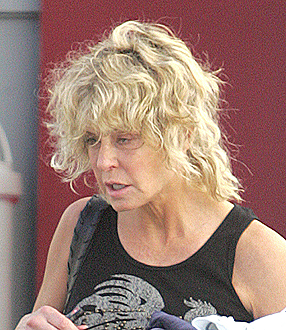 But on the other hand, I have to admit, she was a courteous woman. That's not a small thing. I can say this because I had a Farrah Fawcett encounter once, years ago. It was at a Hollywood party, a real cliché of a Hollywood party, with wall-to-wall stars and an almost incredible lack of revelry going on. Everybody was working, see, "making contacts," showing themselves off to other industry bigshots, trying to move up a rank in the star hierarchy. It was quite a thing to watch, but one of the worst parties I ever attended if you cling to the standard notion of the word "party."
I was one of the nobodies who happened to be there, for complicated reasons, so naturally I only talked to other nobodies while stars talked to other stars. I was in a line for the bathroom next to Farrah Fawcett, and she made polite conversation with me while we waited. An amazing breach of protocol! Never Engage the Nobodies is one of the basic rules of Hollywood stardom; don't even make eye contact; they'll only try to give you a script or something.
She was very small and thin and rather pretty considering the fact that she had grey skin, I remember. I'd never seen anyone with grey skin before, and I've wondered about it ever since. How does a person get grey skin? But that's the thing with celebrities, it's always a freak show of one sort or another. Mark Wahlberg, for example, is approximately four feet tall. Just FYI.
If we're going to do death-tributes, here are some honest ones: Farrah Fawcett, a Surprisingly Polite Woman! Michael Jackson, If Only He'd Died Younger!

Read more: celebrity deaths, Farrah Fawcett, Michael Jackson, Eileen Jones, Fatwah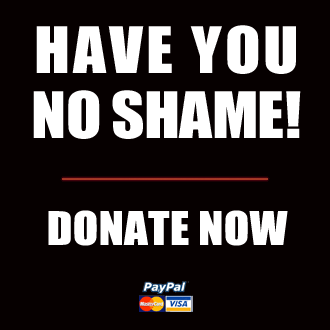 Got something to say to us? Then send us a letter.
Want us to stick around? Donate to The eXiled.
Twitter twerps can follow us at twitter.com/exiledonline