By Gary Brecher
I told you so. Told you nothing would happen with India and Pakistan. Told you the whole idea of "Hindu militants" was laughable.
But Christian militants — that's a whole 'nuther thing. Christians are stone killers. You put a Christian and a lion in an arena and I'll bet Toyotas to Subarus the Christian'll have the lion for lunch. Just look around you: lions are just about extinct, but the whole world is full of Christians singin' about God's love, ready to disembowel anybody who won't join the chorus. (See my guide to Christian Missionary Martyrs as the front-line in Christian Jihads at the end of this article.)
This week I'm honoring some great Christian killers: the Lord's Resistance Army of Uganda. These kids — and they are kids, mostly 13-16 years old — get my vote for funniest army on the planet. And that's a pretty big award, when you consider that the Dutch armed forces are included in the competition.
Just kidding, Dutchies! By the way, congratulations on shooting that Fortuyn guy, the only interesting Dutchman in the past 200 years! Can't have people like that running around!
Anyway — the Lord's Resistance Army came out of one tough neighborhood: Uganda in the 1970's. You say "Uganda" and people think "Idi Amin." But he was way overhyped as a killer: a big teddy bear compared to the "moderate" leader who overthrew him. This "moderate" was a former altar boy named — get this — Apollo Milton Obote.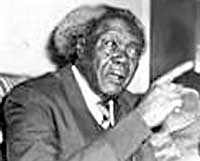 "Moderate" altar boy Apollo Obote
It's always "ex-altar boys" who have like a dozen bodies under the concrete. And when the former altar boy is also a "moderate" according to the Western press, then damn, get ready for a serious bloodbath. Nobody can kill like a "Moderate." Amin was a noisy killer, feeding people to the crocs, beating them to death, eating their flesh. Dictators like him and Bokassa never last. It's the "moderates" who do the really large-scale, efficient slaughtering.
That's the lesson of the 20th century: If you want to kill a few people and get bad press, then go ahead: dress in black, drink blood and talk about how you love torture like Amin, Bokassa and Hitler. But if you're serious about wiping out whole populations, wear a dove of peace and talk about progress and love. That's what Stalin and the US did, and between them they killed a dozen for every one Hitler got.
Obote was smart; he knew he needed that "moderate" label if he was going to wipe out all his enemies. So he smiled a lot and wore suits and talked progress…and then went to work. When a densely-populated Bantu zone called the Luwhero crescent gave him trouble, his soldiers went in and killed every goddamn human being in the place. Ever hear about it? No, you didn't, because the respectable papers didn't want to know. Amin was good copy; Obote was too "moderate."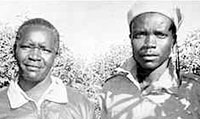 Joseph Kony, the LRA's leader (R)
The survivors of Luwhero, mostly kids too young to be worth killing, formed up in a kind of bush army and kept fighting, even when their leader Museveni said "fuck it" and hightailed it to London. And to everybody's surprise (including Museveni) they won. Obote's soldiers fled north still picking people-meat from between their teeth. Museveni flew home in time to celebrate his victory and resume command. He is now the official ruler of the land. Ta-da!
A real Cinderella story, Central-Africa style.
But Obote wasn't the only former altar boy in Uganda. There was another one, way crazier and more fun: Joseph Kony, leader of the Lord's Resistance Army. Little Joseph came from a very devout Christian family: His aunt Alice founded the LRA and passed it on to him when she died. Aunt Alice started some of the great traditions of the LRA, like telling your troops that if they just wore her special amulets, bullets won't hurt them. Aunt Alice had everybody in the LRA believing God hisself would be their kevlar vest. This turned out to be untrue, but there was a great escape clause: by the time the chumps found out the amulets didn't work as advertised, they were DEAD! Now that's the way to run a complaint department: Thousands of satisfied customers and dissatisfied but uncomplaining corpses.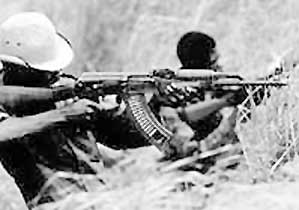 LRA soldiers at work
The LRA gets backing from Sudan, which uses them to massacre other Christians like the Dinka, who are rebelling against the Arabs of the North. The North/South, Muslim/Christian war in Sudan is another of those meatgrinder wars that just doesn't interest the Western press. It's inland, and the reporters don't like getting too far from the beach hotels; it's hot and malarial country; the victims are nobody's poster boys. I have a soft spot for them though, those Dinka, because I once saw a documentary on them featuring a yearly ritual where the young men compete to see who can get the fattest. You have to understand, these are the tallest and skinniest people on the planet. But every year, the cool guys of the tribe spend months doing nothing but sitting around drinking a mixture of blood and milk, trying to see how fat they can get. None of them get all that fat — not by my standards anyway — but it was nice just to see somebody appreciating fatness and all. There was a scene with the fattened-up contestants sitting in a little puddle pouring water over themselves, trying to cool off. God, I know the feeling! It's June now in Fresno and it's already unbearable. Summer is the bad time for fat people, like winter used to be when people were poor and skinny.
The Dinka are being wiped out, village by village. The LRA is helping the Sudanese Muslims do it — but that's an old Christian game too, helping the heathens kill other Christians. Hell, it was the Crusaders who sacked Constantinople, broke its power and set it up for the Turks to rape. Religion's nice, but rape and plunder are what it's all about.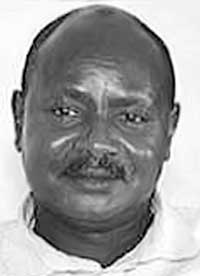 Museveni: sweaty for a reason
People won't see this — won't see how simple and practical the African style of warfare really is. The LRA is at war with the Ugandan Army, but it's war Central-Africa style. We're not talking Gettysburg or Verdun here. The idea isn't to have big battles but to sneak up on an enemy village and kill all the civilians, take their livestock and steal their stuff. Reporters like to call this "insane," which is crap. Which would you rather do, get sent off to another continent to fight heavily-armed opponents (war Western-style) or kill the neighbors who wake you every damn morning with their stupid lawnmower (war African-style)? Especially if you can see they've got a nice DVD player in there? Personally, I'd much rather kill the neighbors and steal their stuff. And if they've got a daughter just hitting puberty — well, that's just gravy.
And if they're Christians, so much the better. I'll tell you about my boss sometime — this little shit from suburban Atlanta whose first question in a job interview is "Where do you worship?" If I was going to sack and pillage any house in Fresno, it'd be his. Believe me, God would be On My Side. I'd shoot his livestock — two cats and a dog he brings to the office sometimes — and decide on the spot if his wife was salable, African-style.
So I don't see what's so crazy about these African bush armies' way of making war. Verdun, Blenheim, Gallipoli — those were "insane." And if you still think tribal massacre is so weird, try remembering high-school PE. Now is it so hard to get? Life in an African bush army is just adolescent fantasy come to life. If only I were a bit younger and in better shape….
…
Christian Jihad, Stage One: Attack Of The Missionary Martyrs!
Christian armies like the LRA couldn't exist without the other, and WAY scarier, kind of Christian soldier: the missionary. If missionaries hadn't penetrated Central Africa, there'd be no "former altar boys" to work with — and the killing would be left to pagans, amateurs. The missionary is stage one of the Christian war plan. It's a good, simple plan and they've stuck to it for round about 2,000 years:
1. Send in the missionaries to fuck with the locals. Tell 'em their Gods are wimps, their clothes are porn, their food is shit. Keep it up till somebody gets pissed off enough to grab an AK (or blowgun or warclub or wok) and martyrize a missionary or two. It helps if at least one of the shot-up missionaries is a nice plain white lady, preferably from the midwest.
2. Splatter this "atrocity" over every TV and newspaper on the planet, then send in the Rangers (as "advisors," of course) and wipe out every dirty pagan murderer in the place.
One dead missionary is worth a dozen live ones. You fax their picture around the parishes and everybody forks up more money in the name of the dear departed, now simmering in the bellies of the fuzzy-wuzzies.
You college types think that old-style missionary tearjerker story's finished. It's alive and well, lemme tell you. Take the two missionaries who just got shot up in Mindanao in the process of being "rescued" from this smalltime Muslim separatist group. I saw their pictures: classic horse-faced Kansas morons. (Fuck, white people get ugly fast! They're cute when they're little, but damn, by the time they're 30 — ) The husband got killed, but his bucktoothed fatassed hymnsinging wife was only grazed.
Goddamn Muslims! Learn to shoot straight, you jerkoffs! Is there a single goddamn Muslim on the planet who can handle a rifle, for Christ's sake?
Or Allah's, for that matter.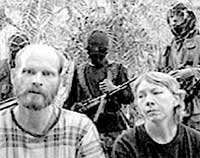 Christian Missionaries: America's front-line soldiers in war provocation
This article was first published in The eXile Issue #143.
Read more: exile issue 143, india, joseph kony, lord's resistance army, obote, Pakistan, the war nerd, Gary Brecher, eXile Classic, The War Nerd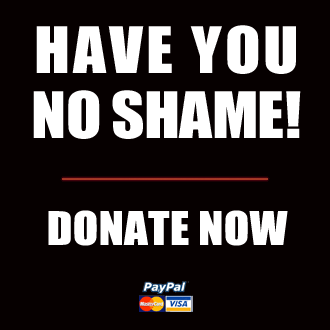 Got something to say to us? Then send us a letter.
Want us to stick around? Donate to The eXiled.
Twitter twerps can follow us at twitter.com/exiledonline