By Gary Brecher
If there were any Tibetan war nerds around in 1950, which is kind of hard to imagine, then it must have been a hard day for them. But they should have seen it coming, because the Brits had invaded Tibet just a half-century before—and they weren't nearly as nice to the Tibetans. I keep telling you guys, you've got the completely wrong idea about the Brits. You've been watching too many of those BBC comedies where everybody's cute and harmless. The Brits, up to the mid-20th-century, were stone killers, the most ruthless conquerors of the past thousand years.
They invaded Tibet in 1904 basically because they were bored. I'm serious. They owned everything on the planet worth having, so they were always having to invent new "menaces" to get funding for more invasions, grabbing the places they hadn't considered worth taking in their earlier waves of conquest. So in the late 1800s they started talking up the Russian "threat" to swarm over the Himalayas and take away India. That was such utter crap that even the Brits talking up the threat must have had a laugh about it over their port, back at the officers' club. Russia was weak, so weak that the Japanese crushed it on land and sea in 1905. The British knew Russia was in no position to threaten India. What they wanted was an easy conquest that would produce lots of medals, honors, stuff to wear on their chests in the London social season so they could snag an heiress and never have to work. So they invaded Tibet.
The guy who ran that invasion, Francis Younghusband, was quite a piece of work himself. One of those India-born Brits, who were generally fiercer and crazier even than the homegrown English. And he had that other feature that makes for a really ruthless conqueror: he was, like his biographers say, "deeply religious." If you hear that about a guy who's about to invade your country, go down to the basement, hoard lots of water and canned goods, and try to make yourself invisible for the next few years, because it's not going to be pretty.
Younghusband marched into Tibet in December 1903 with a force of Sikhs and Gurkhas—pretty scary mix, like rottweiler plus pit bull. And the Gurkhas were definitely the pit bulls in that pair. Sikhs are very tough but not blood-crazy. The Gurkhas were not only devoted lovers of knife-work, especially on POWs, but ancient enemies of the Tibetans. It didn't take much to push them to a massacre. The Tibetans knew the British were dangerous and tried not to resist at all. But as the British force pushed farther and farther into Tibet, the local commanders decided to resist. That was a mistake. This wasn't Tony Blair's cool Britannia they were dealing with. On March 31, 1904, Younghusband encountered a Tibetan militia force of about 2000 guarding a pass near Gyantse. He must have had a hard time keeping a straight face or wiping the drool from his lips, thinking about the medals he'd get for this one, because the Tibetans were armed either with spears and swords or at best with matchlock muskets. That's right: the kind of 17th-century firearm that won't fire unless you apply the smouldering wick to the firing pan. Younghusband decided to play with the poor fuckers he was facing. He said, "My friends, my friends, what's all this hostility? Why dees paranoia? Here, I'll tell MY soldiers to take the bullets out of their rifles, and you tell YOUR soldiers to put out the flame of their matchlocks." The Tibetans, who had no idea that Younghusband's troops had modern repeating rifles, put out their matchlocks. Younghusband then ordered his troops to open fire. 1300 Tibetans were killed, with almost no British casualties.
Younghusband thought it was a great triumph. But this was already late in the Imperial era and the people back home had had enough of this kind of triumph; in fact, it sort of made them sick. The whole thing was hushed up, and remains hushed up to this day—ask any Brit you know if they ever heard of their invasion of Tibet and I guarantee they'll plead ignorance. It's probably better that way, makes it easy to put one of those "Free Tibet" rising-sun stickers on your Land Rover without feeling like a hypocrite.
It's much easier to be a do-gooder about Tibet if you're totally ignorant of Central Asian history, like the days when Tibetan conquerors filled up whole carts with the ears of guys they'd killed. Even this idea that Tibet is the homeland of Buddhism, the most Buddhist place on the planet, is crap; Tibet got Buddhism very late, trying it on a couple of times before it took.
The glory days of Tibet were before Buddhism, which is probably not a coincidence. If I had to respect any religion it'd be the Buddhists because they're quiet and they seem pretty well-behaved, but it's not the kind of creed you'd want to conquer with. Before you got your army out the door, some annoying Zen type would be saying in that quiet serious voice they put on, "Is not the greatest conquest that of peace?" To which you'd have to say, "No, it's a tossup between Alexander and the Mongols and would you please put your neck a little farther out the door? It's at a bad angle for me from there." And that wouldn't set the tone for a happy war of conquest, the local monk getting his head blown off at the start.
The Tibetans in their conquering days—which means roughly in Charlemagne's time—were followers of something called Bon, or Bun, which sounds either like the department store in Seattle or part of a hamburger, but apparently was some sort of mix of Taoist magic and Mongol shamanism. Sounds pretty fun. And it worked as a military religion, almost as good as Mithras or Anglicanism. The Tibetans had a fearsome reputation as warriors who were honored to die in battle, thought they were headed for their version of Valhalla, which would probably involve big vats of tea with yak-butter and maybe central heating if they were especially worthy.
The little I've been able to find out about medieval Tibetan armies came mostly from a great site I found where Chinese military buffs get together and talk about really cool stuff, like why the Tibetans had a reputation for particularly tough, impenetrable body armor.
According to these Chinese war nerds, who really seem to know their stuff, the Tibetans' main weapon was something like the Persian/Byzantine cataphract or heavily armored cavalryman, and they used mail to cover the horse as well as the rider. According to their enemies, the Tang-dynasty Chinese warriors, the Tibetans were excellent with the sword and spear but weak on missile weapons, i.e. archery. One of the cool details I read on this China History Forum site and can't help mentioning even though it's kind of off-topic is how the Tang armies dealt with barbarian enemies who wore lacquered armor: they fired burning arrows into the breastplates! Whoa! "One clay-pot barbarian roasted in shellac, coming up! Rice or noodles with that?"
The Tibetan Empire these warriors protected stretched from the Silk Road to the Bay of Bengal. Tibetans ruling Bangladeshis—wish I could've seen that. Sitting there in the felt boots they never took off from one year to the next, pouring sweat like the Abominable Snowman in Bugs Bunny: "Gosh it's hot!"
Seriously though, heat was a real danger to steppe armies. The Mongols actually abandoned part of what's now Pakistan because they just said fuck it, it's too hot. Not that they couldn't handle heat, but they expected the occasional nice refreshing blizzard out of Siberia to cool themselves and their beloved ponies off. Uninterrupted heat, year-round, they considered disgusting and unnatural. And speaking as a fat man, I have to say I agree. (There were fat Mongols, by the way. Subotai was so fat no pony would carry him. You skinny people think you own everything.)
Climate seems crucial to the whole idea of a Tibetan empire. I mean, have you seen a map of Asia? Tibet is one big flat mountaintop. Only place in the world as high and dry as Tibet is the Andean highlands in South America. Now there they grew potatoes; what did the Tibetans grow to feed their armies? I haven't been able to find out yet, but one thing that occurred to me is that the era when the Tibetan empire was going strong was the same time the Vikings pushed into the far north and even set up a colony in Greenland. It was one of those warm phases you get every few centuries, when some Dark-Ages Al Gore starts shrieking, "Global warming! 'Tis Satan's work! We're doomed!" But more enterprising conquerors see opportunity, like the sales seminars say, where doomsayers see only crisis. Warm weather meant the Norsemen could pop out enough kids to send the long ships into every creek in Eurasia. And I'm thinking maybe it meant the Tibetans could have their day in the sun too—before those ears started to stink.
So if the planet really does warm up again, who knows? Watch out, all you tropical products: the Norse might ride again! The Tibetans might grow enough barley or whatever to march on Beijing!
Yeah. Those are about equally likely. Makes a nice fantasy though.
Gary Brecher's book The War Nerd will be available this June.
This article was published on April 17th, 2008 in Issue #287 of The eXile.
Read more: eXile Classic, exile issue 287, The War Nerd, Gary Brecher, eXile Classic, The War Nerd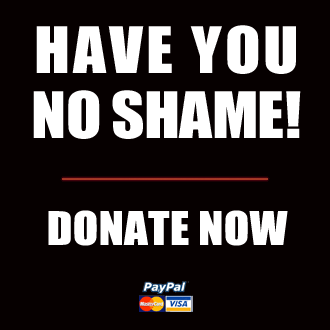 Got something to say to us? Then send us a letter.
Want us to stick around? Donate to The eXiled.
Twitter twerps can follow us at twitter.com/exiledonline