By Yasha Levine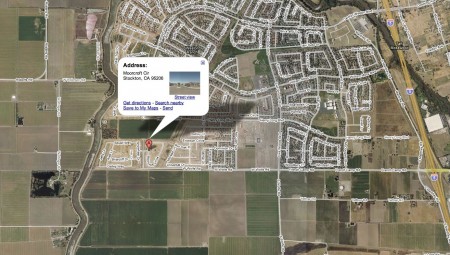 Last weekend, I took a drive up to Stockton to scope out a place I could call home for the next few months. My demands were very simple: I wanted to rent a house in a foreclosure nightmare, one of those brand new McMansion neighborhoods that have sprouted from cabbage patches and rocky desert landscapes all across the country in the past few years.
I've been watching the rise and fall of this miserable incarnation of the American Dream from afar. From Russia, I looked on as the rabid middle class snapped up monstrously ugly properties in the most depressing out-of-the-way spots imaginable, paying double and triple their value. They strained to make ends meet for a few years and then vanished as if fleeing from some monstrous plague, leaving their flat screen TVs, computers, family albums and everything else they used to pad their sub-suburban exile. Nothing illustrated how much of a mind-fuck this housing bubble was for those foolish enough to get caught up in it than this short doc by a Southern California TV station filmed in October, 2008.
All this time, I felt like I'd been missing out on the action. The American Dream was being destroyed, its advance routed at the fringes of metropolitan areas all across America, and I wanted to get in on the debacle: to walk on the freshly paved deserted streets and smell the new asphalt; to breathe in the raspy dryness of blocks and blocks worth of yellow lawns; to break into abandoned homes, some of them ransacked by looters, others turned into prime real estate for squatters and all sorts of critters. In the words of Rafter Man, I wanted to get into the shit. But all I'd done was watch it on my computer, filtered through the fluffy blather of hack reporters. Well, not any more. And Stockton was my ticket there.
Stockton was ground zero for the housing boom and now the subsequent bust. Home prices more than tripled between 1998 and 2005 and then came crashing down last year. Stockton had the country's highest foreclosure rate last year at 9.5%, according to RealtyTrac, an online marketer of foreclosed property.
So said Forbes magazine, and went on to name Stockton "America's Most Miserable City." This drive-by agricultural and port town located in the Central Valley about an hour south of Sacramento had the distinct honor of edging out such Miserable City Hall-of-Famers like Flint, Michigan (whose misery was immortalized by Michael Moore's film "Roger & Me"). It was an unexpected honor for a town virtually unknown outside of California. But there it was, anyway, ranking in the bottom of virtually all of Forbes' criteria: foreclosures, unemployment, corruption, commute time and violent crime. In short, it couldn't be any more perfect as far as I was concerned. There was another huge plus to the city that Forbes didn't mention: Stockton is the de facto Meth Capitol of America (in part thanks to the huge distribution potential the Port of Stockton offers to meth manufacturers). I couldn't help myself from yelling out in excitement: "Hell, yes! I'm there." Not only would I be in the shit, I'd be able to experience it 24 hours a day, 7 days a week, for at least a month straight. I'd be getting it all!
A friend of mine, born and raised in Stockton, helped me pick out the three or four most desirable commuter McMansion developments. Most of them were located on the very edges of the Stockton sprawl, mazes of curvy streets and cul de sacs jutting out into the vast fields surrounding the city. Most of them were so new they hadn't yet been updated on the satellite view of Google Maps, showing up as half-built roads and tracts of sandy land being bulldozed and prepped. Craigslist was filled with rentals coming out of these hoods. All of them had the same specs: two-story, 4 or 5 bedrooms, two-car garage, master bedroom, master bathroom with his and hers sinks and jacuzzi tubs, and access to a community rec center with a pool, jacuzzi, and tennis and basketball courts—the kind you usually find in huge condominium complexes. The rent ranged from $1,000 to $1,500 for the nicer, gated community type. All of them were ready to rent ASAP. So it should've been as easy as ringing up the first place I liked and making the five-hour drive from LA to hand over the check. But it didn't turn out that way.
The trouble started before I even drove to Stockton. First off, most of the foreclosed McMansions listed on Craigslist weren't available for rent, which was understandable enough. (According to a buddy of mine who works as a repo man, there's some kind of law forbidding banks to rent out property. Plus, it's a time-consuming game the banks don't want to get into. They'd rather unload the properties and get them off their books once and for all.) But those that were rentable turned out to be not any easier to rent.
Most of them were put on the market by investors who had recently snapped up the foreclosed properties. I assumed that with such an over-supply of rentals, they'd be scrambling to fill them with tenants on any terms. Boy, was I wrong. Instead of getting the savior treatment, I was told to bugger off once the landlords found out I was looking to rent their house on a month-to-month basis. Not only were these people in no apparent need of cash, they had potential renters lining up out the door.
One woman, the only person who considered me, said she'd rent the place to me if the two families vying for the house suddenly fell through. "But they seemed pretty serious. They're stopping by in a few hours to drop off the deposit," she said. In other words, don't call us, we'll call you. Another landlord got aggressive on me, sending me a flurry of emails requesting proof of employment, pay stubs and bank account details. He never even bothered picking up the phone when I showed up in Stockton.
Had Kurt Badenhausen, senior statistics editor for Forbes.com, bothered to get off his ass, he'd…well, he wouldn't be a senior statistics editor. But one thing's for sure: he's a tool (he last authored a slideshow called "The World's Top-Earning Golfers"), but worse, he's a tool who wasted my time with his bunk attempt at analysis.
I went to Stockton last Saturday. The weather was windy and wet, but the new parts of town on my itinerary were bustling with life. People were out BBQing, middle-aged couples were taking brisk walks on tree-lined sidewalks, long lines of cars queued at red lights and the parking lot of one strip mall/grocery store was at 75% capacity. For Sale/Rent signs were a rare sight, posted on maybe 1 out of 10 homes. At most a third of the properties had a vacant feel to them, with no cars in the driveway, empty garbage cans and shuttered blinds. Thirty percent vacancy isn't a very good indicator (and explains why property values fell by almost 60%), but it's not utter collapse either. For every house sitting empty, there were two or three overflowing with humanity and pick-up trucks, not to mention boats, RVs, and more than a few Mercs, BMWs and Lexuses.
Some of the residents were entertaining guests out on their driveway. Despite the sprawling fields and limitless land stretching to the horizon just across the street, houses were placed no more than 5 feet apart and had backyards the size of a large balcony. San Francisco backyards feel like ranches compared to these McMansions. The greedy developers would stop at nothing to squeeze money out of these "commuter developments." And commuters have no need for backyards. Most of them spend a third of their waking life driving to and from work; they wouldn't have the time to enjoy them even if they had them. And most of these people are just fine with that.
"Recession or not, these properties are still very desirable," one of the investor/landlords told me after seeing my shock at the number of renters vying for property in the still-under-construction neighborhood called Weston Ranch. "There were a lot of foreclosed properties here last year, but many of them have since been bought. We're only one and a half hours from San Francisco and less than an hour from Sacramento." (She lied; It was more like three and a half and two during rush hour.) But no matter what, Stockton's future as a commuter paradise remains certain.
Meanwhile, my search for the shit continues. Next stop: Victorville, CA.
Read more: california, forbes, foreclosure, housing, stockton, Yasha Levine, Dispatch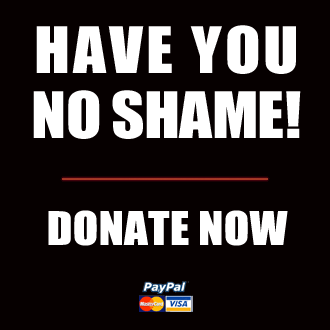 Got something to say to us? Then send us a letter.
Want us to stick around? Donate to The eXiled.
Twitter twerps can follow us at twitter.com/exiledonline