By Yasha Levine
(a.k.a. Yakov Borisovich Levandovsky)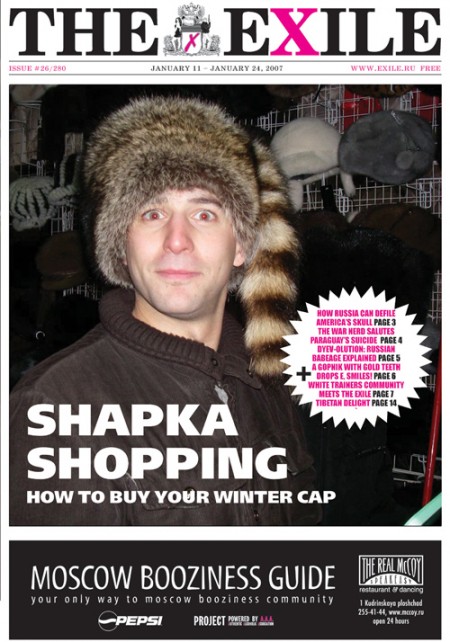 I came back from vacation this week and found myself urgently in need of a warm winter shapka. I lost my last one after I gave it to some guy in exchange for a bottle of farewell Putinka vodka. To get a new hat, I headed down to Cherkizovsky Rynok this past weekend for some serious shapka shopping. Known simply as "cherkizon" among more seasoned rynok shoppers, this outdoor bazaar is truly a shopping wonderland. Cherkizon might just contain the single largest selection of shapkas crammed into one place on planet Earth.
Shipping containers converted into market stalls are stacked two high and span an area the size of four football fields. You can say that Cherkizon is more than just a bazaar; it's a veritable shopping oblast, a place where you can buy everything a modern Russian requires: furniture, underwear, three-piece suits, jackets, and elegant ladies' dresses and shoes. There's also a car dealership in case you're in the market for a used Zhiguli. The selection is great, and the prices can't be beat. Fresh air shopping under the open sky—now that's something!
The real surprise when you visit Cherkizovsky Rynok is that the entire place is packed full of dark-skinned foreigners. Moscow Mayor Yuri Luzhkov failed in his attempt to kick migrant workers from the Caucasus and Central Asia out of Moscow's outdoor markets. Some get angry at him for this, but I am an educated consumer and know that this is one of the reasons for Cherkizon's rock-bottom prices. Compare the prices here to those of Western-style shopping centers springing up all around Moscow: Do you think you can get a baby seal fur baseball cap (with custom-made ear-warmer extensions made from felt) for a measly 1,200 rubles at Evropeskii Mall? I don't think so. The only way to beat this price is to go out an club the baby seal yourself. Trust me, I know! With no price tags, you can haggle to your wallet's content.
On to shopping. A Russian man's shapka is his most important winter accessory; it is a projection of his identity. Is he a rough-and-tough, fur kepka-tableka type? An ushanka-wearing dacha enthusiast? Or a solidny man in a formal fur bowler hat projecting an air of stability, wealth, and class?
For me, it's never an easy choice. My shapka has to be multi-functional, that's a given. The shapka has to be formal enough to wear during my elektrichka commute, but stylish enough for my favorite pelmeni cafe. It needs to be warm enough to keep my head cozy as I enjoy a few after-work vodka nips with my coworkers outside a metro station, but not so warm as to make me sweat while I ride a marshrutka. (I should add that the shapka I choose should also be snug-fitting so as not to fall off my head in those rare instances when I pass out on a snowbank on my way home.)
So join me as I head to the rynok for some shapka shopping. Watch, learn, and live.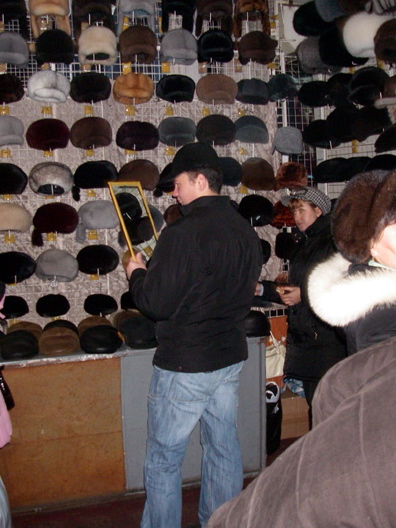 A shapka for every taste: this muzhik looks at himself and says, "I like."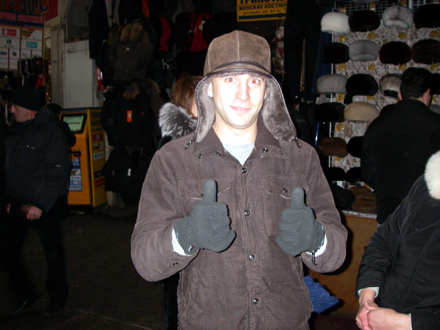 The Ivan Chonkin shapka gets a Putin-era fashion-injection that says, "Whatever it is you're thinking, don't blame me, it's not my responsibility."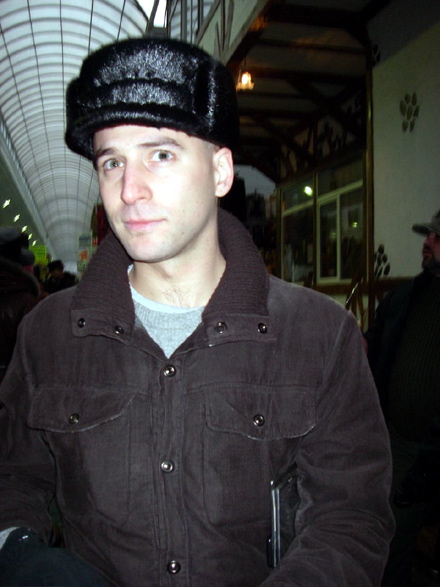 Nature calls: 20 years after Levine emigrates, his roots call him home.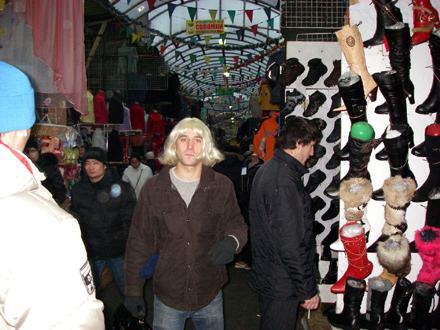 Warm up with a wig: Yasha experiences Caucasian sexual harassment.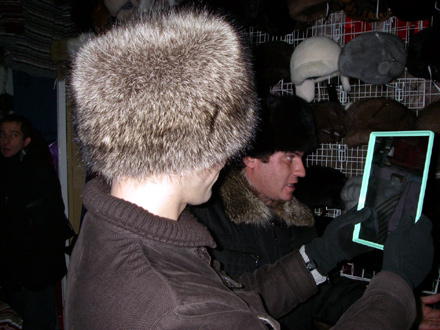 This rascally racoon's pelt makes a man out of Borisovich.
This article first appeared in Issue #280 of The eXile, January 2008.
Read more: eXile Classic, exile issue 280, Yasha Levine, eXile Classic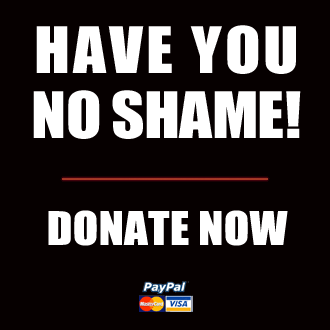 Got something to say to us? Then send us a letter.
Want us to stick around? Donate to The eXiled.
Twitter twerps can follow us at twitter.com/exiledonline