By Eileen Jones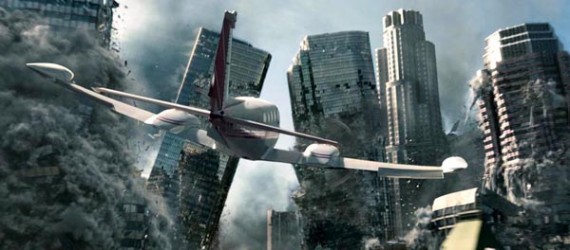 Sometimes you just want to see a lot of people die, but if you did anything about it in real life, you'd get entangled in a lot of red tape. So you head off to the cinema instead and watch stuff like 2012, which is really funny, in spots. It reminded me of Oscar Wilde's nice line about the death of sweet, saintly Little Nell in Charles Dickens' The Old Curiosity Shop, one of the great tearjerkers of the 19th century:
One must have a heart of stone to read the death of Little Nell without laughing.

2012 is writer-director Roland Emmerich's latest disaster epic (Independence Day, Godzilla, The Day After Tomorrow), but this time he's going for the whole enchilada, the destruction of the planet, wiping out "life as we know it." And it's about time. We're all pretty fed up, at least in America. We know it's not going to end well for us and, frankly, we're sick of hassling over it. So we take a lively interest in imagining End Times. First the earthquakes, then the tidal waves, huh? Okey-dokey. Let's watch.
And that's the perversity, of course, the way we all want to watch and don't necessarily want to fall into a mile-deep crevasse, or burn to a cinder, or drown, or something. We can't help it. The death drive is the most sensible drive we have, after a certain age, but for most of us, it stays buried under a confusing urge to live, no matter how burdensome and repetitive everything gets.
2012 is all about this irrational determination to live and perpetuate our crappy civilization. The film concentrates fiercely on who's going to get a spot on the ark in the end. I won't tell you, but will merely pose a question: in American culture, do we still revere the white middle-class nuclear family, in spite of all the hell it embodies? The tight-faced Mom, the doofus Dad, the two annoying children? Answer yes or no, then draw your own conclusions.
The film posits a few decent notions about What Must Be Saved, including the elephant, the giraffe, the dog, and the philosophical sci-fi fantasy book. Oddly, it appears there must also be an Obama. The US president in 2012 is an older Obama figure (played by Danny Glover, speaking mellifluously and looking noble and weary), a widower with a daughter who's like a projection of Malia Obama in fifteen years (Thandie Newton). But there's a handsome younger male Obama-type (Chiwetel Ejiofor) waiting in the wings to marry her and take over the decimated government, so the neo-New World can still have an elegant black couple in charge.
SPOILER: We'll be starting over again in Africa, by the way. Yet another indication in the film that if humanity had it to do all over again, we'd do it all the same. And if that doesn't make you root for the apocalypse, nothing will.
The premise of the film is the highly enjoyable popular-wingnut belief in the Mayan calendar, which supposedly puts a period to our sorry existence in 2012. Woody Harrelson seems elated to be the representative wingnut, playing a talk-radio loon who turns out to have been right all along. His goofy eye-rolling and upbeat blather as he rides the apocalyptic high are a real relief from all the government types solemnly standing around computer screens, saying "How much time do we have?" and the suburbanites yelling, "Run! The mushroom cloud's right behind you!"
John Cusack is pleasantly detached from his dreary role as the divorced dad who must redeem himself from his doofiness and save his annoying family. He seems to be perpetually miming out a version of his Grosse Point Blank line, "Hey, this isn't ME." The female lead looks disturbingly like an airbrushed Maria Shriver—turns out it's Amanda Peet—but okay, I guess somebody has to play the thankless, naggy wife-mother role. And then there's a diverse assortment of actors representing The Peoples of Earth.
The Russians don't do so well in this film. I'm not sure why. I'll have to ask my fellow members of team exiled why Russians are so thoroughly punished in 2012. No matter how brave, smart, strong, or good-looking they are, they, uh…well, it's pretty rough. Meanwhile the Chinese are given a pass. Hmm.
You can't avoid judging people by nationality in this film, since all the characters are representing their nations like mad, the French being super-Frenchy, the Indians knocking themselves out conveying clichés of Indianness, etc. And if there's still too much nuance for you, Emmerich orients you in the world he's destroying by including last looks at famous tourist sites like Mount Everest and the Eiffel Tower.
Yeah, it's a colossally stupid film, no getting around it. And long? Crikey! Almost three hours, structured thusly:
1. Government officials convene to assess the end of the world, which is at hand.
2. Somebody says a sobby telephone good-bye to a loved one just before disaster strikes, and the loved one dies with a poignant scream followed by an old-fashioned dial tone.
3. The earthquake/tsunami/whatever hits, crumbling buildings and ripping up landscapes and killing hordes of shrieking people.
4. Our heroic band escapes, just seconds ahead of the earthquake/tsunami/whatever, and races on to the next undestroyed setting.
5. Government officials convene to assess the end of the world, which is even nearer at hand.
Repeat steps 1 – 5 till sheer butt-ache drives the audience out of the theater.
But still, there's some fun death here for people in the mood, which, let's face it, we are. Nothing especially inventive or visceral here, all very PG-13. It's really the quantity of death that's enjoyable. The true benefit of CGI may turn out to be the infinite amount of destruction filmmakers can plausibly achieve with it. Sooo many faceless digital figures ululating in horror, waving their little arms and legs over yawning chasms, getting crushed to a fine spray in the wreckage of mass transit.
Watching it, you feel like a child again, staging elaborate vehicular crashes, knocking over whole made-up cities, stomping on crowds, threatening to kill your brother if he doesn't leave you alone. Ah, happy times.
Read more: Apocalypse, John Cusack, Mayan calendar, Obama, Oscar Wilde, Roland Emmerich, Woody Harrelson, Eileen Jones, movies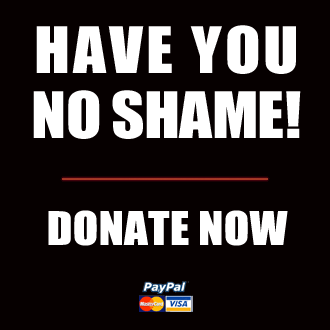 Got something to say to us? Then send us a letter.
Want us to stick around? Donate to The eXiled.
Twitter twerps can follow us at twitter.com/exiledonline