By Team eXiled
Six months ago, The eXiled announced a new media transparency project that would take our war against corporate trolls and media shills to a new and more effective level. The project is called "SHAME" and stands for "Shame the Hacks who Abuse Media Ethics." Its goal is to expose and shame corrupt media figures, and make life a little harder for those who manipulate the public, degrade our democracy and help perpetuate oligarchy power, making their money by acting as covert propagandists for corporate interests.
The project was inspired by our readers and donors, who are tired of the rampant media fraud and deception, and want some way to fight back and reclaim our democracy. Well, the long wait is finally over.
Thanks to your support—in donations, subscriptions, and know-how—S.H.A.M.E. is finally ready.
S.H.A.M.E.'s first subject: Malcolm Gladwell, America's most successful propagandist.
Cruise over to shameproject.com to check out Gladwell's S.H.A.M.E. Dossier™ and an in-depth S.H.A.M.E. Report™ that traces his life's journey, from his early days as a Reagan fanboy to his training at the tobacco-funded National Journalism Center and his rapid rise in the media world, marked by his tendency to insert pro-tobacco, pro-banking industry and pro-pharma propaganda into his work.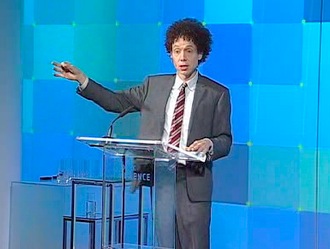 "How's a honest shill supposed to make money these days?"
This is just a taste of what's to come. We will be rolling out a new S.H.A.M.E. dossier every week and will keep you updated with blog posts and news items. The purpose of S.H.A.M.E. is not merely to humiliate or call out hypocrisy, but to provide useful and effective tools the public can use to protect itself from being manipulated by sophisticated public relations con-artistry. So we'll be slowly beefing up and upgrading the S.H.A.M.E. guerrilla anti-shill platform with new features to help you fight back.
Info tips are always appreciated. So are cash donations. Contribute using PayPal or WePay if you can…
***
MALCOLM GLADWELL UNMASKED: A LOOK INTO THE LIFE & WORK OF AMERICA'S MOST SUCCESSFUL PROPAGANDIST
By Yasha Levine • May 31, 2012 • REPORT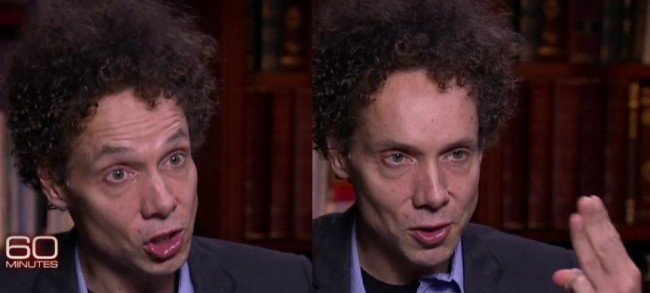 "I'm necessarily parasitic in a way. I have done well as a parasite. But I'm still a parasite."
In the vast ecosystem of corporate shills, which one is the most effective? Propaganda works best when it is not perceived as propaganda: nuance, obfuscation, distraction, suggestion, the subtle introduction of doubt—these are more effective in the long run than shotgun blasts of lies. The master of this approach is Malcolm Gladwell.
Malcolm Gladwell is the New Yorker's leading essayist and bestselling author. Time magazine named Gladwell one of the world's 100 most influential people. His books sell copies in the millions, and he is in hot demand as one of the nation's top public intellectual and pop gurus. Gladwell plays his role as a disinterested public intellectual like few others, right down to the frizzy hairdo and smock-y getups. His political aloofness, high-brow contrarianism and constant challenges to "popular wisdom" are all part of his shtick.
But beneath Malcolm Gladwell's cleverly crafted ambiguity, beneath the branded facade, one finds, with surprising ease, a common huckster on the take. I say "surprising ease" because it's all out there on the public record.
As this article will demonstrate, Gladwell has shilled for Big Tobacco, Pharma and defended Enron-style financial fraud, all while earning hundreds of thousands of dollars as a corporate speaker, sometimes from the same companies and industries that he covers as a journalist.
Malcolm Gladwell is a one-man branding and distribution pipeline for valuable corporate messages, constructed on the public's gullibility in trusting his probity and intellectual honesty in the pages of America's most important weekly magazine, The New Yorker, and other highly prominent media outlets.
Early Ultra-Conservative Training
Perhaps Americans would be less shocked by Malcolm Gladwell's journalistic corruption if they were aware of his background. Gladwell was trained up in the same corporate-funded network of training and "education" institutes and outfits responsible for churning out the likes of Michelle Malkin, convicted criminal James O'Keefe, Dinesh D'Souza and countless other GOP corporate activists. The difference: Unlike Gladwell, they rarely hid their ideological willingness to take cash in exchange for promoting the corporate right's agenda. . . .
READ FULL S.H.A.M.E. REPORT AT SHAMEPROJECT.COM >>>
Read more: conflict-of-interest, malcolm gladwell, media corruption, media transparency, oligarchy, project, s.h.a.m.e., shame project, Team eXiled, eXiled Alert!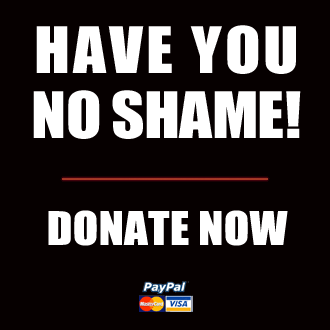 Got something to say to us? Then send us a letter.
Want us to stick around? Donate to The eXiled.
Twitter twerps can follow us at twitter.com/exiledonline