By Yasha Levine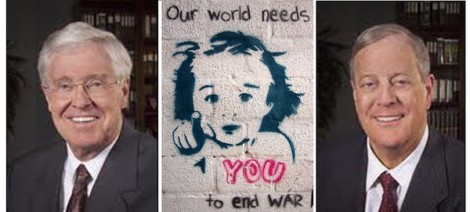 So by now you've probably heard that Charles and David Koch are really really dedicated to libertarianism. They're not just interested in screwing Americans with regressive 18th century economic policies, but also support noble positions that even far-leftists should be able to get behind. One of the big ones is: they are opposed to war and empire.
Well, at least that's what libertarians say.
The Kochs "opposed the Iraq War" and "want to substantially cut military spending," recently wrote David Bernstein, a libertarian lawyer and author of a political thriller called You Can't Say That! The Growing Threat to Civil Liberties from Antidiscrimination Laws. In fact, Dave thinks that the Kochs support so many left-leaning social policies that they are actually not libertarians at all, but "liberaltarians":
The Kochs would appear to be the perfect liberaltarians–they support gay marriage, drug legalization, opposed the Iraq War, want to substantially cut military spending, and gave $20 million to the ACLU to oppose the Patriot Act (compared to a relatively piddling $43,000 to Scott Walker's election campaign).
Then there's Justin Raimando, the "conservative-paleo-libertarian" editorial director of Antiwar.com, who gave the billionaires two thumbs up, writing last summer: "The Kochs, and Cato, have been staunch opponents of the Af-Pak war, as well as the escalation of the war on our civil liberties that George W. Bush started and Obama has continued." Nick Gillespie, the leather-jacket-wearing libertarian editor in chief of Reason.com, even links to an anonymous self reddit post that pretty much says the same thing.
So you're probably asking yourself three questions: "1) Is what they're saying true? 2) Can I trust a libertarian law professor from George Koch-Mason University? 3) What in God's name is a 'conservative-paleo-libertarian'?"
Luckily for you, we here at the The eXiled are used to doing the heavily investigative lifting. So after spending about 45 minutes looking through the evidence and tallying up the results, we can finally answer question #1. The other two you can figure out for yourself.
Data pulled from publicly-accessible federal contract databases shows that over the past 15 years, the Kochs have milked the U.S. war machine for about $170 million, all while funding libertarian groups, organizations and media outfits with anti-war positions. In just four years, from 1996 through 1999, Koch Industries picked up around $85 million in contracts to supply the Department of Defense with fuel.
Isn't that noble of them?
Over the next decade, as U.S. interventionist policy spun out of control after 9/11 and our military got bogged down in two hopeless wars, Koch Industries showed no sign of slowing down or reducing its business dealings with the America's statist-imperialist military machine. In fact, the Kochs found a new to way to make a profit. On top of getting lucrative fuel contracts with the DoD, Koch Industries also started supplying the army with food.
From 2000 to 2004, the company pulled in $2 to 6 million a year in contracts to supply the DoD with fuel, chemicals, food, paper supplies, water purification systems and few other assorted knickknacks But after acquiring the paper and pulp giant Georgia-Pacific, Koch Industries' contracts with the DoD went through the roof. From 2005 to 2006, Koch Industries raked in nearly $68 million worth of contracts to supply the Defense Commissary Agency with "Subsistence/Food Items for Resale" through their Georgia-Pacific subsidiary located in Atlanta, Georgia. By the end of the decade in 2010, the Kochs had secured a total of $84.7 million in defense contracts.
And the kicker? 80% of these contracts were of a "non-competitive type".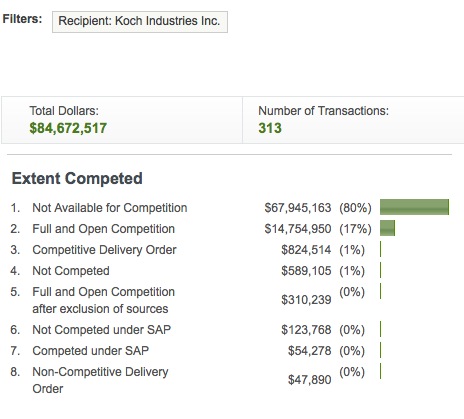 Mark Ames just published a post about all the Koch whores who tried to discredit our investigative scoop linking the Tea Party with the billionaire Kochs, and how our pathetic news media helped them lead the witch hunt, while being consistently wrong about the Kochs. That trend continues today with people like Ezra Klein, who in a recent column tries to downplay the importance of the Kochs, clearly not knowing what he's talking about.
For example. In the post, Klein wrote:
Sometimes they are part of the coalition that succeeds, as in the case of energy policy. Sometimes they are part of the coalition that fails, as in the case of foreign policy. In the end, they're probably more important than the Coors family but vastly less important than the Chamber of Commerce.
Yep, as their war profiteering clearly showed, the Kochs "failed" in the case of foreign policy. That's one hundred seventy million taxpayer dollars worth of war profiteering failure. Gee, I bet the Kochs are horrified at the prospect of the US war machine grinding on in Afghanistan and Iraq for another decade. Quick, they need to pay a libertard to write something radical for Cato Unbound!
Want to know more? Check out Dylan Ratigan giving us props for breaking the Koch/Tea Party/Evil Oligarchs story first:
Read more: antiwar, antiwar.com, charles koch, david koch, DoD, george koch-mason university, koch industries, kochs, libertarian, profiteering, scam, Tea Party, war, Yasha Levine, Class War For Idiots, Koch Whores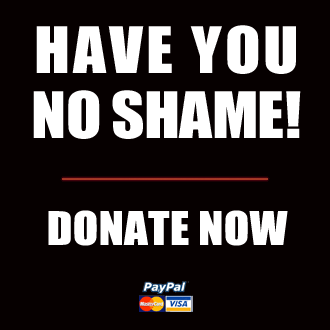 Got something to say to us? Then send us a letter.
Want us to stick around? Donate to The eXiled.
Twitter twerps can follow us at twitter.com/exiledonline