By Yasha Levine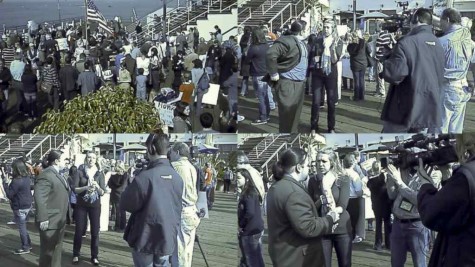 Koch Industries' one-man teabag revolution in Santa Monica
As soon as Ames and I sent off our Santelli-FreedomWorks connection article to the editors at Playboy, I rushed out the door. I was already 10 minutes late to a tea party event being held just a few miles from my house.
The protest was scheduled to take place at the very end of the Santa Monica pier at 9:00 am Friday, February 27 — sharp — and would last until exactly 9:45 am. Tony Katz, the event organizer, had the whole thing mapped out on a Facebook page he set up: meet and greet, three keynote speakers (some no-name actor, a writer and an alleged comedian), a quick teabagging ceremony and then goodbye. It wasn't the best time slot to attract protesters.  Most working people (exactly ones that should be outraged at having their hard-earned money spent bailing out deadbeats), would be just groggily arriving at work. But if you read the Santelli article, you know these tea party protests were never about attracting real supporters. They were about creating the perception that these supporters exist. As it happens, the early morning schedule was incredibly convenient for journalists. They'd get the material and be back in the office before noon, enough time to write and edit their segments to appear that same day.
I got there about 30 minutes late, just in time for the last part of the show.  Katz, short, chubby and sporting a greasy ponytail, was finishing up his closing speech. Helpers were passing out tea bags to the 50 or so people milling around restlessly. The crowd was not what you would expect from a grassroots movement that supposedly tsunamied so fast that a whole network materialized in just a few days. It was more the size of a waiting list crowd milling around outside a popular sushi restaurant. Katz, who looked more like a failed porn actor, a dweeby version of Ron Jeremy, than a political organizer, was saying something about the need to  move past partisanship. Resistance wasn't about being Republican, Democrat or Green — it was about being American. That got cheers from the crowd, but looking around me, these people were clearly going to have trouble hiding their obvious Republicanism.
A few people were holding anti-Obama signs. One guy, who called himself a comedian, held up a slickly designed sign that read: "Don't Tax Me, Bro!" A sickly young couple, who identified their political affiliation as "freeper," held thin cardboard signs with anti-tax slogans quickly scrawled with markers. There were a bunch of Republican hags. Some were senile and could barely walk; a few of the more sprightly ones had donned 18th century dresses they'd saved from their first proms. A dozen or so clean-cut Young Republican types were dispersed through the crowd. None of them would admit it, but they were obvious organizers of the whole sham gathering. Reporters and assorted media types made up 1/3 of the mass, and there was a constant stream of weirded-out passers-by who paused and gawked for a while before scuttling off. In rich, ultra-liberal Santa Monica, meeting lone Republicans is a rarity, like spotting a Northern Hairy-nosed Wombat. Saying critical things about Obama around here is blasphemy punishable by societal isolation.
Two other observations could be made about the crowd: 1) it was too white and 2) it was all dudes. You can tell just how authentic a political rally is by the male-female equality ratio. If you're gonna build a mass movement against anything, there's no way of getting around it. The only woman seemed to be on the job, working for some conservative TV station called Freedom Talk or Freedom Now. Judging by the name, it was connected to FreedomWorks, and she was obviously connected to Katz, chatting him up like they were friends at the end of the show.
It was now 9:35 am and Katz was finishing, right on schedule. He invited people to throw their tea bags into a pot of water (throwing tea bags into the ocean would be littering and illegal) and yell out their anti-tax demands. The whole thing was pathetic and over very quickly, thankfully.
It was a total sham, a front in order to get TV facetime. It worked, too. FOX news sent a camera crew. So did NBC. Koch was teabagging the media, and the media loved it.
I had a little plan to toy with Katz and test his reaction, so as I milled around, waiting for him to finish his interviews, I tried interacting with the participants. It wasn't easy. These people didn't have much to say. The Young Republican cadre weren't very chatty, answering in short, two- or three-word bursts. If you've ever been to a real protest, you know how open and forthcoming people are. They have to be to recruit. Most of the extras were useless, too, either senile or insane, or both. One woman was recruiting for a Republican club in West Los Angeles. But she had no idea what was going on. "Santelli? I don't know. Do we support him? How did he vote on the Stimulus?" There was a fat Latino gay guy in a custom t-shirt showing Obama as a pirate. "I just think that protesting is a great, very important thing to do," he said. He was one of those protest whores; he was against just about everything — Obama, Taxes, Iraq, Afghanistan, etc. — but somehow remained real upbeat and chipper.
As soon as NBC finished their interview with Katz, I came up and introduced myself. I wanted to see how he'd respond if I started throwing around FreedomWorks. Would he deny the connection? Pretend like he didn't know what I was talking about? Embrace me as a brother? Doubtful. Sure, this event was all about populism, but I didn't fit into the whole scene. My punk-esque leather jacket and shaved head didn't fit in among the polo shirts, Stanford baseball caps and sportscoats. I just don't own anything that resembles their semi-casual staffer attire.
"Hey, I just want you to know that my brother works for FreedomWorks in Washington. We're not close, but I spoke to him on the phone last night and he told me about what you guys are doing. I just want you to know I respect and support you 100%."
Katz paused for a second, his smile tightening, shrinking almost imperceptibly. And then he just ignored the question, shifting his attention to a dweeby Republican who came up to introduce himself. Apparently these two had been communicating via Twitter for some time, but had never met in real life. I hung around to try to push Katz some more, but he obviously smelled me out. I never even got his business card, which he was giving away to everyone else. Instead, I was instructed to go to their Twitter page. It wasn't much of a recruitment effort. But then, when your whole movement is a fake, you don't need to worry about recruitment. All you need to do is lure the sucker-media's TV cameras to the pier for a few minutes.

Related reading: Exposing The Rightwing PR Machine: Is CNBC's Rick Santelli Sucking Koch?
Read more: chicago tea party, freedomworks, koch, santa monica, santelli, teabag, tony katz, Yasha Levine, Investigative Report, Tea Party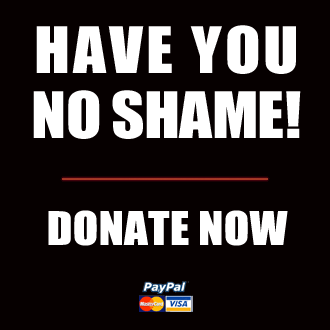 Got something to say to us? Then send us a letter.
Want us to stick around? Donate to The eXiled.
Twitter twerps can follow us at twitter.com/exiledonline