By Mark Ames and Yasha Levine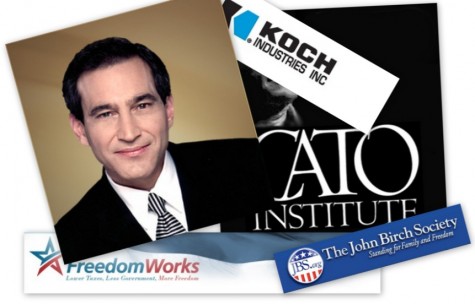 This article first appeared on Playboy.com

Chris Matthews: "You're up there with Rush Limbaugh and Sean Hannity… It's quite a team."
Rick Santelli (smiling and nodding): "It is quite a team!"
Hardball, MSNBC, Feb 20, 2009
Last week, CNBC correspondent Rick Santelli rocketed from being a little-known second-string correspondent to a populist hero of the disenfranchised, a 21st-century Samuel Adams, the leader and symbol of the downtrodden American masses suffering under the onslaught of 21st century socialism and big government. Santelli's "rant" last-week calling for a "Chicago Tea Party" to protest President Obama's plans to help distressed American homeowners rapidly spread across the blogosphere and shot right up into White House spokesman Robert Gibbs' craw, whose smackdown during a press conference was later characterized by Santelli as "a threat" from the White House. A nationwide "tea party" grassroots Internet protest movement has sprung up seemingly spontaneously, all inspired by Santelli, with rallies planned today in cities from coast to coast to protest against Obama's economic policies.
But was Santelli's rant really so spontaneous? How did a minor-league TV figure, whose contract with CNBC is due this summer, get so quickly launched into a nationwide rightwing blog sensation? Why were there so many sites and organizations online and live within minutes or hours after his rant, leading to a nationwide protest just a week after his rant?
What hasn't been reported until now is evidence linking Santelli's "tea party" rant with some very familiar names in the Republican rightwing machine, from PR operatives who specialize in imitation-grassroots PR campaigns (called "astroturfing") to bigwig politicians and notorious billionaire funders. As veteran Russia reporters, both of us spent years watching the Kremlin use fake grassroots movements to influence and control the political landscape. To us, the uncanny speed and direction the movement took and the players involved in promoting it had a strangely forced quality to it. If it seemed scripted, that's because it was.
What we discovered is that Santelli's "rant" was not at all spontaneous as his alleged fans claim, but rather it was a carefully-planned trigger for the anti-Obama campaign. In PR terms, his February 19th call for a "Chicago Tea Party" was the launch event of a carefully organized and sophisticated PR campaign, one in which Santelli served as a frontman, using the CNBC airwaves for publicity, for the some of the craziest and sleaziest rightwing oligarch clans this country has ever produced. Namely, the Koch family, the multibilllionaire owners of the largest private corporation in America, and funders of scores of rightwing thinktanks and advocacy groups, from the Cato Institute and Reason Magazine to FreedomWorks. The scion of the Koch family, Fred Koch, was a co-founder of the notorious extremist-rightwing John Birch Society.
As you read this, Big Business is pouring tens of millions of dollars into their media machines in order to destroy just about every economic campaign promise Obama has made, as reported recently in the Wall Street Journal. At stake isn't the little guy's fight against big government, as Santelli and his bot-supporters claim, but rather the "upper 2 percent"'s war to protect their wealth from the Obama Adminstration's economic plans. When this Santelli "grassroots" campaign is peeled open, what's revealed is a glimpse of what is ahead and what is bound to be a hallmark of his presidency.
Let's go back to February 19th: Rick Santelli, live on CNBC, standing in the middle of the Chicago Mercantile Exchange, launches into an attack on the just-announced $300 billion slated to stem rate of home foreclosures: "The government is promoting bad behavior! Do we really want to subsidize the losers' mortgages?! This is America! We're thinking of having a Chicago tea party in July, all you capitalists who want to come down to Lake Michigan, I'm gonna start organizing."
Almost immediately, the clip and the unlikely "Chicago tea party" quote buried in the middle of the segment, zoomed across a well-worn path to headline fame in the Republican echo chamber, including red-alert headlines on Drudge.
Within hours of Santelli's rant, a website called ChicagoTeaParty.com sprang to life. Essentially inactive until that day, it now featured a YouTube video of Santelli's "tea party" rant and billed itself as the official home of the Chicago Tea Party. The domain was registered in August, 2008 by Zack Christenson, a dweeby Twitter Republican and producer for a popular Chicago rightwing radio host Milt Rosenberg—a familiar name to Obama campaign people. Last August, Rosenberg, who looks like Martin Short's Irving Cohen character, caused an outcry when he interviewed Stanley Kurtz, the conservative writer who first "exposed" a personal link between Obama and former Weather Undergound leader Bill Ayers. As a result of Rosenberg's radio interview, the Ayers story was given a major push through the Republican media echo chamber, culminating in Sarah Palin's accusation that Obama was "palling around with terrorists." That Rosenberg's producer owns the "chicagoteaparty.com" site is already weird—but what's even stranger is that he first bought the domain last August, right around the time of Rosenburg's launch of the "Obama is a terrorist" campaign. It's as if they held this "Chicago tea party" campaign in reserve, like a sleeper-site. Which is exactly what it was.
ChicagoTeaParty.com was just one part of a larger network of Republican sleeper-cell-blogs set up over the course of the past few months, all of them tied to a shady rightwing advocacy group coincidentally named the "Sam Adams Alliance," whose backers have until now been kept hidden from public. Cached google records that we discovered show that the Sam Adams Alliance took pains to scrub its deep links to the Koch family money as well as the fake-grassroots "tea party" protests going on today. All of these roads ultimately lead back to a more notorious rightwing advocacy group, FreedomWorks, a powerful PR organization headed by former Republican House Majority leader Dick Armey and funded by Koch money.
Read more: astroturfing, chicago tea party, CNBC, freedomworks, koch, Rick Santelli, twitter republicans, Mark Ames and Yasha Levine, Investigative Report, Santelli Watch, Tea Party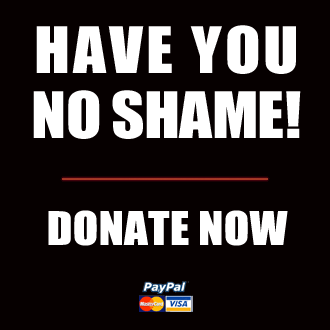 Got something to say to us? Then send us a letter.
Want us to stick around? Donate to The eXiled.
Twitter twerps can follow us at twitter.com/exiledonline