By Mark Ames and Yasha Levine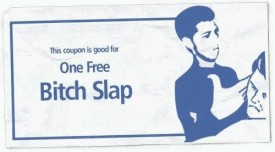 Our article last Friday exposing the familiar old rightwing corporate machine behind the fake "tea party" protests, and Rick Santelli's highly questionable role as the one-man MC for the protests' launch event, wound up crashing the tea party's mojo, and forcing Santelli to issue a giant apologia on CNBC's site. It's titled "I Want To Set The Record Straight," but it should be called, "I want to keep my shitty second-fiddle job and not get thrown out of my 2,500 square foot house." You can hear Rick's pain as the spiked CNBC legal department butt-plug is shoved deeper and deeper in, paragraph after paragraph… especially this one line that will have Santelli sleeping on his stomach for months, where he bleats: "I hope that the President and the final stimulus plan succeed." Thank you sir, may I have another!
Meanwhile, CNBC's attack dogs are now after the tea party sites to make sure that the damage to their credibility is contained. An article just published on AP, headlined, "CNBC says ranting Rick Santelli is not affiliated with political site that uses his name," says that CNBC forced one of the Santelli-promoting tea party sites to take down his likeness and come clean about its very un-grassrootsy character:
Santelli's name was stripped from headlines on the home page of http://www.reteaparty.com Monday after its operator was made aware of CNBC's dissatisfaction. The site was operating within 24 hours after the reporter's self-described rant on Feb. 19, when he said the president's plan to help people in danger of home foreclosure was "promoting bad behavior."
…Before it was altered Monday, the Web site described "Rick Santelli's Re-Tea Party" four times on its home page, urging people to organize for protests. It had an "About Rick" link with the CNBC on-air editor's profile, saying he "voiced the sentiment of millions of Americans on the stock market floor."
Scroll down to the small print at the bottom of the page and there's a disclaimer saying the site is a grass-roots effort promoted by the Political Exploration and Awareness Committee and that the "opinions expressed do not necessarily reflect the opinions of Rick Santelli."
Which is interesting, because wouldntchaknowit, the rightwing Republican magazine Weekly Standard just posted an article this weekend strangely timed to promote the now-discredited (by Re-Tea Party itself) AstroTurf image that the website is just a basement DIY project. Titled "Gonna Have A Tea Party," its author, Jonathan V. Last, makes himself the last journalist on this planet to get to the real truth behind Re-Real Tea Party's PAC-funded heart:
Anthony Astolfi bought the domain reTeaParty.com about 10 hours after Santelli's rant. Astolfi is a 24-year-old web designer and small-time political consultant who dabbled in the Ron Paul world last cycle. He thought the tea party idea had a chance to catch on and decided to organize them for July 4. Working with his roommate and a cousin, they finished building a website by midnight. Then they turned to promoting the project. They did Google searches for "Santelli" and left comments pointing to their new site on high-ranking result pages. They spent a couple hundred dollars on a small number of Google and YouTube ads and finally went to bed around 5 A.M. They awoke to 40,000 emails, their site having become a minor sensation. Astolfi says they now have 11,000 people a day coming to reTeaParty.com. Ten thousand people have signed up to get information on the tea parties, and 5,000 have "pledged" to attend one of so-far eight tea parties on July 4.
Jeepers Wally, isn't it amazing what a couple a kids acting on their own grassroots selves can do? With just a li'l elbow grease, enthusiasm, and, er, a shady PAC sugardaddy…but we won't talk about that in the Weekly Standard, will we?
For some reason—call it "fear of getting busted"—all sorts of Santelli/Tea Party shills have been coming out of the closet with their shady affiliations. Like Megan McArdle, who has been leading the attempt to discredit our investigation from her blog at the mighty Atlantic Monthly online. Yesterday she threw in this disclaimer at the end of one of her many obsessive blog posts attacking our article:
"Full disclosure: It's pretty much an open secret in DC, but given the content of the article I'm discussing, I think I ought to mention that I live with Peter Suderman, who once worked for Freedomworks. Other than giving me the name of the right employee to email to make inquiries (no word back yet), I haven't asked him about his former employer, and he hasn't told me anything. I debated whether to write about this, but since I'm not actually defending Freedomworks, I think it's kosher."
Right, so even though Megan has about as gigantic a conflict-of-interest as is humanly imaginable–namely, she spoons every night with a guy who was on Freedomworks' payroll—and even though her article absolutely defends Freedomworks by attempting to discredit Freedomworks' critics—she nevertheless concludes, against all logic, "I think it's kosher." Speaking as two Jews to a McArdle, we want you to know that your conflict-of-interest is about as kosher as a bacon-cheese-and-crab-melt sandwich.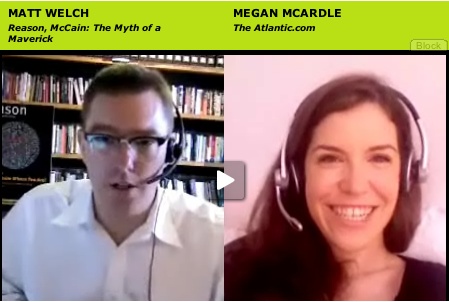 Read more: Bitch Slap, CNBC, freedomworks, Jon Stewart, koch, Megan McArdle, Megan McArdle Queefs, santelli, Mark Ames and Yasha Levine, eXiled Alert!, Santelli Watch, Tea Party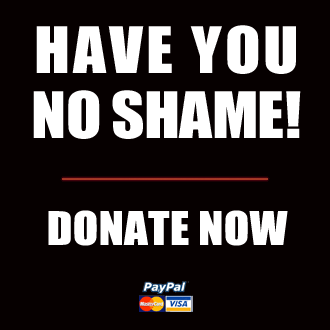 Got something to say to us? Then send us a letter.
Want us to stick around? Donate to The eXiled.
Twitter twerps can follow us at twitter.com/exiledonline