By Yasha Levine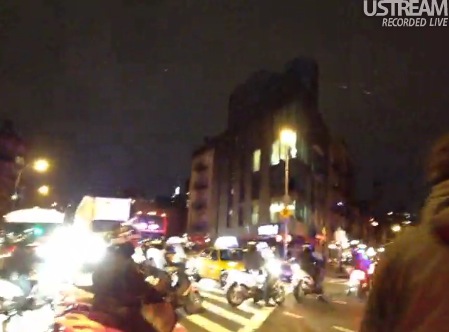 I gotta say, this newfangled live phone cam streaming technology is off the hook. Now anyone with an Android and an unlimited data plan can stream amazing embedded protest footage from anywhere to anyone–all of it in real time. Forget CNN's 24-hour cable news revolution. This is CWNN–the Class War News Network.
Last Saturday I was at home in Venice, California, glued to the screen watching a live Ustream feed from Manhattan, where a few thousand protesters gathered to celebrate the three-month anniversary of Occupy Wall Street and to march on Times Square. It was being broadcast by the hardworking citizen journos of wearetheother99, and was packed with all sorts of class-war action you'd never see on TV: kettling maneuvers; cops on scooters trying to ram protesters just like those Ahmadinejad protest goons on bikes, with some dude on the street yelling "get off the bike, pussy!"; and a bunch of brutal and seemingly random arrests, including a close-up of a couple of cops tackling a biker and punching him in the face because he wouldn't let got of his bicycle. There were some great scenes of protesters sprinting through stalled Manhattan traffic, trying to frantically outflank a police line moving in to pin them down on some narrow street–all while the camera guy narrated the action:  "The police vehicles just can't get in. There's too many cars. The people are running too quickly and they're too dispersed….I'm not sure how long I can keep running. My legs are really cramping up."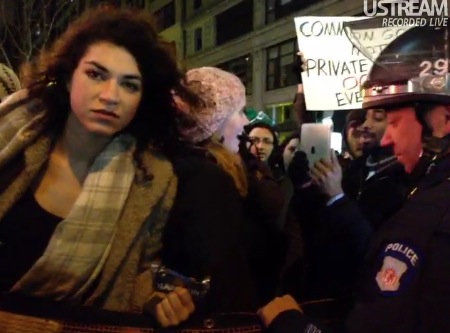 NYPD having fun kettling a couple of hot OWS chicks…
While all this was going on, the NYPD was apparently busy targeting certain protesters for extraction. At some point the, the stream caught the tail end of what people on the scene described as a targeted arrest of a pacer–someone who had been chosen to keep the protest march on track and lead it along a certain route. Apparently the guy had been tazed, and you could see him being carried away to a paddy wagon while a couple of mounted cops kept the crowd away. Without someone in the driver's seat leading the group, the procession quickly ground to a halt, and people stood around squabbling about which way they should go. If the NYPD's goal was to slow down and fragment the march, then that one targeted arrest worked like a charm.
Speaking of disruption and the jamming of information…
Remember how in November, Bloomberg and the NYPD got a lot of heat from the city's media establishment for the arrest rampage they unleashed on journalists covering the eviction raid on Liberty Plaza? Cops arrested more than two dozen accredited journalists from major news outlets, including the New York Post, NPR, AFP and The Associated Press. Hell, cops even clubbed a couple of reporters for the baggertarian rag The Daily Caller. As a result, New York's police commissioner made a big show of issuing an order that instructed police officers not to interfere with journalists covering OWS.
But clearly that was just for show.
Because this month the NYPD has gone out of its way to harass and arrest journalists covering OWS, especially targeting live streamers and indie journalists who can't be counted on for propaganda support like the mainstream folks. According to Free Press' Josh Stearns, who has been maintaining a list of journalists arrested while covering the Occupy Movement across the country, at least five journalists and seven live streamers were arrested by the NYPD in the first half of December.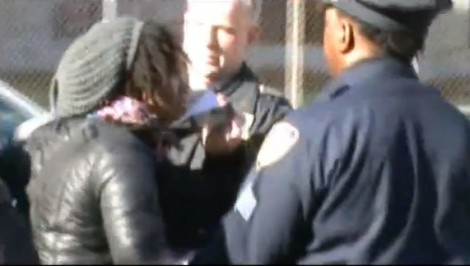 This journalist is being arrested for her own safety…
In early December, cops arrested freelance journalist Carla Murphy while she covered an Occupy Bronx event, even after she identified herself as a journalist to a NYPD community-affairs officer who was on the scene. There's a video that shows Murphy telling the cops that she's a journalist, and you can hear her saying "wait a minute…oh my!…you can't be serious" as four cops methodically proceed with the arrest. Naturally, the cops then start harassing the guy shooting the video of Murphy's arrest.
A few days later, on December 12, the NYPD went on an another tear during a OWS flash mob in the Winter Garden staged in support of the West Coast Occupy the Ports action, detaining and jailing at least three journalists. Among them was freelance reporter John Knefel and photographer Stanley Rogouski. Both were bum-rushed and brutally tackled to the polished marble floor, before being hauled off to jail, where they were held for almost two full days–about as long as I was held in jail by the LAPD.
John Knefel took his arrest like a true 99-percenter, writing on Salon.com that fellow journalists shouldn't fear spending a night or two in the slammer:
The story of Occupy Wall Street is impossible to tell removed from the story of the prison industrial complex. What makes OWS necessary is a story of a failing educational system. It's a story of privatized prisons. It's a story of predatory lenders, lack of affordable housing, and a complete absence of jobs in the most marginalized communities, who are often black or brown. It's a story of a so-called drug war meant to imprison black and brown youth as a means of generating profits for the 1 percent. The NYPD have shown they will arrest accredited and unaccredited journalists alike. Official credentials don't work as a protection.

That said, journalists – like activists – shouldn't be afraid of going to jail. If and when we do get arrested it is not an inconvenience, or something that we shouldn't be subjected to. It's a chance to refocus our outrage, a chance to tell the most important stories, a chance to bear witness to the horrors of our criminal justice system. I don't think the NYPD will ever offer me official credentials, but I won't be asking them for any. Our right to observe and document police misconduct is not contingent on the approval of the authorities. And if the police think that intimidation is going to stop this movement, they should know better by now.
Also, be sure to check out Stanley Rogouski's account of his arrest at Counter Punch.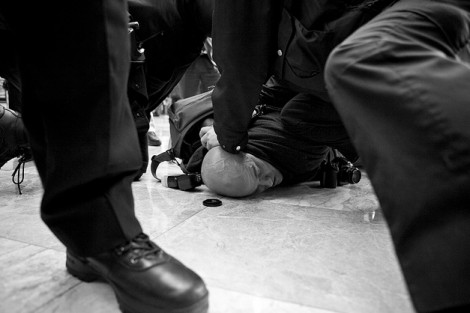 Their arrests in the Winter Garden were nicely captured by a photographer named Jessica Lehrman, but the NYPD sure as hell wasn't making it for journos like her to do their job. Here's a great video of a couple of cops harassing and blocking a photojournalist working for the New York Times from getting a good shot of the arrests as they were taking place.
The NYPD continued harassing indie journalists five days later during the D17 protests. Some were bashed with batons, others were threatened with having their official press passes revoked. By the end of the day, at least two journalist were arrested, including photojournalist Zach Roberts and Jennifer Dworkin, an independent filmmaker who had worked for PBS.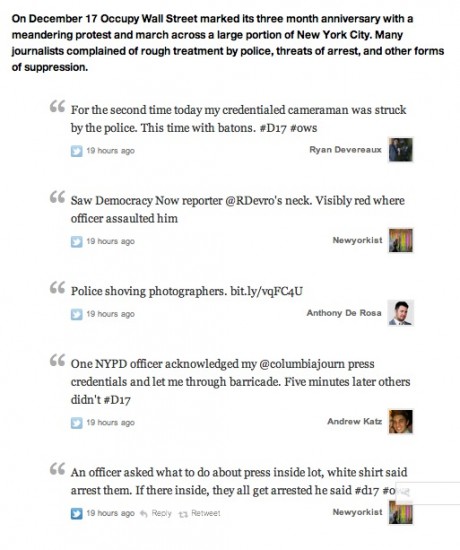 You gotta wonder if these intimidation tactics against journalists and news media will work to stifle coverage like it has in the past. Or will it backfire, creating shared grievances and experiences between journalists and protestets, and solidifying media's sympathy for the Occupy movement?
***
Want to know more? Read Yasha Levine's account of LAPD's appalling treatment of detained Occupy LA protesters…His other Occupy LA coverage…And LA Weekly's writeup of his arrest.
Yasha Levine is an editor of The eXiled. You can reach him at levine [at] exiledonline.com.
Read more: 99-percenter, 99%, arrests, free press, freedom of the press, harassment, media, new york, nypd, occupy movement, occupy wall street, ows, press freedom, press suppression, protest, ustream, Yasha Levine, Occupy Wall Street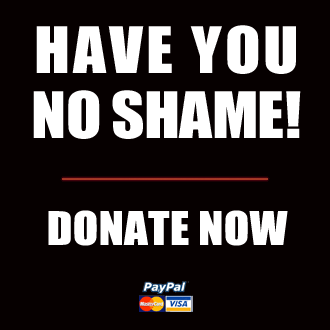 Got something to say to us? Then send us a letter.
Want us to stick around? Donate to The eXiled.
Twitter twerps can follow us at twitter.com/exiledonline