By Pancho Montana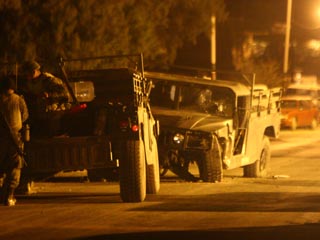 I told you I'd be updating the situation if it got hot, so here I am, because some heavy shit went down yesterday, when the army ran into the Zetas north of Monterrey. I don't think that any of your newspapers have covered this yet, so here's the quick skinny:
• The main shoot out took place at 11:30 a.m. in Anahuac, north of Monterrey and about 50 miles from the Texas border. Six SUVs with tinted windows ran into an army convoy and started blasting away, killing two soldiers. The soldiers responded by killing eight of the sicarios (it could be six because on the news, they're reporting that two of the bodies were rescued by their homeboys). According to eyewitness accounts, the Zetas were heavily armed and were responsible for starting the hostilities, leaning out of their cars and spraying soldiers with AK-47s and R-15s. Two soldiers were badly wounded and were flown to Mexico City to receive medical attention, but one of them died en route.
The news also reported that a chick was killed on the sicarios' side. While it's not the first time, it is uncommon for girls to take part in gunfights. Not to put them down or anything, but firefights here are very savage and very brutal—not the best place for a chick to be. (As a side note: the Zetas did have a group of she-sicarias called "The Panthers," but they were disbanded and forgotten eventually.)
• A second firefight took place minutes later at a nearby gas station. Witnesses say that the street was filled with gun-casings and that four more sicarios were killed. Anahuac, a small rural town, has turned into a ghost town after the soldiers and marines arrived there in force. Every civilian is ducking and covering inside their homes, as they should be.
• Later in the afternoon, the state prison was attacked with grenades. Only a prison intern was wounded and had to be evacuated to the University Hospital.
• That same day, 150 marines stormed a residence in Monterrey's Barrio Antiguo, but they haven't released any details about the results.
• The nearby state of Tamaulipas is also hot. A shootout took place on the National Highway at Km 17 between the army and the Zetas. Result: two dead sicarios. That's the only information available on this one, but there's so real need to know anything else. This was a simple "topon", which is what happens when a sicario convoy runs into an army convoy: lock n' load, fire n' reload, interrogate n' torture and so on…
• More narco-banners have been put up all around the city again, the same message about an anti-Zeta front. (See my previous post for an explanation.)
I'll be updating with details and information as I get it. For now, read my last piece about the Zetas: Mexican Drug Cartels Raid Massive Rave Parties, Crack Down On Rival Pushers…
Here's some photographic evidence:
Pancho Montana is an eXiled Special Mexican War on Drugs Correspondent.
As a native of Monterrey, Nuevo Leon, located in northern Mexico, Mr. Montana lives in Gulf Cartel territory. That means the streets belong to the Zetas, a paramilitary organization trained by the Yankees and hired by the Gulf Cartel to keep things civilized and business booming.
Read more: ak-47, drug cartels, drug war, mexico, monterrey, shootout, zetas, Pancho Montana, The Mexican Drug War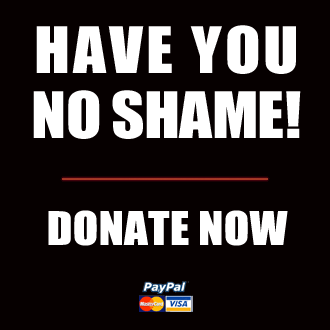 Got something to say to us? Then send us a letter.
Want us to stick around? Donate to The eXiled.
Twitter twerps can follow us at twitter.com/exiledonline