By Yasha Levine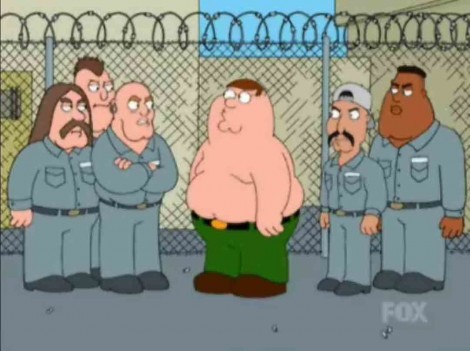 Late last week, as I was reading a story by the Family Guy writer who had been brutally arrested and mistreated at the Occupy LA crackdown, I suddenly realized, "Holy shit, I remember that guy!"
I didn't catch his name at the time (it's Patrick Meighan), but I distinctly recall sitting next to a tall blond guy with a bruised forehead that was caked with blood, listening to him talk about his arrest to a couple of protesters and describe how a cop in riot gear kneed him in the back, threw him to the ground, and bulldozed the pavement with his forehead before zip-tying and frogmarching him out of Solidarity Square for processing—all that despite his full cooperation during his arrest.
At some point he mentioned that he was a comic writer and said something about Family Guy, but I wasn't sure if I had heard him right. This was probably around 7 or 8 a.m. and by then we had all spent the past six hours or so sitting handcuffed (most of that time with our hands behind our backs) on a cold concrete floor with no water. I was dehydrated and deprived of sleep, and could barely string three words together with any coherence, but I managed to exchange a few words with him about provocateurs and to swap some protest infiltration trivia. For someone who had been kicked and thrown head-first into the pavement, Patrick was in very good spirits. I remember him shaking his head in disbelief when I told him that 1 out of every 6 protesters at the 1968 Chicago National Democratic Convention protests was a federal agent, muttering, "I did not know that. I did not know that."
Anyway, Patrick's account of the raid, as well as his arrest, is pretty damn good and worth quoting at length:
My name is Patrick Meighan, and I'm a husband, a father, a writer on the Fox animated sitcom "Family Guy", and a member of the Unitarian Universalist Community Church of Santa Monica.

I was arrested at about 1 a.m. Wednesday morning with 291 other people at Occupy LA. I was sitting in City Hall Park with a pillow, a blanket, and a copy of Thich Nhat Hanh's "Being Peace" when 1,400 heavily-armed LAPD officers in paramilitary SWAT gear streamed in. I was in a group of about 50 peaceful protestors who sat Indian-style, arms interlocked, around a tent (the symbolic image of the Occupy movement). The LAPD officers encircled us, weapons drawn, while we chanted "We Are Peaceful" and "We Are Nonviolent" and "Join Us."

As we sat there, encircled, a separate team of LAPD officers used knives to slice open every personal tent in the park. They forcibly removed anyone sleeping inside, and then yanked out and destroyed any personal property inside those tents, scattering the contents across the park. They then did the same with the communal property of the Occupy LA movement. For example, I watched as the LAPD destroyed a pop-up canopy tent that, until that moment, had been serving as Occupy LA's First Aid and Wellness tent, in which volunteer health professionals gave free medical care to absolutely anyone who requested it. As it happens, my family had personally contributed that exact canopy tent to Occupy LA, at a cost of several hundred of my family's dollars. As I watched, the LAPD sliced that canopy tent to shreds, broke the telescoping poles into pieces and scattered the detritus across the park. Note that these were the objects described in subsequent mainstream press reports as "30 tons of garbage" that was "abandoned" by Occupy LA: personal property forcibly stolen from us, destroyed in front of our eyes and then left for maintenance workers to dispose of while we were sent to prison.

When the LAPD finally began arresting those of us interlocked around the symbolic tent, we were all ordered by the LAPD to unlink from each other (in order to facilitate the arrests). Each seated, nonviolent protester beside me who refused to cooperate by unlinking his arms had the following done to him: an LAPD officer would forcibly extend the protestor's legs, grab his left foot, twist it all the way around and then stomp his boot on the insole, pinning the protestor's left foot to the pavement, twisted backwards. Then the LAPD officer would grab the protestor's right foot and twist it all the way the other direction until the non-violent protestor, in incredible agony, would shriek in pain and unlink from his neighbor.

It was horrible to watch, and apparently designed to terrorize the rest of us. At least I was sufficiently terrorized. I unlinked my arms voluntarily and informed the LAPD officers that I would go peacefully and cooperatively. I stood as instructed, and then I had my arms wrenched behind my back, and an officer hyperextended my wrists into my inner arms. It was super violent, it hurt really really bad, and he was doing it on purpose. When I involuntarily recoiled from the pain, the LAPD officer threw me face-first to the pavement. He had my hands behind my back, so I landed right on my face. The officer dropped with his knee on my back and ground my face into the pavement. It really, really hurt and my face started bleeding and I was very scared. I begged for mercy and I promised that I was honestly not resisting and would not resist.
I'm glad that Patrick got out of jail and feels well enough to at least get his account down on paper. His story is extremely important, and not just because it documents the gratuitous use of force by the LAPD against peaceful protesters who were simply exercising their constitutional rights.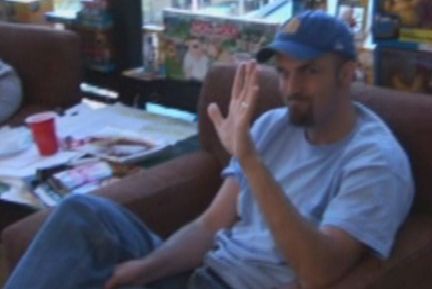 Patrick is not the kind of demographic that the 1-percenters want to see represented at the Occupy protesters. He's a successful Middle American who produces popular mass culture. A white, church-going man with a wife and kids, an employee of Murdoch's Fox no less. In other words: not someone who you'd expect to find at an Occupy encampment. Yet there he was, not only taking an active part in the movement, but ready and willing to be arrested for the cause. Patrick's presence there is a sign of the Occupy movement's popularity among average–and above average–Americans. That may help explain why they cracked down–and cracked down hard–on the Occupy protests in so many places: many of those protestors were not your usual "professional protester" types.
Despite all the negative and outright propagandistic coverage that focuses on bongo players, unsanitary conditions, and the movement's supposed lack of any sort of unified or coherent message, the reality is that plenty of employed and relatively affluent people support Occupy and its challenge to America's financial oligarchy. They might not make it down to the camp and be willing to be arrested like Patrick or some of the other people like him I met in jail, but they agree with its goals. That's because the dissatisfaction is widespread and cuts well into the 1 percent, as well as the rest of the 99 percent.
Have you noticed how there is very little polling on public support of the Occupy movement? Well, that's not very surprising, because the few polls that have been released to the public have shown a massive amount of support. Two polls from mid-November reveal that anywhere from 25 to 35% of people support the Occupy movement. (The thing to remember is that polls can be and usually are skewed to get the desired results, so it wouldn't surprise me if the level of support is even higher that that.) That's an amazing amount of goodwill, especially when you consider all the smears and bad press that are being constantly unleashed on the public.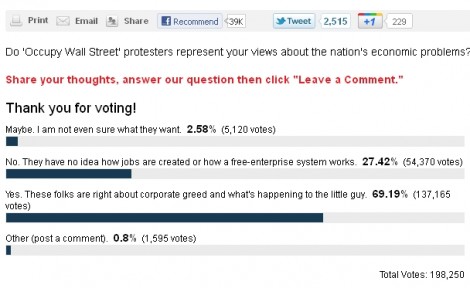 Even rightwing poll trolls couldn't stuff a Fox News survey on OWS…
That kind of support can be very, very dangerous, especially if there is a place that supporters can go to anytime they want and join up with other people just like them. With Occupy, activism was no longer just about going to a single protest or spending a few hours at a panel discussion. Its camps offered a permanent place for people like Patrick to get involved, contribute, and begin building the movement up with their own hands. And that's the really worries the financial oligarchy…
PS: I was hoping to interview photojournalist Tyson Heder, the guy who became an instant celebrity and a hero of the Occupy movement after he was knocked down and viciously attacked by a pack of LAPD shock troops simply for covering their paramilitary eviction raid of Occupy LA. But it looks like we're going to have to wait a while to get his story, as apparently he has been advised by his attorney to refrain from speaking publicly about the incident until his gnarly legal situation (he's been charged with: "Battery on a Peace Officer, Assault on a Peace Officer, and Resisting Arrest") is cleared up…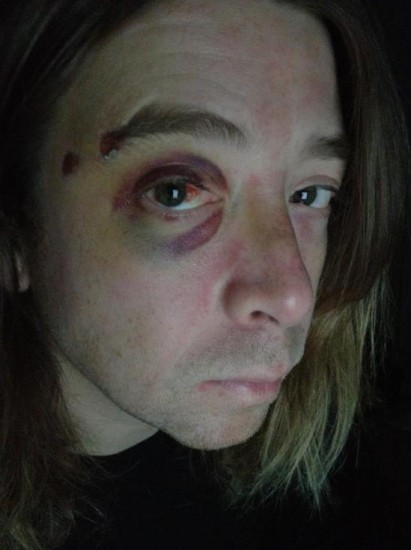 Tyson displays his love bites after a nite out with the LAPD
***
Want to know more? Read Yasha Levine's account of LAPD's appalling treatment of detained Occupy LA protesters…His other Occupy LA coverage…And LA Weekly's writeup of his arrest.
Yasha Levine is an editor of The eXiled. You can reach him at levine [at] exiledonline.com.
Read more: 1-percenters, 99%, arrest, family guy, occupy la, Patrick Meighan, raid, yasha levine, Yasha Levine, Class War For Idiots, Occupy Wall Street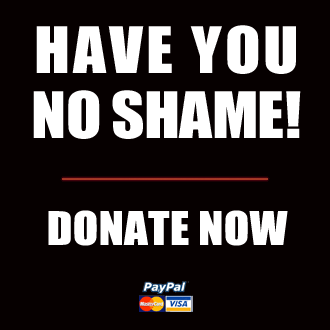 Got something to say to us? Then send us a letter.
Want us to stick around? Donate to The eXiled.
Twitter twerps can follow us at twitter.com/exiledonline