By John Bull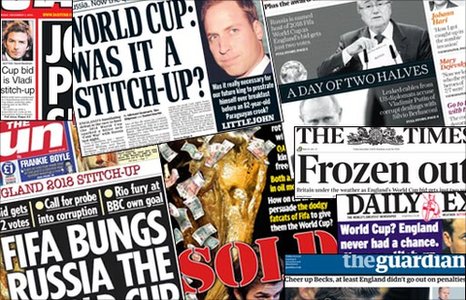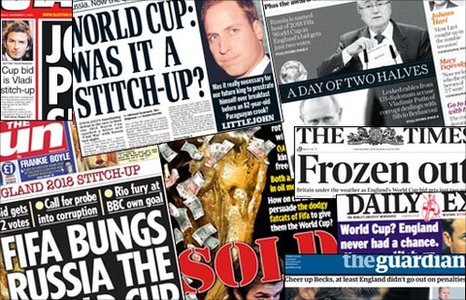 eXiled Online Special UK Correspondent
LONDON–As you've perhaps completely failed to notice, Russia recently won the prize of hosting the 2018 World Cup finals. Any ignorance about this on your part is understandable since a) you're likely to be American and take pride in not giving a shit about soccer and b) this site isn't some where anyone comes to get their sporting fix, but the competition to win the bid has been fascinating for a range of reasons that have very little to do with guys kicking a ball about the pitch but plenty to do with what's happening in international relations.
I like football, but even if you don't, you ought to know that most of the world outside North America is far more interested in football than politics. By the way, one of the first people to realise the implications of this was wily old Rupert Murdoch. His canny understanding of this is one of the main reasons reason he's now more powerful than God. The extensive reporting of sport in general and football in particular in British newspapers, such as The Sun and News of the World was a crucial but often overlooked factor in the paper's massive appeal to the proles. Murdoch then used the vast profits these rags generated to start his satellite empire which locked exclusive rights to show English football. This proved to be a licence to print money which in turn funded the early days of the Fox network. Yes, that's right: you largely have obsessive English football supporters to thank for making Fox News the American institution it is today…

In more recent years, the political class have started catching up with Murdoch and paying far more attention to soccer. It's become a huge global business and it's also inevitably become increasingly political and tied to national pride to a much greater extent than, for example, the Olympics. The latest and most vivid examples of this trend have been the races to host the next two world cups.
The voting process to win hosting rights to the cup, an event that happens every four years, is similar to that for the Olympics. It's a secret ballot, so countries try to win by persuading unelected executives of football's international governing body, FIFA, to vote for them. Votes are won with the time-honoured mix of wining, dining, flattery, backhanders and hookers although since voting is opaque, the voters can and do lie, promising their votes to multiple parties. Under such circumstances, dishonesty and double-crossing are an inevitable part of the battle to win precious votes. This time around though, there were even more opportunities for back-room deals than usual owning to the fact that the competition to host 2022 at the same time was also being decided, for hazy reasons. Hence since all the competitors for 2018 were European and all the competitors for 2022 came from everywhere else, there were vote-swapping deals cut between the participants.
The climax of the bidding process was a series of presentations in Zurich which was also a chance for various bid teams to do some last minute lobbying and show off some national celebrities, (you'll be proud to know that you had Bill Clinton and Morgan Freeman trying their hardest to win the 2022 world cup for the US) and try to win a few more last minute votes.
Not all countries could be arsed with the schmoozing though. Putin didn't turn up adding to the speculation that Russia's bid was already dead and claims that he was being a bad loser. Reasons Russia didn't have a hope of winning included claims that they had too many racist supporters and that they were lacking the infrastructure needed to host the event. Furthermore Russia was also the main topic of that morning's batch of wikileaks, which was full of all that stuff about the country being a 'autocratic kleptocracy' and a 'mafia state'. Commentators suggested that FIFA couldn't award the event to such a corrupt regime without tarnishing the institution so it was deemed to be a straight battle between England and Spain, the current world cup holders.
The English bid team, on the other hand, sent out a very high profile team of the British Prime Minister, David Cameron, David Beckham and Prince William, who's been basking in the adoration of the world's media since he announced he's planning to marrying his bird, a few weeks ago.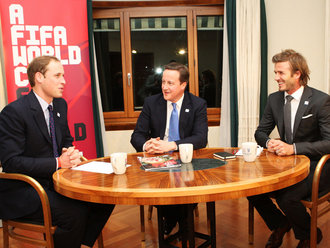 Prince William, Prime Minister David Cameron, David Beckham: The Rodney Dangerfields of World Cup lobbying
Bringing the Prince along was supposed to be a sneaky way of making sure voters who said they'd vote for England kept to their word on the basis that 'No one would lie to the future King of England'. I do realise just how ridiculous that sounds, but our bid team clearly didn't…
But that was typical of the whole of England's surreal bid. Unlike the bids from all the other nations which revolved around extensive, carefully media-coordinated sucking up to FIFA, the British media decided to go in for an innovatively sadomasochistic approach. The BBC and the Sunday Times did very high profile investigations on how corrupt and in need of reform FIFA was and they had even had forced the resignation of six officials, apparently convinced FIFA would award us the tournament in gratitude for bringing this all their sleazy practices to the world's attention. And we even had a bit of good old fashioned football rioting at an English game the night before the vote, from the Birmingham-Villa derby beamed around the world just for good measure to convince any doubters.
It was pretty obvious to any observer that England's chances of hosting the cup were not good. So the oddest question about England's bid is what possesed the prime minister to get so closely involved in something that was always so likely to end in defeat?
The answer to that is an unjustified arrogance about the way Britain is perceived by the rest of the world. And that, I think, tells you a lot about our newish Prime Minister, David Cameron. He's one of those deeply irritating breed of politicians who decided they were going to rule their country at the age of about fourteen; he probably had his butler type out an immediate memo to that effect. Imagine a republican version of Al Gore, and you'll have a pretty good idea of the measure of the man. And like Gore, his vast amounts of self confidence seem to blind him to the problem that people don't actually like him much.
You'd think he might have some awareness of this, given he couldn't win an election against Gordon Brown, one of the most unpopular British Prime Ministers in recent times, in the middle of the worst recession in a generation, with almost the entire print media on his side. After the election, he had to scramble around doing some deals with another party, the Liberal Democrats, to get the majority he needed, this was the first time a Prime Minister has had to resort to forming a coalition since the 1920s.
That said, he's been an alright Prime Minister so far, at least as Tory leaders go. They're pushing through some harsh spending cuts, but that's happening most places these days, even Cuba! The coalition agreement has at least so far forced them to go easy on some of that nasty 'survival of the fittest' mentality that lurks beneath the skin of the Conservative Party, although that may be changing now the cuts are starting to kick in. And I even found myself momentarily respecting the man when he gave a passionate, honest apology for the disgusting behaviour of the British army in the Bloody Sunday Massacres (when they murdered twenty six civil rights protesters in public, an event which lead to the formation of the modern day IRA). And, to his credit, Cameron even took part in the 'It gets Better' campaign. He might be a bit of an oily cunt, but can you honestly imagine any Republican leader doing something like that?
Nevertheless his involvement with the bid has revealed he's a bit of an idiot who's out of his depth in international affairs. Cameron presumably craved winning some of the kudos Tony Blair got for snatching the 2012 Olympics from the French. Unfortunately for him, while Blair might be a cynical warmonger, he's a far sharper operator than Cameron. Judging by Cameron's petulant response afterwards, it clearly hadn't even occurred to him that England might not win and he'd be left looking like a pathetic failed sales-man. You might think any politician would have the common sense not to expose themselves as a hostage to fortune, let alone to someone like Cameron who has a background in public relations? Apparently not.
All of which goes some way to explaining why, come the vote, England crashed out in the first round. Prince William had been assured of five of the twenty two votes, but discovered to his horror that actually some vermin, presumably oiks of lowly breeding, were prepared to stoop so low as to deceive a Prince! Which is why we only got one vote. Well, we actually got two, but one was from England's FIFA representative so doesn't count. That's like getting a valentine card from your mum.
So it turned out that the much trumpeted 'charm offensive' of the handsome but overrated footballer, a cocky Prime Minister and the genial but dim King-to-be could only muster a single vote between them and they were so full of themselves that they didn't even seem to see it coming. Even though I'd have loved to win, the entertaining way we lost almost made up for this. If, as the old saying goes, 'The Battle of Waterloo was won on the playing fields of Eton', the famous school attended by both the Prime Minister and the Prince, then it's fair to say that England's World Cup bid was lost on those same playing fields.
It later turned out that Russia knew they'd won days before, which is why they hadn't bothered turning up to try to mop up any last minute votes. Most of the insiders had realised this too, Putin had even elliptically alluded to it in his reasons for not attending, but we'd done such a good job of pissing off the FIFA executives, that we didn't have any friends left there to warn us about this. So FIFA were happy get their own back by letting our Prime Minister make a dick of himself on the international stage and inadvertently make it clear to everyone that Russia currently has a lot more friends in the world than the UK does.
Most of the other losing nations took losing in good grace. After the US lost the 2022 bid in the final round to Qatar, Obama responded, 'I think it was the wrong decision', completely failing to sound like he cared very much. Even Spain, which deserved to win, having won the world cup last time around, a national team that plays football in a fluid way that's terrific to watch and plenty of good infrastructure in place, were philosophical about losing.
In the UK however, the English media are still whining about it, days later. Radio phone-ins are full of people moaning about FIFA corruption and how upset and humiliated poor Prince William must be to have had people looked him in the eye and promptly lied to him like that. I'm sure he'll get over it though and it's bound to have been an invaluable lesson in how not to go about pimping for your country, which should stand him in good stead…
Most of the English media have naturally been in denial that their rubbishing of FIFA had anything whatsoever to do with the failed bid while at the same time boasting about the relative positions on the Press Freedom index of England and Russia, (#19 and #140 respectively, with the US at #20, in case you were wondering). This is completely at odds with the fact that the FIFA Chairman explicitly mentioned that our uppity media is the main reason had no intentions whatsoever of holding the event in Britain, but I suppose that's denial for you.
Instead everyone is blaming it on FIFA being totally corrupt, ('only three of the FIFA executives even bothered to read our brilliant technical report!') and the national mood seems to be that if losing the rights to host the occasional world cup is the price we have to pay for a free media then so be it. That's true as far as it goes, but it glosses over the inconvenient fact that Britain did manage to win the equally corrupt competition to hold the upcoming Olympics back in 2005. The difference was that we had more influence on the global stage back then than we do now. When the US was top dog, it was able to lay down the law on the way business should be conducted and we in the UK were able punch above its wait by riding on the coattails of that. But as the economic global balance of power shifts, that power and influence is visibly slipping away.
So that's the losers. What about the winners? Russia easily won the 2018 contest, coasting to a majority of the votes in the second round, whereupon Putin flew into Zurich and told FIFA the pretty cool story about how Russians loved football so much that it had played an important part in keeping their spirits up during the bombardment of Leningrad in the Great Patriotic War. Mind you, be that as it may, I remember passing through Moscow during the 2006 World Cup and not noticing any enthusiasm at all for the tournament or even being able to find anywhere showing the games with the inevitable exception of Irish bars…
Even the English conceded, albeit very, very grudgingly, that Russia's not actually a bad place to host the tournament. That's more than can be said for the other winners, Qatar. The desert is a ridiculous place to play football. It's going to be far too hot to kick a ball around and Qatar are so rubbish at football, they even manage to make our English team look good at it; they're the first country since 1934 to host a world cup without EVER qualifying to play in one. All of the indoor stadiums they're going to have to build are going to be disposable ones that will have to be dismantled afterwards. This is likely to be the most energy intensive project in the history of the world, yet they've boasting about the green 'zero carbon cooling solutions' they're going to use for the stadiums while keeping admirably straight faces.
Of course, what won Qatar the bid and lets them get away with talking this sort of bollocks is that, as with Russia, they're sitting on lots of natural gas resources and are financially in much better shape than most of the other competitors. As wikileaks has just revealed, the nation has also been sensibly using its Al Jazeera TV station as leverage to improve its diplomatic profile. Stuff like this helps a lot when competing in these sort of global beauty contests these days, far, far more than any claims to have a democratic society.
But the most important reason it matters that Russia and Qatar won these contests is that it's one of the clearest and most public signs of that long promised prophecy that power and influence is moving away from the West is coming to pass. For a few years now, political geeks have been discussing the rise of East Asia and the BRICs, (Brazil, Russia, India and China) and the corresponding decline of the west, but most people haven't really been paying much attention to arcane things like the G8 being extended. That's because they've had less nerdy things to do, like following football. Russia's international profile has been pretty much non existent outside its backyard since the end of the Cold War, aside from endless stories about gangsters, oligarchs and spies. That's going to change. Having witnessed the way Russia swatted away all the other European bids, the public's been given a potent signal, using football, a language most of the world understands, that after a rough couple of decades, Russia is definitely ready to start strutting around on the world stage again. This is one of those very, very public signs that the world is changing, akin to the way China won and hosted the Beijing Olympics, but because Americans don't follow football, you're going to be the last ones to know this…
Read more: fifa, putin, soccer, world cup, John Bull, Dispatch, Russia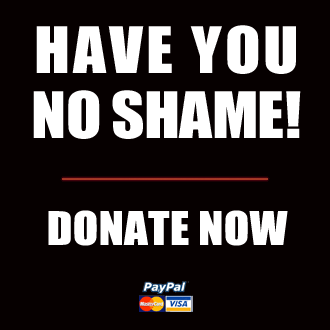 Got something to say to us? Then send us a letter.
Want us to stick around? Donate to The eXiled.
Twitter twerps can follow us at twitter.com/exiledonline