By Eileen Jones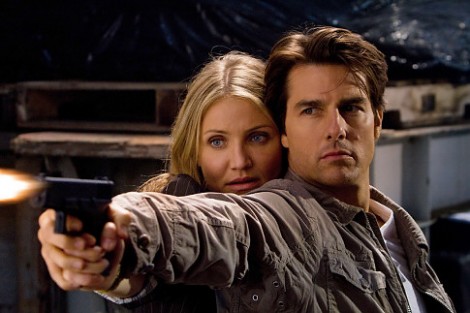 I've hated Tom Cruise for twenty-five years now. It's been one of my favorite traditions, hating Tom Cruise. It involved refusing to go to his biggest blockbusters like Top Gun, then occasionally, foolishly succumbing to the temptation to see just how awful he really was in one of his many, many hit films. Say, War of the Worlds, when he completely bolloxed up his role as a blue-collar dad. (Don't tell me about blue-collar dads, Tom "Rich Putz" Cruise. I know blue-collar dads, and you, sir, are no blue-collar dad, and have no clue how to play one. Blue-collar dads don't swank around with spa-fresh skins and gym-toned bods, wearing hoodies under down jackets just to prove they work for a living.)

But as satisfying as all that was, I had to rethink it after I saw Tropic Thunder, in which he gave that magnificent comic performance as Les Grossman. You could hardly tell it was Tom Cruise under all the prosthetics and padding, and it made me consider the possibility that it's really Cruise's face that I hate, and this prejudice has made me ignore his genuine talent. (Though I've always kinda hated his voice too. I've never gotten over the way he delivered that Mission: Impossible line, "You've never seen me angry," in the shrill voice of an enraged chipmunk. But then, I'm a big fan of deep voices. I wish everyone in movies talked like Lee Marvin, or could at least manage Lauren Bacall.)
Which is why I went to see Knight and Day, in order to be fair to Tom Cruise, and keep an open mind and all that. It meant putting up with Cameron Diaz too, of course, with her ditsy-goldfish face, now getting a bit haggard. But I figured I could grit my teeth and bear it and try to forget the horror of seeing the Cruise-Cameron pairing in Vanilla Sky. (Shudder.)
Knight and Day is one of those light thrillers, like Charade if you've ever seen it, in which a romantic comedy is enacted amidst jet-setting international intrigue and danger and whizzing bullets that have no power to hurt the stars of the show. When they produce these films nowadays, the action gets amped up a good deal, which makes the whizzing-bullets scenes considerably more ludicrous, and suspending disbelief requires a bit more heavy-lifting. In Charade, the villains are mean Walter Matthau and sinister James Coburn with pistols, plus a few other jokers who can't put a dent in Cary Grant and Audrey Hepburn.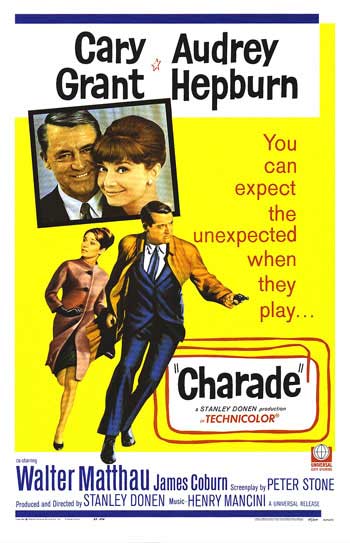 But in Mr. and Mrs. Smith and Undercover Blues and Killers and Knight and Day and things like that, it's teams of professional assassins armed with huge high-tech weaponry practically carpet-bombing the place, and still the lead couple goes quipping and bickering through it all.
Even if you like this kind of thing, you still have to be in the right mood for it. If you don't like this kind of thing, you don't need me to tell you to stay far, far away.
I was prepared to take it and like it. I had my amused, tolerant face on.
Tom Cruise is introduced in this film with a close-up locked on the back of his head, as he scans the crowd in an airport. This type of shot is a tribute to great stars, who are so familiar to us that we even recognize the backs of their heads and are happy to stare at their hair-covered craniums for a full half-minute of screen time. In other words, there's no point lingering on the back of, say, Ryan Philippe's head. No one will know who the hell it is or why we should care.
Alfred Hitchcock used just such a shot to intro Cary Grant in Notorious—nobody ever had a more unique, gleaming, perfectly groomed back-of-head than Cary Grant—and Akira Kurosawa similarly honored Toshiro Mifune in the stupendous opening shot of Yojimbo.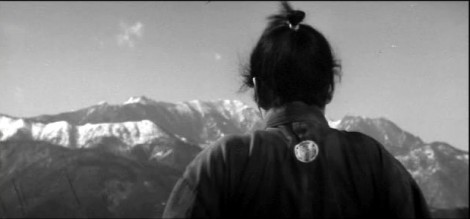 I resented seeing this particularly epic Star Shot granted to Cruise, the little wanker. But did I recognize every detail of his stupidly feathered haircut and stiff-necked, self-satisfied manner? I did. He's been a big star so long, it can't be avoided.
The whole movie is an homage to Cruise's stardom, in which he good-naturedly spoofs his own maniacally upbeat, can-do action hero persona. It's a pretty shrewd move in trying to recover public goodwill, reminding people why they liked him in the first place. As you recall, everyone decided to despise Tom Cruise a few years ago—and I was right there to welcome them to the club with open arms and say "I told you so"—when he took over the handling of his own PR and promptly revealed himself to be a fanatic Scientologist, couch-jumper, and all-around prat. (Note to celebrities: never fire your PR person who's succeeded in hiding who you truly are. You need that PR person desperately.)
It's been damage-control ever since, and the Les Grossman performance, reprised at the Grammy Awards ceremony to great applause, did wonders for him. There's rumored to be a comedy in the works focused on Les G.
Until then, Knight and Day is designed to keep the pro-Cruise momentum going.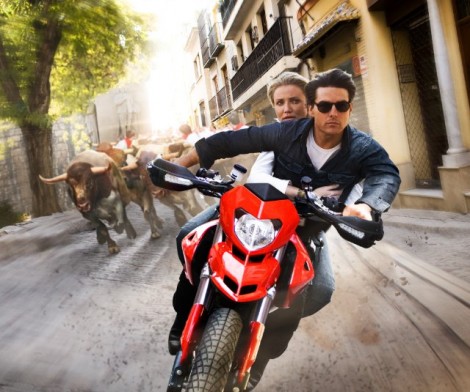 It'll probably work pretty well. Cruise does Cruise as a grinning freakish fellow in bizarrely perfect physical condition—we get the jaw-dropping shot of his ripped torso, never fear—who was literally an Eagle Scout in his youth. (Close-up of a photo of the real Tom Cruise as a toothy teenager, dressed as an Eagle Scout? Check.) He grew up to be a top CIA super-agent with the alias Roy Miller, and is completely at home in a hail of enemy fire, never more cheerful than when reassuring a civilian he's just shot that he aimed the bullet "through and through" and that the wounded man will sustain no lasting damage.
For a fantasy figure, this is kind of appealing. Cruise adds a nice, insane flourish by getting his feelings hurt when June Havens (Cameron Diaz) doesn't immediately trust him, though he's constantly killing people all around her and making up cover stories and drugging her so he can transport her to safety with less hassle. In his own mind, see, he's still an Eagle Scout, earnestly doing good deeds, so why does she keep running away? You can imagine some pious, patriotic Mormon CIA spook up to his armpits in violence and corruption acting a lot like that.
As long as the movie sustains this air of jolly pathology, it's pretty entertaining. But that's only for about half the scenes. All the rest is the struggle to find somewhere to go with this premise. That's how Cruise and Diaz wind up on a motorcycle in Spain just ahead of the running of the bulls, and Diaz suddenly turns into a superhero herself for no good reason, stunting and shooting like a pro. Screenwriter Patrick O'Neill has planted the obligatory information about her character early on—June is some kind of car expert, following in her dad's footsteps, so we know that later on she'll do a lot of fancy driving in high-speed chase scenes. She dreams of a leading an adventurous life, and in movies like this, there's never much difference between dreaming and doing. Tiresome, but there aren't supposed to be any real surprises here.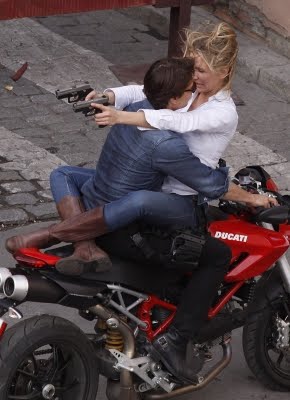 Also on hand are some rote, unmemorable villains and a geeky young scientist played by Paul Dano, who's invented the whatzit that everybody's stealing and hiding and gunning for. Standard stuff.
But for the genre film fan there's always plenty to think about while the more unfortunate scenes roll by. Like how director James Mangold (Cop Land, Walk the Line, 3:10 to Yuma) negotiates the height difference between Cruise (small) and Diaz (tall), sometimes pretending that Cruise is all fine with being several inches shorter than his leading lady and letting the co-stars stand together on level ground…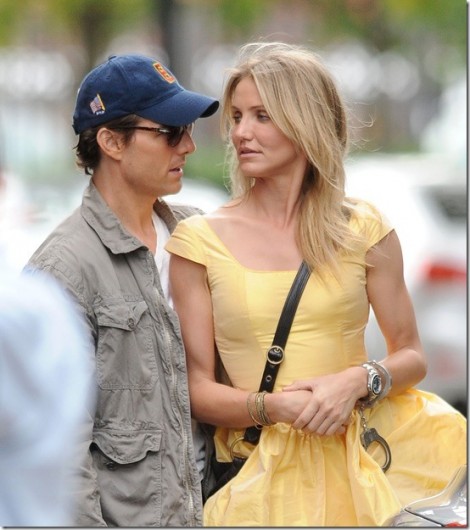 …and other times opting for the traditional methods of putting Cruise on an apple-box or Diaz in a ditch or something.
You can also pass the time wondering how many stunts Cruise will claim to have done himself (all of 'em) and how many Diaz will claim (only some). It must be pretty funny being a stunt person on these films; I wonder if they have to sign a strict confidentiality agreement and pretend they don't exist? After all, CGI takes care of a lot of the action anyway.
In the end I decided I still hate Tom Cruise on general principles, but I grant him the Les Grossman Exception and leave it at that.
Read more: action, Cameron Diaz, Cary Grant, Charade, Knight and Day, Les Grossman, Mr. and Mrs. Smith, Notorious, Paul Dano, romantic comedy, star, thriller, Tom Cruise, Toshiro Mifune, Yojimbo, Eileen Jones, movies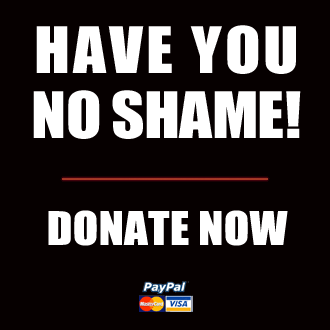 Got something to say to us? Then send us a letter.
Want us to stick around? Donate to The eXiled.
Twitter twerps can follow us at twitter.com/exiledonline