By Mark Ames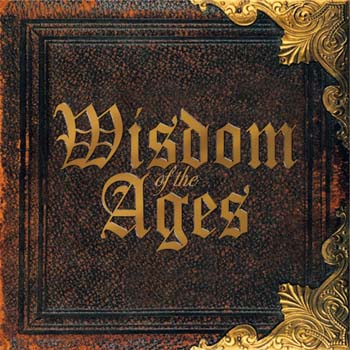 I came across this practical nugget of wisdom from Teamster's Union mafia don Jimmy Hoffa, as recounted from the death bed confessions of the legendary Mafia hitman Frank "The Irishman" Sheeran:
Jimmy said, "You always run away from a man with a knife and toward a man with a gun."
This was how Hoffa explained his own reaction when he was nearly gunned down in 1962, during his money laundering trial in Nashville. A 28-year-old man, Warren Swanson, somehow made it past the court house guards, pulled out a gun that the prosecutor described as "the biggest gun I've ever seen in my life," and fired at Hoffa. While everyone ducked for cover, Hoffa charged his assassin.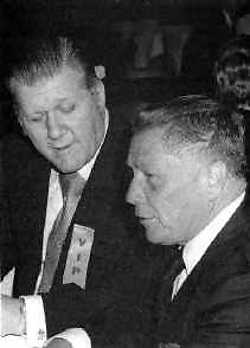 Sheeran (left) and Hoffa (right)
Here's how Sheeran described the scene in the book I Heard You Paint Houses? (which Scorcese is turning into his next DeNiro film):
It was on a recess and this young guy in a raincoat walks down to the front of the courtroom and gets behind Jimmy and pulls out a gun. I heard this gun going off and the first thing I saw was all the lawyers on both sides of the thing fighting for space while they were diving under the desks like they were foxholes. And there was Jimmy Hoffa charging at the nut with the gun. It turns out the nut had a pellet gun that looked real. It was the kind of gun used to kill squirrels and rabbits. He had fired it and hit Jimmy a couple of times in the back, but Jimmy had on a heavy suit. Jimmy swarmed the nut and decked him good. Chuckie O'Brien jumped on the nut and took him to the floor. Chuckie was a hefty guy and he was letting the nut have it real good. The marshalls finally got over there, and one of the marshalls sapped the guy with the butt of his revolver, but Chuckie kept whaling away at the guy. The marshalls and Jimmy had to pull him off, or he'd have killed the guy.
So you see kids, it can work. Sometimes. Well, not always, as Sheeran himself explains:
Jimmy's right if you can startle the man with the gun, because he doesn't expect you to come at him. Jimmy did the right thing in these circumstances. But if you go toward the man with the gun who cannot be startled, the closer you get the more you improve his aim. Most of the time you don't see the knife until you're cut with it. The best thing is to be a choirboy.
Frank Sheeran confessed in his death bed memoir to murdering Jimmy Hoffa with two quick bullets to his head in 1975, so maybe Jimmy Hoffa's "wisdom for the ages" isn't all that useful. Fuck it, sorry. Bad advice.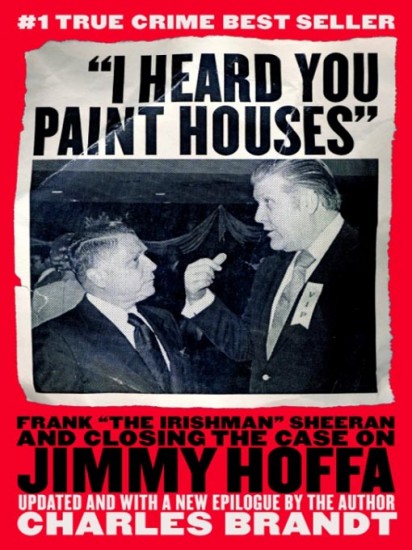 But this Sheeran book has all sorts of interesting tidbits in it. For example, the whole "lone nut assassin" phenomenon. He brings it up because the "nut" who tried murdering Hoffa that day in the court house was a mental hospital patient who somehow escaped and became determined to whack Hoffa.
While regular law-abiding folks like you and me might think, "Gosh, there sure are a lot of crazy people out there who do crazy things," to seasoned hitmen like Sheeran, using a "lone nut" assassin is an old tactic that has its plusses and minuses:
Jimmy knew that nuts were used from time to time by certain people for certain matters. That same year of his Nashville trial Sam Giancana's friend Frank Sinatra had The Manchurian Candidate in all the theaters. It was a big movie out about the Communists using a nut to kill somebody running for president.

But in real life when a nut is used in America or in Sicily he's always disposed of right away, on the scene even. Like years later when Crazy Joey Gallo used that black nut to whack Joe Colombo, the boss of the Colombo family in Brooklyn. The nut got off three shots at Joe Colombo at a rally of the Italian-American Civils Rights League at Columbus Circle near Central Park. No doubt everything had been worked out in detail and rehearsed with the nut. He was shown exactly how he was going to be hustled into a car and driven away to safety. Naturally, the nut was laid out right on the sidewalk by certain people after the nut did his job and shot Colombo.

…Poor Joe Colombo laid out in a coma like a vegetable for a long time before he died. That's the problem with using a nut. They're not accurate enough. Nuts can cause a lot of suffering. Like the nut who shot George Wallace and left the man paralyzed. Or the nut that shot Reagan and his press secretary, Brady.
Lots of juicy tidbits there, but the first thing that comes to my mind is the incredibly bizarre hit on Nick Deak in  the mid-1980s, which I wrote about a couple of months ago. Deak was one of the biggest gold dealers in the hemisphere, and ran huge network of foreign exchanges and travelers' checks that outdid American Express for awhile. Then he crossed the wrong people in the Reagan Administration–and seemingly overnight, Deak's business collapsed, he was accused of running a massive drug-money laundering operation for Columbian drug lords, and then he was murdered in his Wall Street high-rise office by a "lone nut," as I wrote:
The murderer was a 44-year-old woman diagnosed as a "paranoid schizophrenic," who had a history of trouble with the local police in Seattle. Somehow, just as Deak's firm was destroyed by the Reagan Administration's allegations of mass-money laundering, this homeless paranoid-schizophrenic decided to travel thousands of miles away, through Illinois, down to Orlando where she bought a .38 caliber gun, then up to Manhattan, and into the rump Deak-Perera headquarters on 29 Broadway. She took the elevator up to the 15th floor, walked in, killed the receptionist, then killed Deak, muttering, "Now you've got yours," before a policeman tackled her and disarmed her.
Just as Hoffa's assailant had recently been released from a mental institution in California before heading to Nashville to kill him, Deak's assailant came from Seattle before bussing her way across the country to kill him. Hoffa's assailant, a diagnosed paranoid-schizophrenic, said "a voice from God" told him to murder Hoffa; Deak's killer said that she went to New York to "set up her empire and rule the world."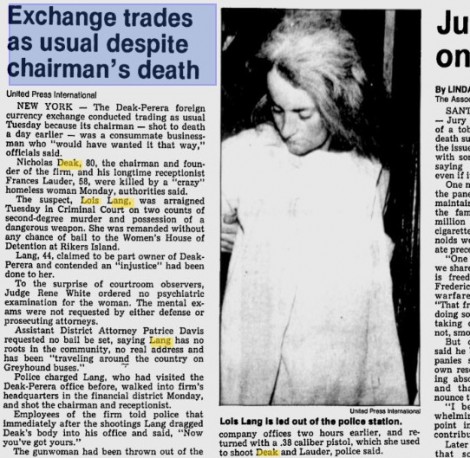 In any event, since America is the only nation on earth that still swallows every "lone nut" explanation on every single hit job, it's no wonder they keep using that tactic. Which naturally leads to the number one "lone nut" assassination of all time…
By Frank Sheeran's recollections, Jimmy Hoffa's attitude towards the Kennedy assassination was…well, have you ever seen Joe Pesci in Goodfellas or Casino? Here's Hoffa going off to Sheeran about the Kennedy assassination:
"That's just the tip of the iceberg, the tip of the iceberg. Let me tell you–Dallas, did you hear that word tonight? Remember that package you took to Baltimore? I didn't know it then, but it turns out it was high-powered rifles for the Kennedy hit in Dallas. The stupid bastards lost their own rifles in the trunk of a Thunderbird that crashed when their driver got drunk. That pilot [David Ferrie, whom Joe Pesci played in the movie JFK] for Carlos [Marcello] was involved in delivering the replacements that you brought down. Those fuckers used both of us on that deal. We were patsies. What do you think of that? They had fake cops and real cops involved in it. Jack Ruby's cops were supposed to take care of Oswald, but Ruby bungled it. That's why he had to go in and finish the job on Oswald. If he didn't take care of Oswald, what do you think they would have done to him–put Ruby on a meat hook. Don't kid yourself. Santo and Carlos and Giancana and some of their element, they were all in on Kennedy. Every single one of the same cast of characters that were in on the Bay of Pigs. They even had a plot to kill Castro with Momo and Roselli. I've got enough to hang everybody. And every last bit of it comes out if anything unnatural happens to me. They will all pay. All those who fucked me will pay."
And then in 1975, just a few days before Sam Giancana was supposed to testify before a US Senate committee about the links between the CIA, the mob, and their joint efforts to assassinate Castro, Giancana was found murdered in his own kitchen while cooking sausages– "in the back of the head and then under the chin six times, Sicilian style, to signify he was careless with his mouth," as Sheeran describes it.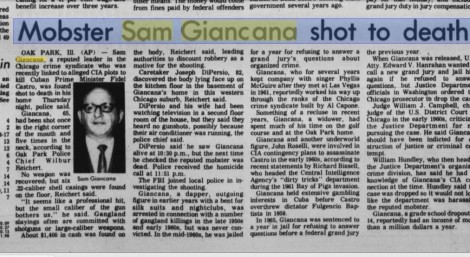 Hoffa went off on another rant to poor Frank Sheeran:
"Our Chicago friend could have hurt a lot of people, even you and me," Jimmy yelled. I put the phone away from my ear and still could hear him. "He should have kept records. Castro. Dallas. The gentleman in Chicago never put anything in writing. They know Hoffa keeps records. Anything unnatural happens to me, the records come out."
A few weeks later, Sheeran put two bullets in Hoffa's head. No body discovered, and no Hoffa records came out–except for Sheeran's death bed recordings, coming soon to a theater near you.
Mark Ames is the author of Going Postal: Rage, Murder and Rebellion from Reagan's Workplaces to Clinton's Columbine.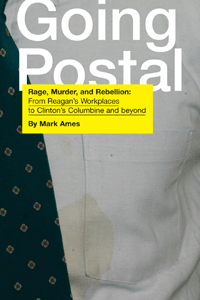 Click the cover & buy the book!
Read more: assassination, jfk, jimmy hoffa, kennedy, lone nut theory, mafia, Mark Ames, Health & Lifestyle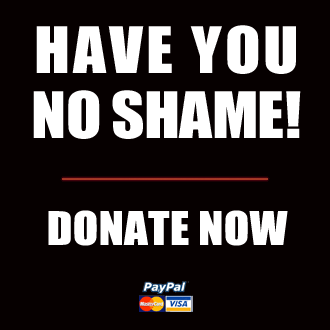 Got something to say to us? Then send us a letter.
Want us to stick around? Donate to The eXiled.
Twitter twerps can follow us at twitter.com/exiledonline