By Mark Ames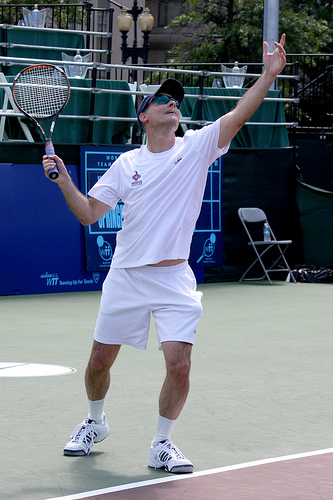 Great news about Obama's new pick to head the CEA, Alan Krueger, the so-called "labor economist." Yeah, he labors all right: He labors hard to be Larry Summers' tennis partner. And believe you me, being Larry Summers' tennis partner is like being a made man in the mob. Krueger understood who butters his bread in this town: Larry Summers, the same guy who took everyone else's bread and butter, not just in America but the world over.
Yup, that's right hopesters: Hate to break it to all you "If only Obama had the right people around him" types, Obama knows who he's picking, and in case you haven't noticed over the past 3 years, there's kind of a pattern here: Obama picks the same guys Clinton or Bob Rubin or Larry Summers would pick.
Krueger worked in the Treasury Department under Geithner in 2009-10, so this is a guy who's got the magic touch all right. (That, and the secrets to the greatest crime in mankind's history.) Like Summers and Geithner, Krueger also worked in the Clinton Administration.
But what makes Krueger such a great pick from President Obama's point of view is that Alan Krueger plays lots of tennis with Larry Summers, Tim Geithner, and Gene Sperling. Folks, if that doesn't prove that this guy is "credible," then clearly you lack a credible cross-court game.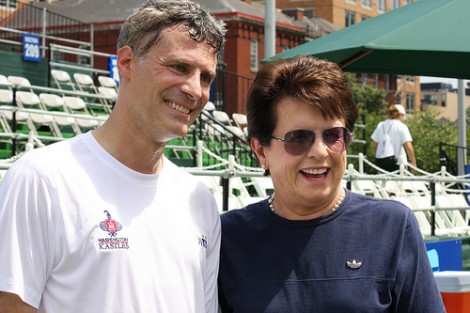 Even Billie Jean King thinks Alan Kreuger is "credible"
Here's all you need to know about Alan Krueger, Obama's stunning surprise populist pick to head the Council of Economic Advisors. It's from a stomach-turning
blowjob piece
titled "Moneyball: Geithner and Summers Go To Tennis Camp," published in the
New Republic
in October, 2009:
For the handful of people in charge of saving the U.S. economy, it's been a grueling season. The last eight months have featured endless back-and-forths, tense stalemates, and spirited confrontations. Larry Summers, the president's chief economic adviser, has drawn blood with his lacerating quips. Treasury Secretary Timothy Geithner has dropped expletives to signal his frustration. Even their aides have gotten in on the action.

And, in those rare instances when the wonks get a break, they step outside their conference rooms, loosen their ties, and do the same thing all over again. On a tennis court. For years, Summers, Geithner, and a variety of deputies have stared each other down from opposite sides of a three-foot-high net. These tennis relationships have played out on courts from Jackson Hole, Wyoming, to Davos, Switzerland, and on pretty much every flat surface in Washington, D.C. It turns out that tennis is the unofficial sport of the Obama financial team. And, if you want to understand the way its members go at it behind closed doors, it's worth watching them go at it with tightly strung rackets.

It may come as a surprise that the normally understated Geithner–his trademark verbal tic: "I don't know anything about this, but …"–would play a similarly incautious game. But, decked out in tennis shorts, Geithner is wont to let it rip. "He's a little different on the court than Tim Geithner the central banker," says one colleague. "When he isn't playing well, it's because he's going for it and missing, not because he's being too careful." Though nearing 50, Geithner is a natural athlete with a runner's physique. He can materialize at net so quickly it feels like he served from mid-court, and the sight of his five-foot-eight-inch frame almost dares an opponent to lob him. This is generally not advisable, as Geithner has more impressive ups than you expect to find at a G-20 summit. One hallmark of a game with the Treasury secretary is an unusual number of overhead smashes. Geithner was, after all, a Summers protégé.

Since the inauguration, Geithner, Summers, and several other senior economic officials–including Deputy Treasury Secretary Neal Wolin and Assistant Secretary Alan Krueger--have played roughly half-a-dozen doubles matches. (Various members of the group rotate in or out on any given day.) The star of these outings is Gene Sperling, a top Geithner aide who, early in the administration, became known as the "undersecretary of everything" for dispatching the many thankless tasks circumstances had thrown his way. As a teenager, Sperling's scrappy baseline play won him a tennis scholarship to the University of Minnesota, where he broke the will of more powerful opponents by chasing down every shot. So far this year, the team with Sperling on it has taken all but a single set.

This is not for any lack of effort. In February, Geithner and Sperling teamed up against Summers and Krueger for a match at Washington's Rock Creek Park Tennis Center. Geithner and Sperling took the first set 6-3 on the strength of their aggressive net play, forcing Summers and Krueger to scramble defensively. There was talk of switching teams once the set ended, but the idea was promptly nixed. "We thought we'd come back," says Krueger. He and Summers proceeded to lose 6-3 all over again.

Most of these tennis ties date back to the 1990s, when the men filled out the upper ranks of the Clinton economic team. But it took the Bush administration to usher in the golden age of Clintonite tennis. Not long after leaving office in 2001, Summers and a Treasury colleague named Lee Sachs spent a long weekend refining their strokes at Bollettieri's world-famous tennis academy in Florida. (Among the illustrious alumni: Andre Agassi, Boris Becker, and Anna Kournikova.) "He and I were making the adjustments to post-government life," Summers recalls. "His father lived down there, and we decided to try it for several days."

The trip soon became an annual ritual, with Geithner, Sperling, and several other former colleagues joining in. Each March, the wonks-in-exile would present themselves to the Bollettieri instructors for two days of extensive drilling. In one particularly taxing exercise, the campers would hit a forehand approach, then charge the net to take two volleys before sprinting back to the baseline–one after the other in a whir of circular motion. Imagine the Waltz of the Flowers from The Nutcracker; then imagine that the dancers are middle-aged men of roughly average dexterity, and you have the idea.

Well, most of the idea. "Those guys are very, very competitive. Put that in there. Holy shit," says Bollettieri. "There's no friendship on the friggin' court. They want to beat the shit out of everybody." And how do they stack up? "Sperling is better than any of us," Summers says. "I was probably second-best at hitting the ball, but I don't move as well–I'm not as fast. So I would say Geithner or I were probably second-best."

…The members of the economic team are close confidants. They spend evenings at tennis camp discussing children and career moves. They decorate their offices with pictures of each other in tennis garb. It's only every now and then, when they reach a point in a match that will separate winner from loser, that their competitive pride kicks in. Conventional wisdom aside, the men aren't enemies or frenemies or even rivals. They're more like … frivals.

Late this summer, at a tennis court in Washington, Geithner teamed up with Sperling to take on Krueger and another colleague. Krueger's team notched a commanding 6-1 win in the first set, then Geithner and Sperling stormed back to a 4-1 lead in the second. That's when the trouble started. "I hurt my hand too bad to keep playing, and Tim really hurt his back," recalls Sperling. But neither wanted to throw in the towel. "We stayed on the court for another thirty minutes negotiating who was going to look weak and use their injury as the excuse to end the match." Finally, they agreed to call it quits so that neither would be crippled. Every frivalry has its limits.
Dang, if only I'd stuck with tennis as a kid, rather than smashing the racket my parents bought me into pieces because I sucked so badly.
I can hear you asking the obvious question here: "Why'd Obama choose Larry Summers' tennis partner to head the economy? Hasn't he learned anything?"
Yes, he has: Obama has learned that no matter how much he rat-fucks you, his base, you will have nowhere else to go. What're ya gonna do, vote for Michelle Bachmann? Live under President Rick Perry? Or wait, you can always vote for the Third Party Libertarian candidate and hand the entire country over to the billionaires, rather than handing over 99% if you vote Republican, or giving away 98.5% to finance and Big Pharma as the Dems do. Yeah, good luck, suckers! The choice is all yours! Bwah-hah-hah!
It's like what Sam Kinison said about the choice between heterosexuality and homosexuality: "Thanks for the big menu, God! Thanks a lot!"
Mark Ames is the author of Going Postal: Rage, Murder and Rebellion from Reagan's Workplaces to Clinton's Columbine.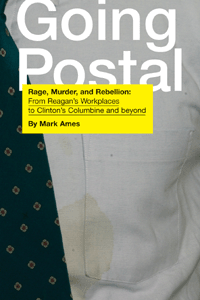 Click the cover & buy the book!
Read more: alan krueger, clinton, Larry Summers, new republic, tim geithner, Mark Ames, Corruption Porn, Fatwah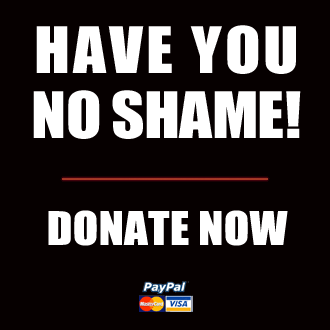 Got something to say to us? Then send us a letter.
Want us to stick around? Donate to The eXiled.
Twitter twerps can follow us at twitter.com/exiledonline