By Alexander Zaitchik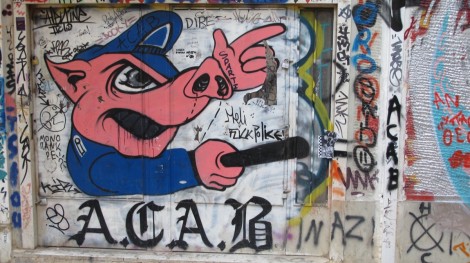 A.C.A.B. = "All Cops Are Bastards"
The central Athenian neighborhood of Exarchia is the hub of Greek anarchist activity and a major node in the European anarchist network. Part NYC's Lower East Side and part Copenhagen's Christiana, it is home to numerous squat communities and reclaimed people's parks, as well as some of the city's hippest cafes and bars. The newest of the anarchist community spaces is called Nosotros, which features radical bands and speakers most nights of the week, including figures associated with the Occupy movement such as David Graeber. Since the 2008 murder of a teenage activist in Exarchia, relations between the locals and police have deteriorated to the point where cops generally stay out of the area, limiting their activities to plainclothes monitoring and stop-and-frisks along the perimeter. The quarter is home to a vibrant political street art scene. Below is a small sampling of the tags, stencils, and painted images found on its walls.
Check out Alexander Zaitchik's accompanying article: Letter From Athens: Inside the Greek Crisis with Anarchists and the Radicalized Ex-Middle-Class
"I don't exist for your entertainment"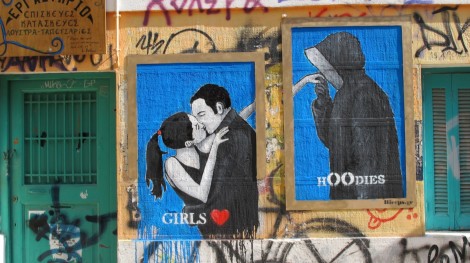 The memorial for 15-year old Alexandros Grigoropoulos, who was assassinated by a policeman on December 6, 2008
ANTIFA: The war is a class war
The first line of the Communist Anthem: "Rise up, damned of the Earth"
To the dreamers without dreams
Logo of Anarchism in the middle and IMF on top, then (clockwise) the euro logo, New Democracy party, PASOK party and EU's stars.
"Eat the Rich" (In Greek letters but sounding like the pronunciation in English)
Ideology Kills
"We live like kids our unfulfilled adventures"
"Cops, Pigs, Murderers"
Read more:, Alexander Zaitchik, Class War Report, Visual Aid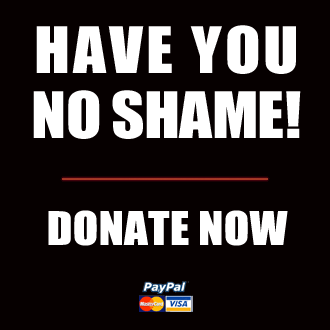 Got something to say to us? Then send us a letter.
Want us to stick around? Donate to The eXiled.
Twitter twerps can follow us at twitter.com/exiledonline