By Yasha Levine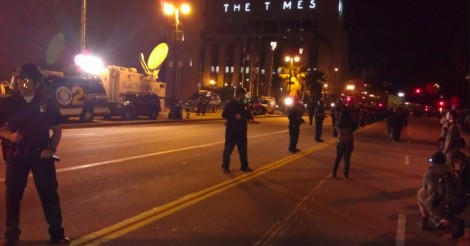 I spent this past Sunday night reporting from Occupy LA, along with at least 2,000 others who came in solidarity to help the camp stand up to a threatened LAPD raid.  The defense of the camp, or the battle to defend it, started just after midnight and lasted until about 6 AM, when the cops finally succeeded in pushing people off of the street and back onto the sidewalk–just in time for morning traffic. That was the extent of the LAPD raid. In all, there were only four arrests and no baton beat-downs, pepper spray attacks, tear gas or rubber bullets. Most important of all, the cops never set foot inside the camp.
Most of the Occupy LA protesters came away from it all feeling that they scored a victory. But I'm not so sure. Looking back on what happened, the operation felt more like a tactical police-feint designed to test how the protesters would respond, string us out,  exhaust us, and thin the camp's population. Anyway, the city's still standing firm behind its original eviction notice, so we'll probably see the real raid very soon, or at least some more semi-raids and feints…
But spending all that time at Occupy LA (both last night and on other occasions), I've grown increasingly concerned with all the infiltrators and provocateurs inside the movement. At least you can see cops in uniform; the snitches and provocateurs are the real problem.
From the very beginning, people in the Occupy movement have had to confront, and learn how to deal with the dark and unpleasant fact that they were constantly being infiltrated by all sorts of spooks, inciters, snitches, informants and mole-rats. It's hasn't been easy. An undercover police officer who was passing out fliers calling for protesters to use violence was outed at Occupy Oakland seemingly by accident. But this fool was an exception. Like American Spectator editor-mole Patrick Howley, who provoked a violent police response at Occupy D.C. and then outed himself by gloating about it an article, most infiltrators go unnoticed until after they've done their dirty work.
The last few times I hung out at Occupy LA, one of the big concerns people had was how to deal with suspected provocateurs and infiltrators: active and dependable members of the movement who nonetheless managed to work against it. Usually you had a good idea who the moles were because most of the time they either pushed hard in favor of doing something dumb and violent, or they did everything to sow conflict within the movement, inflaming divisions and generally jamming the democratic process or General Assembly, where voting by consensus allows just a few people to shut the whole thing down.
The questions you ask about these people are: "Are they malicious? Or just dense?"
It's usually impossible to know for sure without explicit proof, but most of the people I talked to could point out at least a couple of people they personally suspected of being moles. "I was never a big fan of conspiracy theories," a burly guy with a foot-long goatee serving on the OLA security team told me. On top of the steady stream of suspicious weirdos, he mentioned something about a plot by the Minutemen–yep, the armed border vigilante group–to infiltrate the camp. He was sketchy on the details, but as far as he knew, the Minutemen had packed up their camo gear and left, apparently fearing for their safety. This was a couple of weeks ago. So if anyone can either confirm or deny the reports, email me.
One thing we do know for a fact is that last week, the Free Republic called for full-scale mobilization of freeper forces to infiltrate and derail Occupy LA's General Assembly. "How brave are you?" asked a freeper named joinedafterattack, instructing comrades to "Learn your Occupy Hand signals!" To which another freeper responded: "You'd have to go to a bathhouse in San Francisco to see something gayer than that."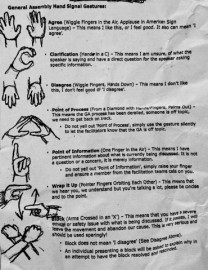 Most of the people I talked to were sure that every important committee in the camp had someone working to sabotage it from the inside. They're probably right. In fact, if history is any guide, the OLA members I spoke to were probably underestimating the true number of infiltrators.
For instance: During the 1968 protests of the Democratic National Convention in Chicago, which drew about 10,000 protesters and was brutally crushed by the police, 1 out of 6 protesters was a federal undercover agent. That's right, 1/6th of the total protesting population was made up of spooks drawn from various federal agencies. That's roughly 1,600 people! The stat came from an Army document obtained by CBS News in 1978, a full decade after the protest took place. According to CBS, the infiltrators were not passive observers, monitoring and relaying information to central command, but were involved in violent confrontations with the police.
It wasn't just the Feds who were infiltrating the protesters. Although it's not clear exactly how many local cops were sent to infiltrate the protests, you can bet the Chicago's own boys in blue didn't miss out on the costume party. The city's infamous Subversive Activities Unit, known as the Red Squad, has a long history of monitoring, infiltrating and squashing any whiff of any left-wing/anti-business activity. Just ask any union guy. So it was only natural to expect that this unit would ramp up its operations in preparation for the 1968 convention protest.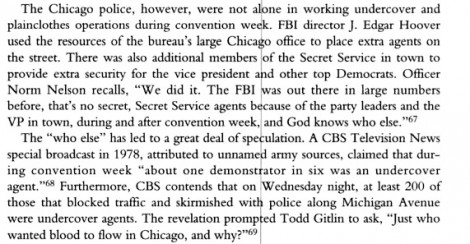 In the end, cop-on-cop violence was used to justify the brutal "police riot," in which Chicago cops indiscriminately clubbed women, hippies, retirees, reporters and anyone else in their way–and they pumped in so much tear gas that the vapor seeped into the Hilton hotel, giving presidential nominee Hubert Humphrey a lung-full of gas as took his shower.
Which brings me back to the Occupy LA. The eviction deadline set by the city was 12:05 a.m. By that time, at least 2,000 protesters had amassed in and around the camp, spilling out onto the street and blocking traffic. How many of them were working against us? How many were legitimately whackos? Is there a difference, really?
…Welp, looks like I'll have to cut this short. I just got information that the real raid on Occupy LA is about to happen right now (9:00 p.m. Los Angeles time). Here is the email I just received from an OLA organizer:
http://www.ustream.tv/channel/crossxbones

Please go to Los Angeles City Hall tonight to witness LAPD actions tonight.Please bring video camcorders with lots of extra batteries, data cards, tape, etc. to witness and document police actions.

There have already been incidents of police abductions of individuals on the street last night, reportedly those who are former military.

LAPD is reported to be staging at Elysian Park (per KNBC helicopter report earlier).

LAPD has barred most media TV crews from being near or at City Hall.These actions must be witnessed.Hold the line.
I'm headed there now. Will report back soon…
Update I: Welp, I got arrested while covering the protest and spent two nights in jail. You can read my account of the arrest as well as LAPD's appalling treatment of detained Occupy LA protesters…
Update II: Guess I was right. The day after I got out of jail, reports came out that undercover LAPD agents had infiltrated Occupy LA in the days leading up to the raid.  Here's a good summary of the infiltration from everyone's favorite commie symps at WSWS:
As part of the crackdown on protests against social inequality in the United States, nearly a dozen Los Angeles Police Department (LAPD) officers infiltrated the Occupy Los Angeles camp over the course of a few weeks prior to the police assault and dispersal of the camp on November 30.

The ostensible goal of the infiltrators was to gather information on any plans among the protesters to violently resist eviction. However, their more practical purpose was to violate the democratic rights of the protesters and provide justification for the militarization of the police response. It is part of a growing effort by police agencies to monitor and spy on oppositional groups.

LAPD Commander Andrew Smith told a reporter that the undercover officers were important for understanding the protesters before the raid. He downplayed the significance of the infiltration saying that "the camp was accessible to everyone."

The undercover officers cited the absurd story that some protesters were making bamboo spears to fight off the police. When 1,400 officers cleared out the encampment of a few hundred, it was the police who acted violently.

Multiple eyewitnesses have claimed that the police attacked peaceful protesters and journalists with their batons to drive them from the park. Out of the 291 protesters arrested, 187 were released without being charged with any crime, and 46 were charged with the misdemeanor of "failure to disperse."
Update III: Here's my latest post on Occupy LA arrest scandal: A Visit to the Raided Occupy LA Camp, Updates From Freed Protesters and Bad News About Our Legal Situation…

Yasha Levine is an editor of The eXiled. You can reach him at levine [at] exiledonline.com.
Want to know more? Read Mark Ames' appeal for Yasha Levine's release.
Read more:, Yasha Levine, Class War For Idiots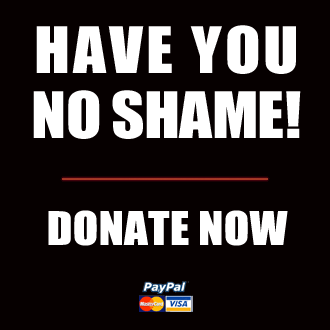 Got something to say to us? Then send us a letter.
Want us to stick around? Donate to The eXiled.
Twitter twerps can follow us at twitter.com/exiledonline