By Eileen Jones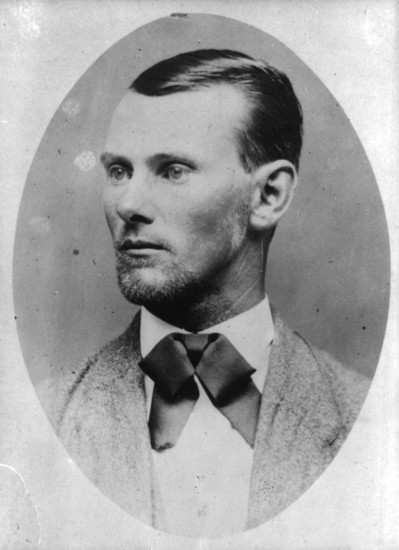 It's Jesse James' birthday today, September 5th. I mean the famous "frontier outlaw," sometimes referred to as "America's Robin Hood," but actually an obnoxious Missouri sumbitch still venerated and romanticized by an addled public. In movies he tends to get played by pretty studs like Brad Pitt and Colin Ferrell and Rob Lowe and Tyrone Power. There's an occasional "revisionist" attempt to come to grips with James' less lovable qualities, such as Robert Duvall's fake-pious looney in The Great Northfield Minnesota Raid, or Brad Pitt's fame-swollen paranoiac in  The Assassination of Jesse James by the Coward Robert Ford. But it's still Brad Pitt, for God's sake, all gleaming and starry, and you can't hide the hero-worship by claiming to do a serious critique of celebrity culture 19th century-style.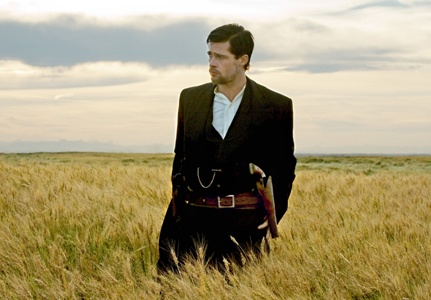 We generally get the Western-hero version of Jesse James as bold bandit and manly martyr, on accounta it'd be awkward to focus too much attention on the true-life particulars of secession-mad Border State Jesse James, the virulent racist Jesse James trained up in terror tactics by Confederate heroes William Quantrill and "Bloody Bill" Anderson, the Jesse James whose gang wore Ku Klux Klan hoods during one train robbery.
It's no accident that the Nazi-loving, motorcycle-customizing TV jackass Jesse James claims, based on no evidence, to be a descendant of the famous cut-throat cracker.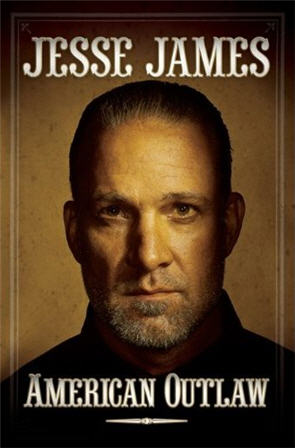 The main reason we're stuck with the heroic legend of Jesse James is the same reason we're still putting up with the whole crazy "Lost Cause" narrative of the noble South, which is because a bunch of post-Civil War Confederate loyalists generated and promulgated it in phony history books and rank novels and windy political speeches and anyplace else a gullible public can be found, which is everyplace.
James was an ideal "Lost Cause" hero. His exploits were defended during his lifetime by former secessionist politicos trying to return to political power in post-Civil War Missouri, and turned into lugubrious fables by newspapermen sympathetic to the Southern cause. They ginned up the portrait of Jesse James as poor victimized farm-boy, nobly battling on behalf of the little people against corrupt railroad corporations and Northern-controlled banks.
They did such a good job, Jesse bought it himself. Here's one of his op-ed letters to the newspapers, throbbing with self-pity, engorged ego, and punchy politics:
"Some editors call us thieves. We are not thieves — we are bold robbers. It hurts me very much to be called a thief. It makes me feel like they were trying to put me on a par with Grant and his party. We are bold robbers, and I am proud of the name, for Alexander the Great was a bold robber, and Julius Caesar, and Napoleon Bonaparte, and Sir William Wallace — not old Ben Wallace — and Robert Emmet. Please rank me with these, and not with the Grantites. Grant's party has no respect for anyone. They rob the poor and rich, and we rob the rich and give to the poor….I will close by hoping that Horace Greeley will defeat Grant, and then I can make an honest living, and then I will not have to rob, as taxes will not be so heavy."
Needless to say, there's no evidence whatsoever that Jesse James ever gave a dime to "the poor." It appears all the takings were reserved for Jesse W. James, Bold Robber Deluxe, and his gang.
So Jesse James' goddamned birthday reminds me that we need a new film genre, which Quentin Tarantino has already helpfully named: The Southern. It's just about time we came to grips with that sorry region and countered that insane but remarkably persistent "Lost Cause" narrative, especially now that the ol' Confederacy is flying its flag so proudly again, and saber-rattling about States' Rights, and saying how slavery wasn't so bad, doing those African immigrants a favor, really, exposing 'em to a genteel white-pillared civilization, and how Jim Crow was a pretty good time had by all, too.
You unregenerate fuckers!
Pretty much the only big popular movies of the Old South we've got so far are the ones initiated by the Lost Causers. Most famously Birth of a Nation and Gone With the Wind, two of the biggest events in American film history, making teaching American film history a fricking delight, let me assure you. That sickening moment watching Birth of a Nation when the students realize that the Ku Klux Klansmen are the actual heroes of the film, and are being enshrined as our new Founding Fathers! They turn their horrified eyes upon you as if to say, "Why in hell would you show us this depraved relic?" But it's gotta be done, because I don't make the history, I just report it.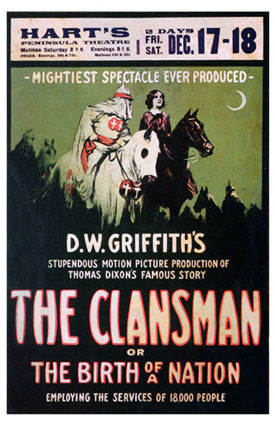 We also need this new genre The Southern because it's clear The Western is dead—at least in cinema, at least for now. (TV's done some ambitious things with it lately, first Deadwood and now Justified.) Even if sagely hybridized with other, more popular genres like science fiction and animated comedy, films with Western themes and imagery dry up at the box-office like daisies in the desert. The recent flops Cowboys and Aliens and Rango have made studios skittish about anything remotely Westernish, which is why the Gore Verbinksi-Johnny Depp-Jerry Bruckheimer collaboration Lone Ranger is stalled.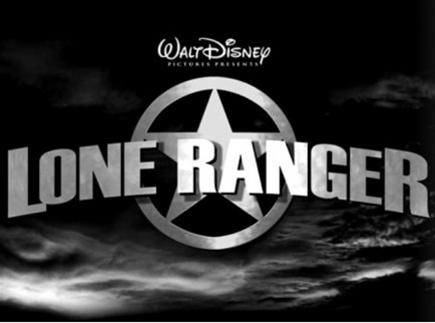 (How I get the story is, Disney won't make it at the proposed $250 million budget; Gore Verbinski won't make it for less; Johnny Depp won't make the film without Gore Verbinski; and so on into the sunset.
It's a maddening snapshot of Hollywood 2011, any way you look at it. First, what the hell about a film version of the sparse old TV show The Lone Ranger costs $250 million? What could possibly need that much CGI? Is Tonto going to have magical shamanistic abilities to turn outlaw bands into snakes or horny-toads or something? Or is it just the Verbinski-Depp-Bruckheimer are taking $150 million off the top?
Next, if Depp and Verbinski want to do it so bad at that price, why don't they just pitch in their lunch money of $100 million or so, take executive producer credits and a percentage of the gross, and carry on? You know, in Old Hollywood, people used to actually put their money where their mouths were. Producer Sam Goldwyn mortgaged his own house, twice, to finance Goldwyn Studio films. Alfred Hitchcock famously wrote a check for Psycho when the studio heads got cold feet, in exchange for gross profits, and the profits were gross all right. He wound up in Fat City, or anyway, Fatter City. But now the pious adage "Never put in your own money" is one of the first things you hear in Hollywood; it's about the only moral they have and uphold there. It might as well be embroidered on samplers and hanging on the walls of every mogul's mansion.
And finally, if Disney isn't going to bankroll these guys, who've made them sickening amounts of coin on the Pirates of the Caribbean films, who the hell are they going to bankroll? What films are worthy of Disney money? Well, you'll never guess. One's called John Carter—another Confederate hero, by the way!—based on a series of books by Edgar Rice Burroughs of Tarzan fame, and lame previews for it featuring loads of generic-looking sci-fi/fantasy CGI have been running in theaters forever. And the other scintillating feature film is Oz: The Great and Powerful, starring James Franco as the Wizard. And if that ain't exciting enough for you, it's also got Zach Braff in it!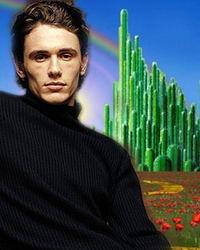 I know, this was a very long parenthetical, wasn't it? I was going for the record.)
It's an odd thing, how absolutely The Western seems to have exhausted its appeal. No charge in it at all for kids these days; try showing them a Western and they'll watch it with glazed eyes and haggard faces; try showing them another one and they'll claw their way out of the room if they have to maim you to do it. All those long shots of gunfighters dwarfed by the landscape, standing there not shooting for several seconds, and then maybe shooting just once or twice? They hate that. Long shots, landscape, not shooting. All bad. And as for the whole thing about The Western contemplating America's violent founding and its relationship to our notions of freedom and the rule of law…? Yeah, they don't care, certainly not if they've gotta see it played out in such old-fashioned terms involving six-guns and posses and horses and cactus and all that. For them, the whole iconography's played out.
But The Southern, that's still got a world of fresh potential, because it's amazing how studiously we've avoided making lively films about the central drama of slavery and emancipation from the slaves' point of view, or about the chaos of the Border States during the Civil War, or really anything about the Civil War that doesn't involve the time Mammy done tole Miss Scarlett she couldn't wear that low-cut dress to the barbecue. Some harsh historical accuracy about Southern madness makes everything new again, and also recovers elements of the Western, which was always heavily informed by the history and mythology of the Civil War South anyway—just check out the Western novel and film The Virginian sometime.
Quentin Tarantino laid the groundwork for all this on the Charlie Rose show back in 2009:
"I'd like to do a Western. But rather than set it in Texas, have it in slavery times. With that subject that everybody is afraid to deal with. Let's shine that light on ourselves. You could do a ponderous history lesson of slaves escaping on the Underground Railroad. Or, you could make a movie that would be exciting. Do it as an adventure. A spaghetti Western that takes place during that time. And I would call it 'A Southern.'

"I want to explore something that really hasn't been done. I want to do movies that deal with America's horrible past with slavery and stuff but do them like spaghetti westerns, not like big issue movies. I want to do them like they're genre films, but they deal with everything that America has never dealt with because it's ashamed of it, and other countries don't really deal with because they don't feel they have the right to."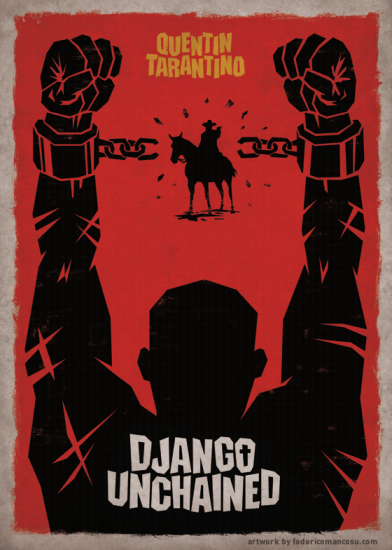 So Tarantino is getting the ball rolling on The Southern, with his upcoming slave-liberation film Django Unchained. And the Coen Brothers get an honorable mention for the Border State movie True Grit. Now maybe somebody ELSE could make an interesting move cinematically, for once? Say, a move from West to South?
Read more: Birth of a Nation, Brad Pitt, civil war, Disney, Django Unchained, Gone With the Wind, Jesse James, Johnny Depp, Ku Klux Klan, Quentin Tarantino, slavery, The Lone Ranger, The Lost Cause, The Southern, The Western, Eileen Jones, Fatwah, movies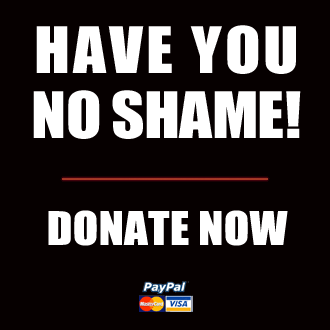 Got something to say to us? Then send us a letter.
Want us to stick around? Donate to The eXiled.
Twitter twerps can follow us at twitter.com/exiledonline