By Yahweh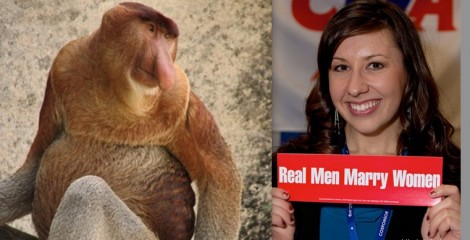 Real CPAC closetcases marry nutsack-nosed homophobes
God here. Just wanted to pipe in and say I really enjoyed the CPAC conference. Yeah, gotta keep Myself active, you know how it is. Anyway, I figure since everyone at the CPAC conference is so into Me, I'll reward them with a little miracle that proves unmistakably once and for all that Intelligent Design is for real. I mean, Darwin is all about specialization and variety, yadee-yadee-yada. Whereas an Intelligent Designer such as Yours Truly can do whatever the fuck He wants. If Yahweh wants to make an exact duplicate of one of His better designs (see: babe on the left)–the nutsack-nose, which I designed to attract a closet-case gay-basher mate in the monkey kingdom…and then Yahweh decides on a whim to copy-paste the nutsack-nose and try it out in a different setting (see: gay-bashing bigot on the right)–do you really think that such a miracle could happen just by chance? No way–that's My design, not some limey's idea of evolution. That's My work, Medamnit, and stop saying I didn't do it. Here's the evidence, suckuz! Case closed. Ba-boom!
Now, maybe some of you are thinking, "Gee whiz, our Intelligent Designer is a mean, sadistic fuck."
To which I would reply, "Excuse me? Come again? You want a little too? Huh? Do yuh? Cuz I'm right here. I'm not going anywhere–in fact, heck, I'm everywhere at once. Yeah, that's what it means to be Me, fuckhead. Still wanna criticize Me?"
Anyway, I'm sure it won't ever come to that, ha-ha. As for the CPAC meeting, I gotta say we really had a ball there. So many wonderful people. Oh and as for the unfortunate proboscis woman on the right, holding the sign? Yeah, see, I can't in good faith take responsibility for the holding-a-homophobic-bumper-sticker thing. That was all her. It's called 'Free Will' folks, you chose, you lose.
As for the proboscis on the left–what a knock-out, eh guys? I mean whoa momma, if the proboscis on the left were to strut her stuff in the CPAC conference, you betcha there'd be sparks a-flyin'! Hoo-wee!
Anyway, gotta get back to work now. Just a shout out to my homos in the CPAC, you know whom I'm talkin' about, Ryan Sorba! Hoo-ah! Wait did I say "homos"? Oh wow! Ha-ha! I meant "homies." I swear I'm not, you know–one of those closet-case types. Seriously I'm not. No seriously–you should see all the chicks I, Yahweh, have banged, dude. I'm so horny right now, I think I'll have to go out and find some chicks. No seriously. Wait hold on–just got a call. Gotta run. Keep on prayin'!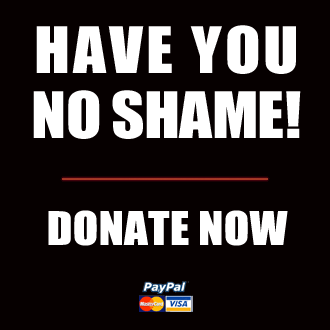 Got something to say to us? Then send us a letter.
Want us to stick around? Donate to The eXiled.
Twitter twerps can follow us at twitter.com/exiledonline