By Eileen Jones
Seven Psychopaths is one of those movies that's too cute by half. If I hadn't been so fried, I'd have paid more heed to the warning signs—the arch title, the "quirky" poster images, the fact that Tom Waits is in it—and given the whole thing a miss.
But you know how it is when you've been roughed up by life a lot lately, and you just want to forget it for two hours. You look for a convenient screening time and take your chances. (Shoulda gone for Taken 2!)
Seven Psychopaths is a movie about a screenwriter trying to write a script called Seven Psychopaths, only he's got writer's block, so he spends the whole movie struggling to write the movie you happen to be sitting through at the time.
And there are people who like that sort of thing.  I just don't happen to be one of them.
Somehow when it comes to self-reflexivity in films, every year I get sicker of it. Maybe from being in academia, where people are so enamored of it, you'd think every time a film refers to itself, an angel gets its wings.
(I make exceptions for stuff like Rear Window and Barton Fink and Inglourious Basterds because some filmmakers are covered by the Genius Clause, which states, "If you're truly gifted, you're allowed to attempt generally objectionable things–but you better be truly gifted!")
In the movie the screenwriter is named Marty–presumably as in Martin McDonagh, the actual writer-director of Seven Psychopaths–and he's an alcoholic Irishman fittingly played by Colin Farrell, McDonagh's go-to lead from his last feature In Bruges. Farrell's pretty good here; in fact, all the actors are pretty good, and the whole movie's an Act-Off amongst interesting thespian combos. That's basically what makes it endurable at all, other than the nice desert scenery. Christopher Walken's lofty hair and fathomless eye, and Woody Harrelson's popping energy, and Sam Rockwell's despicable puling creepiness, and Harry Dean Stanton's raw-boned 19th century nobility, and Michael Stuhlbarg's prim precision…
The Act-Offs are all organized around the comic-violent encounters of colorful characters saying vivid things, a modus operandi long since made familiar by the infinitely superior works of the Coen brothers and Quentin Tarantino. But, y'know, kids, don't try this at home, because it's not so easy to pull off. And 99% of the time McDonagh doesn't pull it off.  He opens with a scene of two mob hit-men (Michael Stuhlbarg and Michael Pitt) discussing various mundane business-related things like how much skill it takes to shoot someone in the eyeball, as well as the job they're about to do, which is killing some woman. (Later on, McDonagh will mock his own tendency to kill off women characters before they even get a chance to talk.)
As soon as this first scene starts, you think, with maximum jadedness, "Ho-jeez, here we go, THIS again. Tarantino's old Royale-with-Cheese scene done for the millionth time."
Then up walks a guy wearing a red mask who shoots both of them in the eyeballs, and you feel a surge of affection for this guy. He might be your savior in this film if he cuts short all the tiresome scenes like this!
Anyway, he's one of the seven psychopaths. The movie keeps intermittent count of them with superimposed titles, "Psychopath No. 3," that sort of thing, that refer back to the list screenwriter Marty is compiling for his script. Most of his ideas for psychopaths are taken from his pal Billy (Sam Rockwell) who's a needy friend trying to get ever closer to Marty by collaborating on his screenplay and busting up Marty's relationship with his girlfriend (Abbie Cornish).
Billy knows a suspicious lot of stories about psychopaths. These stories have a way of "coming true" as the two friends meet more characters who fall into place as psychopaths Billy already described. There's one funny scene when Marty is repeating one of Billy's psychopath stories to a new acquaintance and Billy keeps trying to prevent him from getting to the punch line because the new acquaintance IS the psychopath in question.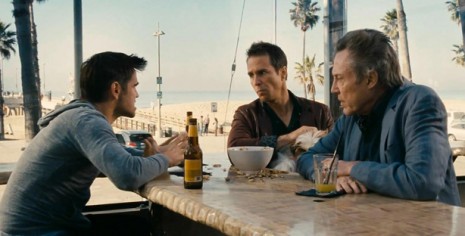 Billy makes a living as a dognapper, aided by an elderly gent named Hans (Christopher Walken). They steal dogs, then return them for the reward, which is easy lucrative work till they happen to steal the beloved Shih Tzu belonging to a raging gangster named Charlie (Woody Harrelson, supposedly in for Mickey Rourke who wisely dropped out).
God, it's boring even typing all this out.  I mean, aren't we done with this stuff? Wasn't this a '90s thing?
Adding insult to injury, McDonagh even writes into the script how boring it is. He has Hans say to Marty, something like, "Don't you think psychopaths get tiresome after a while?"
That's when I especially wanted to punch McDonagh. Because you can't get out of it like that. You can't make your rotten screenplay good by having a character in it refer ironically to the fact that it's rotten.
But the whole movie's riddled with that crap. Marty keeps blathering on about how he wants his Seven Psychopaths script to be about peace, in the end, so then you know you have to sit there till the damn thing winds around to some bogus theme about peace. It's an awful moment when Marty says he doesn't want to end the screenplay with a big shoot-out—that's Billy's idea—he want it to spend a long third act just on the characters talking to each other. And since Marty and Billy are warring with each other over control of the script (here McDonagh's ripping off the twin brother/alter-ego authors in Adaptation, one fighting for crass commercialism in the script, one for high-minded significance), you groan inwardly with the realization that you're going to have to endure BOTH, the long third act of talking, then the shoot-out.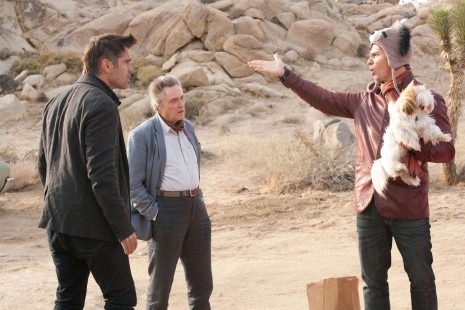 The long third act time-out takes place in Joshua Tree, the favorite location of drug-taking vacationers from Los Angeles who want nice scenery when they drop acid. There our three main characters, Marty, Billy, and Hans, camp out and talk and bond, hiding from the pursuing gangsters led by wild-eyed Charlie. This part rips off Takeshi Kitano films—there are multiple layers of theft going on at this point. Takeshi Kitano films often have vacation sequences in which even the toughest, most violent men rediscover their basic individuality and friendliness in conversation and horseplay, before having to go back to their regular lives and take up their now-burdensome roles as stone-faced killers.
Only—and here's the key difference—when Takeshi Kitano does it, it's GOOD.
There's a little clip of a Takeshi Kitano film early in Seven Psychopaths, in case you weren't going to guess the source of the rip-off. Yeah, McDonagh's always right up in your face, bragging about all the lame things he's doing.
I can sum up this film by telling you that it features Tom Waits as a psychopath who's always cuddling a white rabbit, and that in the tale of serial killing psychopathology Waits tells, white rabbits multiply and appear everywhere in fluffier and cuter herds among the blood-letting. By the fifteenth appearance of a white bunny, hopping and sniffing and twitching adorably, you want to curse God and die, like Job's wife advised Job to do.
I always thought Job's wife was pretty sharp.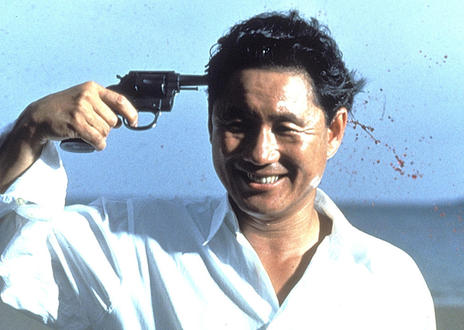 Read more: Christopher Walken, Coen brothers, Colin Farrell, comedy, Harry Dean Stanton, Martin McDonagh, Quentin Tarantino, Sam Rockwell, Takeshi Kitano, Tom Waits, violence, Eileen Jones, movies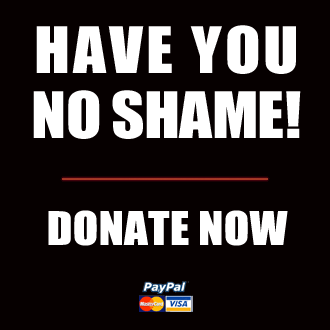 Got something to say to us? Then send us a letter.
Want us to stick around? Donate to The eXiled.
Twitter twerps can follow us at twitter.com/exiledonline